Event Venues In Los Angeles With Space For Any Size Event
If you're looking for an event space in Los Angeles for your upcoming wedding, birthday, anniversary, christening, corporate event, or any other types of special occasions, you've found it. Metropol is made up of four different Los Angeles event venues—each with its own unique style and atmosphere. From classically romantic to upscale sophistication, our ballrooms are perfectly suited for any preference and any guest count.
Allow us to host your celebration and you will see why Metropol is highly regarded as one of the top event venues in Los Angeles. We combine stunning spaces with exquisite in-house catering and the very best service available.
Modern Ballroom
Millennium Ballroom
Grand Ballroom
Crystal Ballroom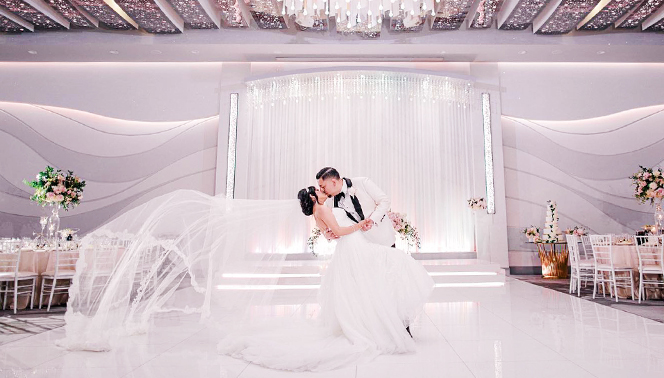 Wedding Venues With Reception Halls Of All Sizes
For some couples, celebrating their special day involves hundreds of guests, while for others they prefer a smaller and more intimate gathering in celebration of their love. Our Metropol brand of Los Angeles wedding venues vary in size to provide every lovely couple with exactly what they need for their special wedding day. Our award-winning reception halls range from room for 160 guests all the way to 480. No matter the wedding venue that you choose, you are sure to receive impeccable service, fine dining, and extraordinary attention to detail.
Learn More
When it comes to event spaces in Los Angeles, Metropol offers four fantastic ballrooms for every preference, for any kind of event. Our event spaces are highly customizable and very versatile. We pride ourselves on our staff, whose professionalism and experience go a long way in making every event run smoothly. At Metropol, we love what we do, and we love our clients. Being a part of so many amazing memories brings us joy, and we put everything into our events.
If you're looking for the perfect event venue in Los Angeles for an upcoming occasion, please contact us for more information. We would love to work with you and help bring your party to life at one of our extraordinary Los Angeles event spaces!
818-241-5432
Booking Inquiry
Check Price & Availability
For pricing and availability, please fill out the form below and a manager will get back to you within 24 hours.