Modern Ballroom: A Luxurious Wedding Venue In Los Angeles
Modern Ballroom in Los Angeles makes the perfect setting for the most beautiful weddings in the city. With striking architecture and stunning décor, you will feel like you're in a fairy tale as soon as you step through our doors. Highly regarded for its gorgeous white dance floor, the ceiling that looks like a nighttime sky filled with stars, and an opulent foyer, Modern Ballroom makes the ultimate choice for wedding receptions, birthday parties, corporate events, and any other special occasions.
Besides a stunning look and in-house catering that everyone raves about, Modern Ballroom also provides above-and-beyond service, with a team that will help make your event run efficiently, smoothly, and successfully.
The name of this venue certainly rings true. This is one of the most modern wedding venues in Los Angeles. Modern Ballroom is a place where dreams come true and life-long memories are made.
Modern Ballroom Is Unsurpassed In Luxury And Extravagance
To enter Modern Ballroom, guests are led through our beautiful foyer, which features real flowers, a glass staircase, and sleek wood paneling. This foyer, a favorite among clients, is ideal for pre-reception cocktail hours and mingling.
From the foyer, guests can enter the extraordinary Modern Ballroom, which comfortably accommodates 400+ guests and features an 800 square foot dance floor, stage, unique LED chandelier, and customizable ceiling accented by light panels. This modern wedding venue truly has everything you need.
Modern Ballroom in Los Angeles offers couples and other clients a one-of-a-kind experience for events of all kinds.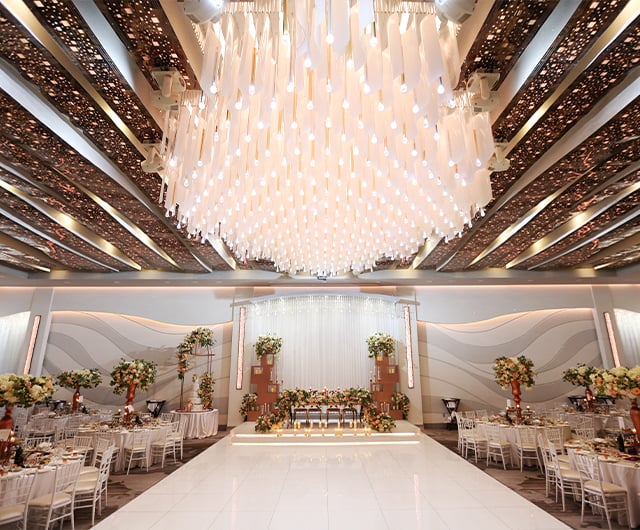 Amenities
Perhaps the most prominent feature of Modern Ballroom is the LED lighting chandelier, which is composed of long hanging crystals suspended directly above the dance floor. The venue is also well-known for its ceiling, which can be made to look like a starry night sky.
Capacity: 423 Guests
701 S Central Ave., Glendale, CA 91204
5,500 square foot ballroom
800 square foot dance floor
Bridal lounge
Large foyer with glass staircase
State-of-the-art LED lighting system
Unique ceiling and chandelier
Two large projection screens
HDTV seating chart display
Dry ice fog machine
Entertainment stage
Seating Charts
At Modern Ballroom, we love helping our clients tailor their event. Part of that is providing seating charts for you to select from. You will find that different seating arrangements have an effect on the flow and vibe of the event. Take a look at what we have to offer!
818-241-5432
Booking Inquiry

Customize Your Event
When you book with Modern Ballroom in Los Angeles, you not only receive a gorgeous space to host your event; you also receive helpful assistance from some of the friendliest and most talented staff members in Los Angeles. We will help you with the event planning by helping you select the right linens, tableware, and seating arrangements. We can also provide additional vetted vendors such as DJs, bands, photographers, florists, and cake designers.
Events We Hosts
Weddings
A wedding is one of the most important days of a couple's life. At Modern Ballroom in Los Angeles, no one understands this more than we do. From the moment a couple books with us, they can have peace of mind that every aspect of their wedding will be cared for by our hardworking staff. We do everything within our power to give our couples a truly beautiful wedding day.
Special Occasions
There are certain milestones in life that deserve to be celebrated in the biggest way possible. For these special occasions, Modern Ballroom offers our stunning event space, delectable catering, and fantastic service. We host:
Birthday Parties
Quinceañeras
Baby Showers
Anniversaries
Bar/Bat Mitzvahs
Bridal Showers
Engagement Parties
Christenings & Baptisms
Corporate Events
Whether you're hosting a corporate event for partners, employees, customers, or investors, Modern Ballroom provides a sleek, professional space for your purpose. Take a look at the corporate events that we proudly host:
Fundraising Galas
Awards Ceremonies
Charity Events
Company Luncheons
Product Launches
Holiday Parties
Team Building Events
Filming
Dining Options
Modern Ballroom is well-known for outstanding catering. Our clients and guests alike fall in love with the dishes that our gourmet chefs prepare. No matter what type of event you're hosting, we will work with you to arrange the perfect menu, and we will help you decide which dining style works best for your party.
See Dining Options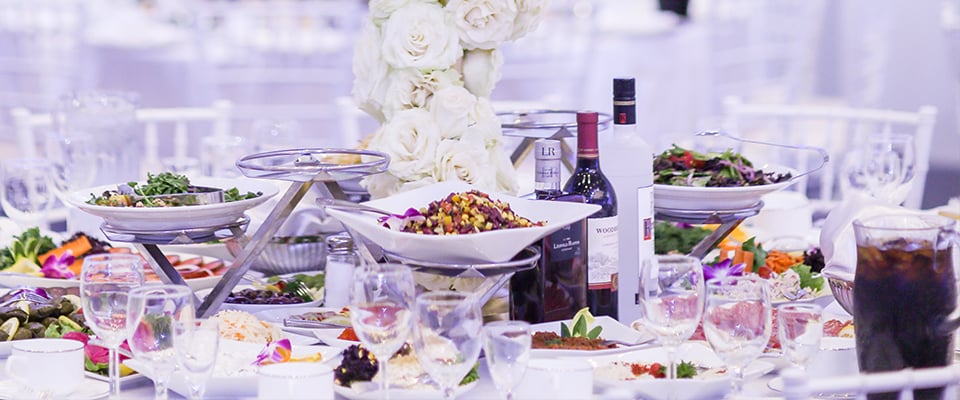 Our Premier Selection Of Event Venues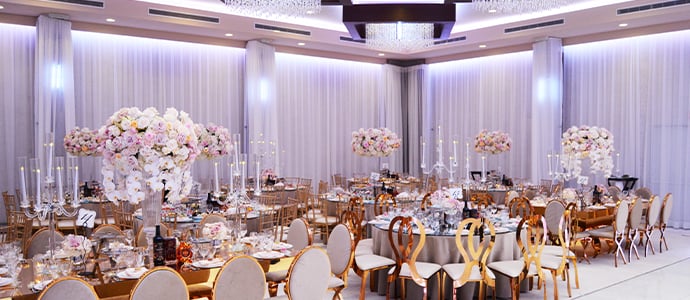 Millennium Ballroom
With sparkling framed drop chandeliers, ceiling-to-floor drapery, and a stage and dance floor to help your guests party all night long, the Millennium Ballroom is an ideal backdrop for milestone events.
701 S Central Ave., Glendale, CA 91204
Capacity: 423 Guests
Explore Venue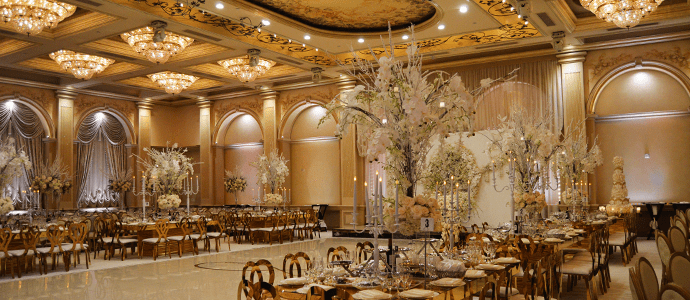 Grand Ballroom
One of the most beautiful banquet halls in Los Angeles, the Grand Ballroom features European-inspired architecture, luxurious décor, and lavish style. Your guests will feel like true royalty in this ballroom!
1236 Central Ave., Glendale, CA 91204
Capacity: 480 Guests
Explore The Venue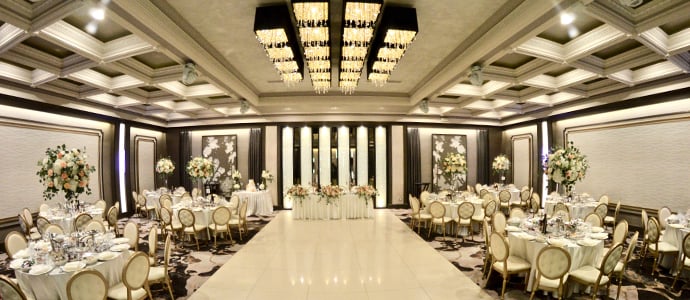 Crystal Ballroom
Perfect for smaller events such as showers, birthdays, intimate receptions, anniversaries, or engagement parties, the Crystal Ballroom exudes modern opulence. Come make life-long memories in this lovely party hall in Los Angeles!
1236 Central Ave., Glendale, CA 91204
Capacity: 160 Guests
Explore The Venue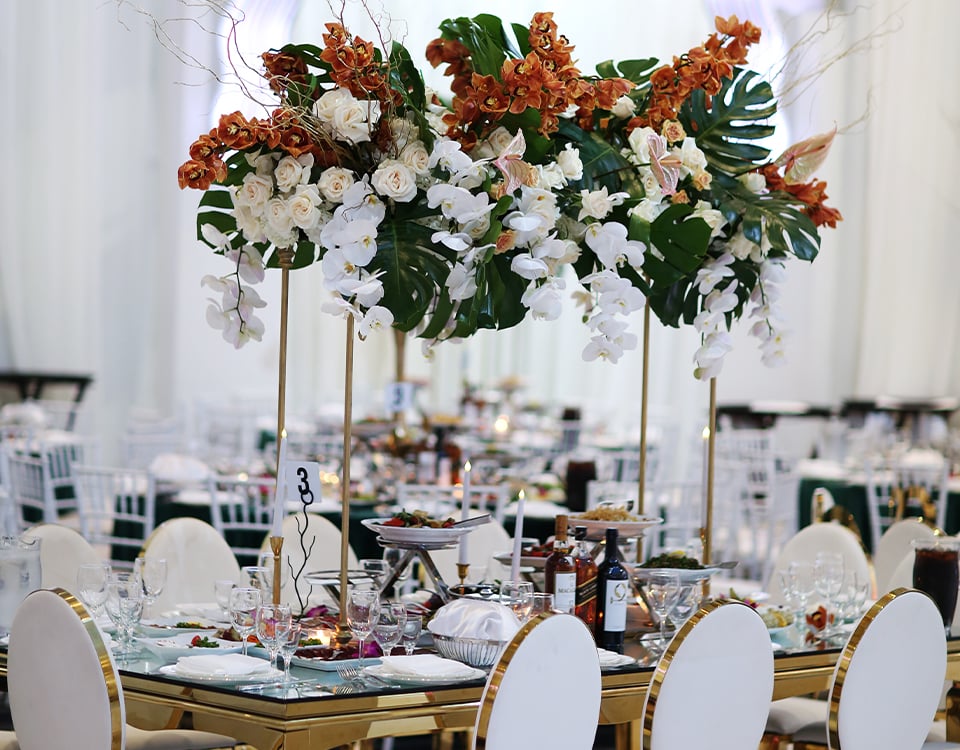 Questions
It is impossible to remember all the questions and details you want or need to know at each venue you look at. Making a list to bring with you can be helpful. You also want to talk to more than one person at the venue. Ask questions of the wedding coordinator, catering manager, business manager, and anyone else who may be involved in your day. Some questions that you should ask include:
How many weddings are held here in one day?
We only host one wedding per day here at the Modern Ballroom. Your wedding day is one of the most special days of your life and we want to ensure all the focus and attention is on you and your guests.
Do you anticipate any changes to the Modern ballroom before the wedding day?
We recently invested a lot into redesigning our ceiling to offer a gorgeous "starry night" look. Currently we do not anticipate any changes but we are always looking to improve and offer our guests the best experience possible.
Do you have any construction or landscape changes coming up before my wedding?
There are no plans currently for any changes to the Modern Ballroom. These changes typically are planned well ahead of time so you will be sure to know if we do decide to make any.
Who will be here helping me the actual day of the wedding?
Our experienced staff and event planning crew will be there the day of your wedding to ensure everything goes as planned. Our waitstaff and kitchen staff will also be in attendance to make sure your guests receive the best possible experience.
What To Consider When Booking Your Los Angeles Wedding Venue
Logistics
There are many factors to consider when searching for and booking your wedding venue. At Modern Ballroom in Los Angeles, we know the in's and out's of this area. Take a look at our helpful tips!
First of all, it's very important to consider the season in which you will be getting married, as well as the time of day.
You should also have an idea of how many guests you want to invite, as this will also help determine the size of the venue that you need. Although you don't necessarily need a concrete number, it does help to have an estimate.
Other things you may want to consider are whether the venue is handicapped accessible; if there is plenty of parking, and what the lighting and sound system is like.
Visiting the Venue
At Modern Ballroom, we encourage couples who are touring our venue to take lots of pictures as they walk through the space. This way, they can review and remember everything once they're at home in order to make a better decision.
We also try to encourage couples to visit the wedding venue at the same time of day that they're planning to get married. This helps them see exactly what the lighting will be like during their time with us.
Full-Service Venue?
There are two different types of event halls you can book for your wedding: a full-service venue, and a non full-service venue.
A full-service venue includes tables, chairs, dishes, linens, a dance floor, a stage, and also typically offers in-house catering. A non full-service venue provides only the space, and nothing else.
A good note to be aware of with full-service venues is that sometimes when you book with them, you are only allowed to use the venue's approved vendors. This is a good question to ask during your venue tour, because you may have your heart set on a certain florist, baker, or other vendor.
Some full-service venues, however, don't mind if you select your own outside vendors.
Fortunately for our guests, all of our banquet halls in Glendale are full service to give you the best possible experience.
Wedding Style
Another important factor when choosing a wedding venue will be what style of wedding you want.
Do you envision a rustic barn, a sleek Los Angeles ballroom, an historic hotel, or a romantic vineyard? Make sure the style of wedding you want matches your venue choices.
It's also important to figure out how big of a venue you need. Some guests prefer large venues for up to 1,000 guests, while others might prefer a small wedding venue for a more intimate gathering.
What To Ask
Here's another valuable piece of advice from Modern Ballroom: it's impossible to remember all of the questions and details you want or need to know at each venue you tour. This is why making a list to bring with you can be very helpful.