Header Image: weddingwire.ca
Everyone wants their wedding reception to stand out and give their guests something to remember, and the reception is a fantastic opportunity for you to be creative and find some truly incredible elements to give your big day a little extra oomph. Here are a few of our favorite wedding reception entertainment ideas that will take your event to the next level.
Strolling Champagne Dresses
What a fabulous way to serve champagne! Having a lovely lady floating around the room, offering guests champagne straight from her dress-table will charm everyone. This is a wedding reception entertainment idea that adds an element of luxury to any event.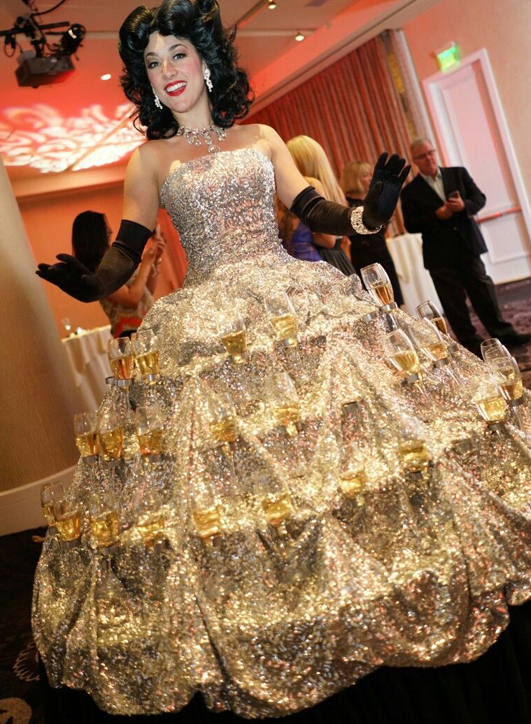 Dancers
Consider hiring dancers to provide a choreographed number or two at your reception. Your guests will absolutely love this. Whether it's burlesque dancers, a performance from a musical, or a dance that honors your background, dancers will most definitely give you and your guests something to remember.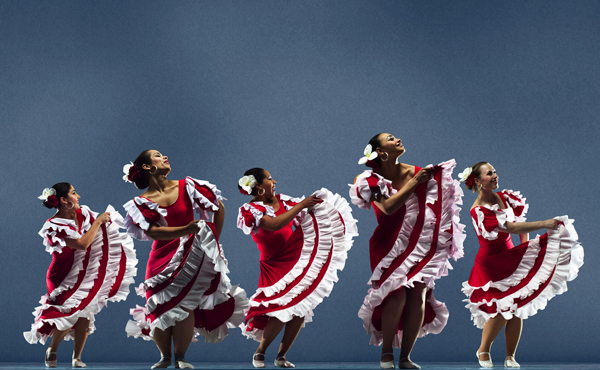 A Coffee Artist
If you're planning on serving coffee at your wedding reception (and who wouldn't?), you may want to think about booking a professional coffee artist to work their magic for those who want a cuppa joe. While it's not exactly a wedding reception entertainment idea, a coffee artist will still add a delightful element to your wedding.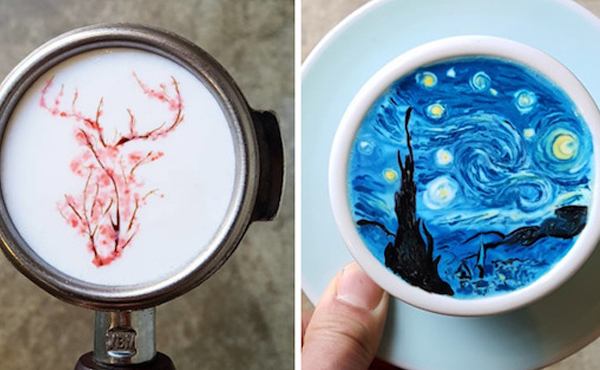 SpeechBooth
SpeechBooth is an excellent service that lets wedding guests to record well wishes, memories, advice, and anything else they want on a video for you and your partner—and then the company edits it together and sends it to you.
It works by mail. You will be sent a lightweight box that includes the small amount of equipment you'll need, and then you just set it up at the reception.
After the reception, you will take the equipment apart again, mail it back to SpeechBooth, and then in about a month, you'll get your edited video with all your guests' messages back!
This is a very fun activity for guests to do at a wedding. Some couples even include props that guests can wear or hold during their message.
Show-Stopping Strolling Acts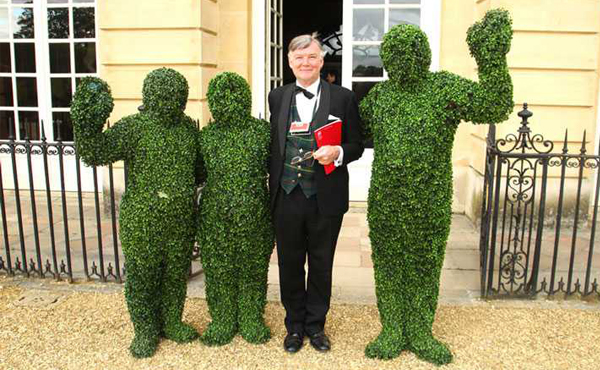 There are so many amazing types of vendors that you can book to add a splash of true wonderment to your wedding. Here are some very popular wedding reception entertainment ideas for vendors who will stroll around, mesmerizing guests:
Fire Tuba
Living Robot
Belly Dancers
Contortionists
Human Topiary
Light Walkers On Stilts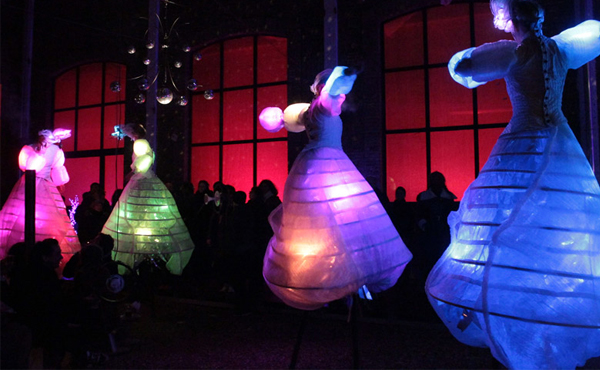 Unique Wedding Music
Add some personality to your reception with a live band that's a little out of the ordinary — something like a mariachi band that covers new Top 40 hits. Or what about a strolling acoustic duo, or a small group of gospel singers? An a cappella group or opera singer are also great options. Let your imagination guide you on this wedding reception entertainment idea.
Edible Mist Orbs
Not only visually striking, but also very interactive, edible mist orbs are sure to intrigue your guests. These orbs use ultrasonic vaporizing technology to create a continuous cloud of flavored mist that your guests can inhale through a straw. Popular flavors include apple pie, cookie, and cucumber.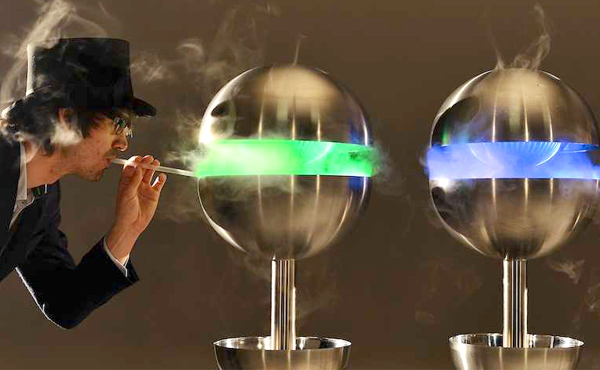 Silhouette Artist
A wedding reception entertainment idea that will impress your guests is to book a silhouette artist to provide everyone with their very own silhouette drawing. These can even double as wedding favors, and adds an element that will be truly unforgettable.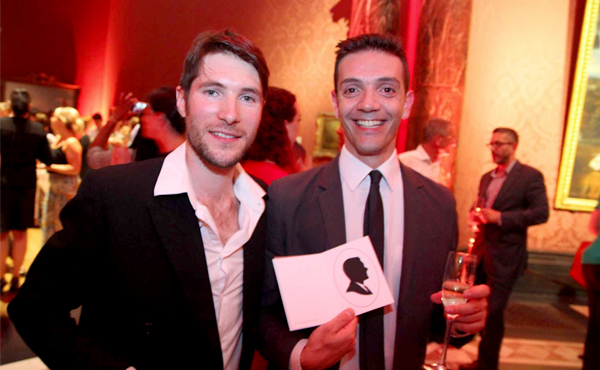 Projection/Video Mapping
A wedding reception entertainment idea that will mesmerize your guests is video mapping. This technology has become a huge hit, and with good reason. It has the ability to transform a room into nearly any "scenario" you can dream up — and when you pair it with just the right music, video mapping can transport your guests into a wonderland of enchantment.
This technology is also fantastic for cakes. A wedding cake makes the ideal canvas for elaborate designs to be projected onto. You can wow your guests (and yourself) by showcasing fireworks, written words, flowers, or photos on your wedding cake, making it come alive.
Surprise Confetti
A classic wedding reception entertainment idea is to arrange for confetti to drop at some point during the event. The big moment can happen during a particularly popular song that has everyone on the dance floor, or perhaps during the couple's reception entrance. Confetti out of nowhere is always a big, surprising crowd-pleaser.
If your wedding venue doesn't provide a confetti-drop feature, think about hiring a confetti cannon specialist.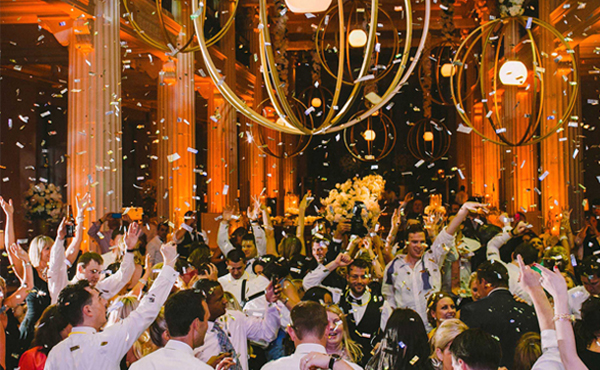 Something Special For The Kids
Let's face it: receptions can be long, and if there's not much for kids to do, they can become restless and whiny. Because of this, it's a great wedding reception entertainment idea to have something for them to do.
Whether it's setting up a special "kid zone" area just for them (like a teepee room with games), hiring a kids' entertainer, providing a crafts table, organizing a scavenger hunt, or having a piñata, having something for kids to do during the long hours of a reception is very wise.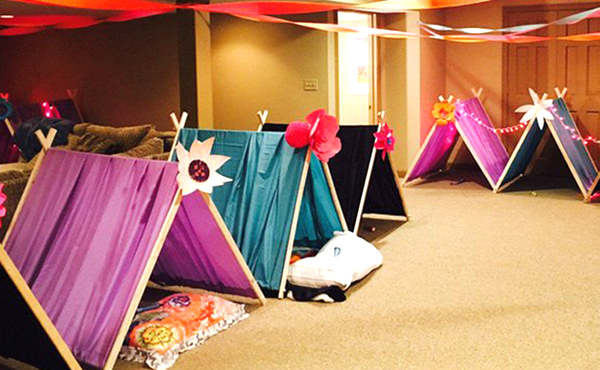 You may also consider asking your band or DJ to toss in a few songs just for kids in order to have a few times during the reception where it's "kids only" on the dance floor. The kids will love this, and their parents can take a minute to rest and watch their kids have a blast.
Midnight Snacks
An oldie, but a goodie. Again, it may not exactly be a wedding reception entertainment idea, but it is still a great idea in general for the reception.
Your guests are going to be dancing and hanging out long after the food has been cleared away, but burning all those calories is going to make them hungry again after awhile. This is why so many couples arrange in advance for a delicious food truck to stop by at midnight, or some other sort of snack delivery.
This is a great idea, as you and your guests will be excited to eat something yummy again. This often makes the perfect nightcap right before the wedding send-off.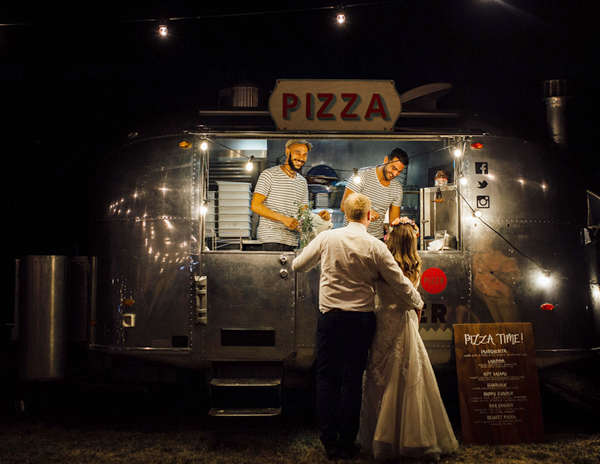 Does this list have you inspired for your own wedding reception entertainment ideas? We hope it will help you during your wedding planning. And remember, if you're looking for the best wedding venues in Los Angeles, consider us at Metropol. We offer four different banquet hall spaces that are stunning and versatile. Contact us for any information you may need!