Millennium Ballroom: A Unique And Upscale Venue For Wedding Receptions
Ideal for wedding receptions, the Millennium Ballroom combines romance with upscale décor for an ambiance that is undeniably modern and stylish. Our expert team works hard to make every detail of your wedding day just as you imagined it, from the atmosphere to the food to the service. No matter what the style or theme of your dream wedding may be, the staff at this luxurious wedding venue has you covered in order to make your special day go as smoothly as possible. We aim to impress both you and your guests to make your wedding reception beautifully memorable.
Find Luxury And Sophistication At Millennium Ballroom
Millennium Ballroom in Los Angeles is a perfect blend of chic style and luxurious romance.
The modern architecture begins in our stunning foyer, featuring white marble floors, mirrored walls, and dazzling lighting.
In our ballroom, sparkling framed crystal chandeliers are housed within dark wooden beams that drop from the ceiling, and the walls are lined with elegant drapery and a soft color palette to enhance the environment. The dance floor and entertainment stage face three sides of seating for up to 318 guests.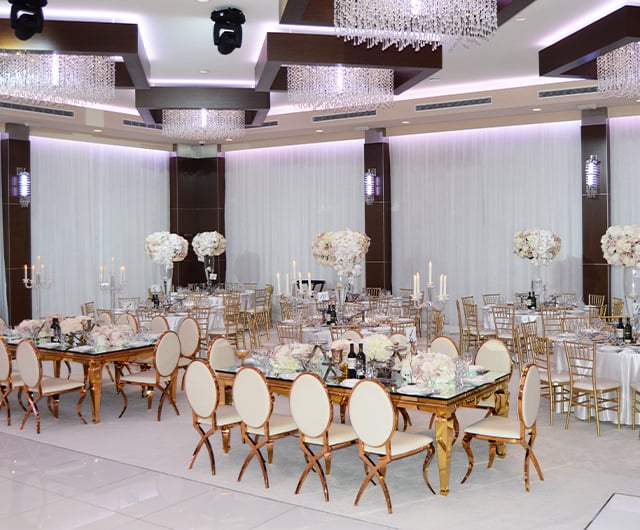 Amenities
At Millennium Ballroom, the needs of our clients is priority. This is why we offer the best imaginable amenities for your event. No matter what type of special occasion or the theme, we bring you everything a great party requires.
Capacity: 300 Guests
701 S Central Ave., Glendale, CA 91204
3,500 square foot ballroom
600 square foot dance floor
Sleek white foyer
Stage for entertainment
Options for catering
White LED chandeliers
Separate entrance featuring a water fountain
Seating Charts
Different floor plans can achieve different moods, and the flow of your seating arrangement is important. Take a look at our variety of seating charts to discover which one will work best for your specific event.
818-241-5432
Booking Inquiry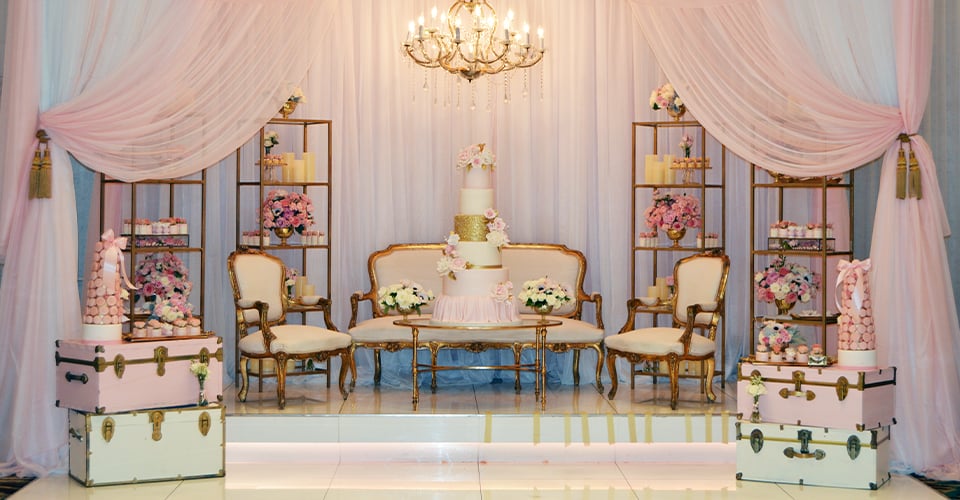 Customize Your Event
One of the most exciting parts of event planning is tailoring every detail to fit your vision. From the décor to the theme to the music to the cuisine, event planning can be a true expression of oneself. This is why we offer multiple amenities to help you customize your event. From the tableware to the lighting, allow us to help make your vision a reality.
Event We Hosts
Weddings
No one does weddings like we do at the Millennium Ballroom! We understand the importance of such a monumental day, and our attention to detail is unsurpassed. Our hardworking staff does everything possible to make yours a wedding to remember. From the food to the tableware, every aspect of your reception will be to your liking. At Millennium, your wedding reception will be a once-in-a-lifetime party that no one will ever forget.
Special Occasions
Millennium Ballroom makes the perfect quinceañera hall, anniversary and engagement space, and birthday party venue in Los Angeles. We have everything you need to throw the ultimate party for these occasions:
Birthday Parties
Quinceañeras
Baby Showers
Anniversaries
Bar/Bat Mitzvahs
Bridal Showers
Engagement Parties
Christenings & Baptisms
Corporate Events
If you're looking for a corporate party venue in Los Angeles that is professional yet stylish, Millennium Ballroom is exactly what you're looking for. Our sophisticated space and cutting-edge amenities will help you pull off a perfect event.
Fundraising Galas
Awards Ceremonies
Charity Events
Company Luncheons
Product Launches
Holiday Parties
Team Building Events
Filming
Dining Options
At the Millennium Ballroom in Los Angeles, we are proud to offer some of the most outstanding catering in the area. From Mediterranean to Mexican to Greek to American, our world-class chefs will work with you to design a menu that is perfect for your event.
See Dining Options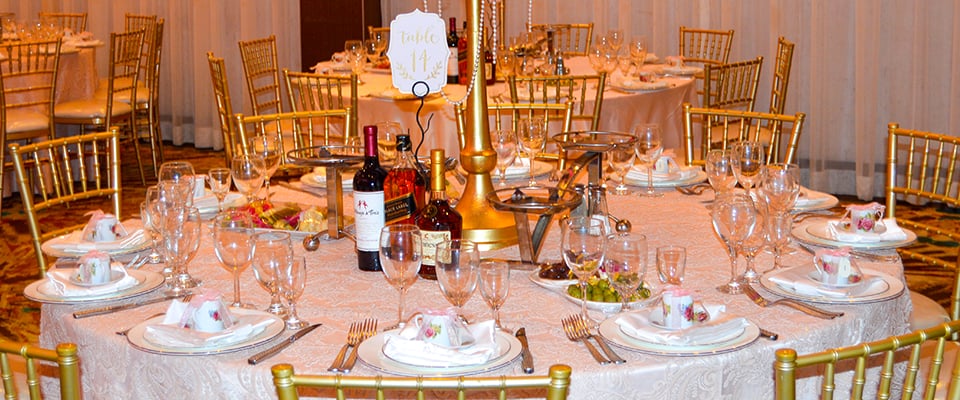 Our Premier Selection Of Event Venues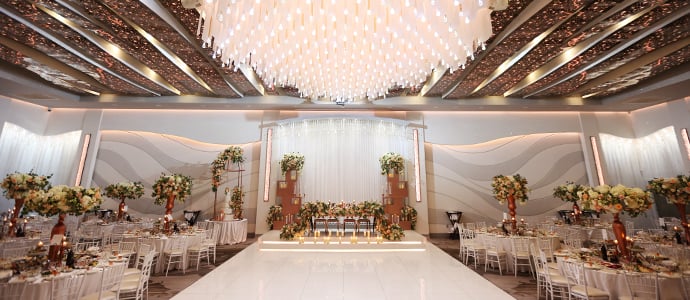 Modern Ballroom
A Los Angeles event venue fit for any party, Modern Ballroom is a trendy space with an electric atmosphere. Versatile and impressive, Modern Ballroom will impress both you and your guests. The "starry night" ceiling will surely be a hit for your guests!
701 S Central Ave., Glendale, CA 91204
Capacity: 400 Guests
Explore Venue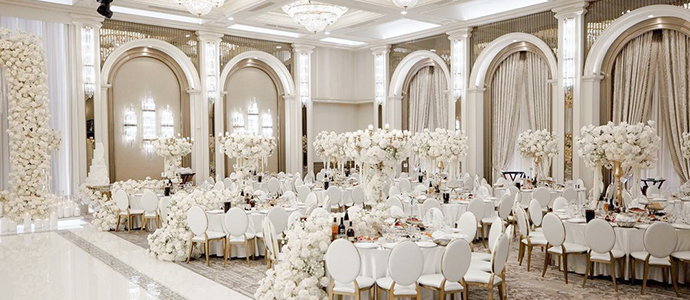 Grand Ballroom
With opulent ceiling-to-floor drapery, stunning European-inspired décor, and exquisite accents, the Grand Ballroom is like something out of a fairy tale. Find out why this beautiful ballroom remains one of our most popular in our diverse collection.
1236 Central Ave., Glendale, CA 91204
Capacity: 450 Guests
Explore The Venue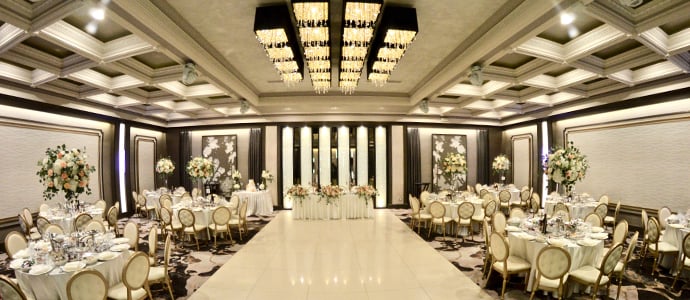 Crystal Ballroom
For more intimate events with a smaller guest count, our Crystal Ballroom is absolutely perfect. With everything you need to host a party to remember forever, the Crystal Ballroom is small and stunning and ideal for all your smaller gatherings.
701 S Central Ave., Glendale, CA 91204
Capacity: 140 Guests
Explore The Venue
What Are The Top Two Things To Remember
When Organizing A Memorable Wedding?
Planning a wedding can be an overwhelming task for most brides. There are so many complex details that are critical to think about when planning every aspect of the day.
One of the most common questions we hear from couples at the Millennium Ballroom in Los Angeles is where to begin. A key recommendation is to first create a broad idea of what you want your wedding to be like, and then pin down each item.
The Right Wedding Officiant
One of the most important decisions you will need to determine is who your wedding officiant is going to be. When choosing this role, you should consider the broad idea of how you would like your wedding to be. By determining the type of ceremony you will have, you can help narrow down your choices for wedding officiants.
Because there is a wide variety of officiants available, it can be overwhelming to know which one will be the best for your wedding. Here are some questions to consider when deciding on who your officiant should be:
Will the ceremony be religious or secular?
How long should the ceremony be?
Do you want it to be personalized or very traditional?
After deciding what type of ceremony you want to have, you can then find a multitude of wedding officiants who match what you're looking for.
After you think you've found the right type of officiant, you need to set up a meeting with him or her. By meeting them in person, you will be able to get a sense of their personality, and can then determine if they are able to accurately represent you and your fiancé during your wedding ceremony.
The Perfect Wedding Venue
The next item to consider is your wedding venue. This is a very important element because so much of the other wedding planning will revolve around the wedding venue that you select.
At Millennium Ballroom, we explain that it's important to select a wedding venue that not only you love, but is also practical. For instance, if your wedding officiant is going to be performing an extremely traditional ceremony, it probably doesn't make much sense to hold the wedding at a more unusual venue such as a hotel. Or if you want your wedding to feel very upscale, a rustic barn probably is not a good match.
What To Consider When Selecting Your Venue
It's important to decide on the tone and style you want for your wedding early on. In addition to figuring out the tone, you'll also want to decide on the theme of your reception so that you can begin planning your décor and color palette. By starting out with these few details, you'll be able to better understand what type of wedding reception hall you want.
It's also wise to understand logistics. While you do not need to have a finalized guest list when finding your wedding venue, you should have an idea of how many guests you would like to attend. This will allow you to cross Los Angeles venues off the list that would not accommodate your guest count. In addition to the size, it's important to find out if there's heating and/or air conditioning, if there's a solid plan for bad weather, and if the lighting is adequate for your needs.
It's a good idea to visit your potential wedding venue during the exact time of day when you would be holding your wedding. Typically when couples tour California venues, it's at a different time of day than the actual wedding would be. If you want to get an accurate idea of what the lighting will look like during your wedding, you should request to see how the venue looks during the exact time of your wedding.
Find out if the wedding venue you are considering is full-service. There are two entirely different types of wedding venues: full-service and non full-service. If the venue is full-service, it typically includes tables, chairs, catering supplies, dishware, silverware, and linens. Non full-service venues only offer you the space, and it's up to you to supply the rest. This means you will be in charge of booking and coordinating all the vendors for tables, chairs, dishes, linens, and catering needs on your wedding day. This will be a personal choice for every couple, but it's good to know up front the difference. Luckily for you, all of our banquet halls in Glendale offer full-service to simplify your planning and make it easier!