Crystal Ballroom at Renaissance Ballroom in Los Angeles
Ideal for events with smaller guest counts, the Crystal Ballroom is an iconic event space in Los Angeles that provides an intimate atmosphere, modern décor, and upscale style.
Whether you're hosting a birthday party, a shower, anniversary, corporate event, an important family milestone, or a small wedding reception, the Crystal Ballroom makes the perfect setting. Along with an exceptional atmosphere, the Crystal Ballroom also features a dedicated, hardworking staff that is willing to go the extra mile to make your event a success. We also provide world-class catering services and specially-designed menus to enhance your party.
Sophistication And Elegance At The Crystal Ballroom
If you're envisioning a memorable party where your guests dance the night away to amazing music while enjoying amazing food, the Crystal Ballroom is exactly what you want. Although is has been designed for smaller parties, it still packs an impressive punch with its sculpted high ceiling, chic chandeliers, European-inspired décor, and lovely foyer. When it comes to attention to detail, our staff keeps everything in mind to help make your event go smoothly and just the way you envisioned it. Your satisfaction is our highest priority, and we are honored to be a part of your special event.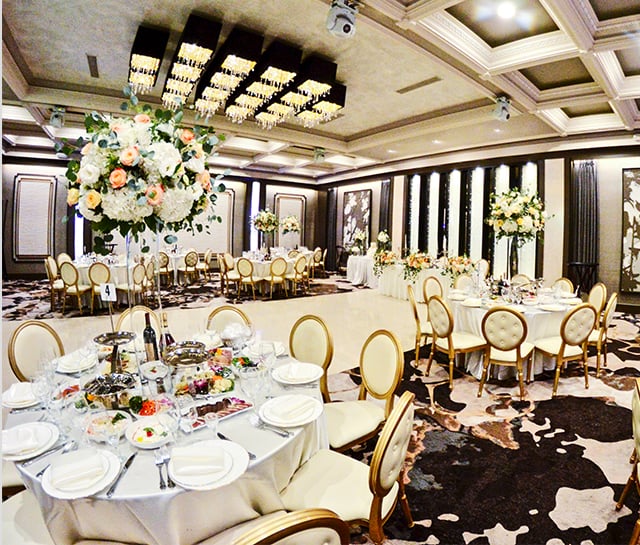 Amenities
If you love the idea of "fog" rolling along the floor during a special dance, or lights that perfectly match your event's theme, the Crystal Ballroom offers all of this and more.
Capacity: 140 Guests
1236 Central Ave., Glendale, CA 91204
800 square-foot dance floor
Hazer machine (for fog)
State-of-the-art LED lighting system
Entertainment stage
Stylish chandeliers
Seating Charts
No matter what type of event you're having, it's very important to consider the seating arrangement for the best room flow and for optimal guest comfort. Take a look at our seating chart options to get inspired!
818-241-5432
Booking Inquiry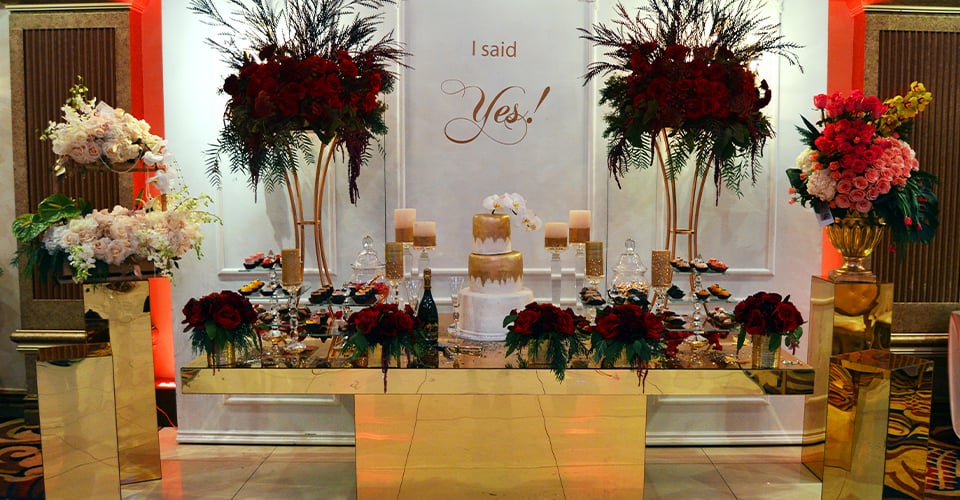 Customize Your Event
Your event should be just as unique as you are. When it comes to the dishes, linens, and lighting, we want to help make your party look exactly the way you wish. Whether you're planning a luxurious wedding or fairytale quinceañera, our team has years of experience, and we are confident that we can help plan these aspects of your event to bring your vision to life. And if there are elements of your party that we don't cover (such as flowers, photography, photo booths, etc.), we are happy to recommend vetted vendors for you that we have previously worked with. Our goal is to make your dream for the event come true.
Event We Hosts
Wedding
If you are having a more intimate wedding with a smaller guest count, the Crystal Ballroom in Los Angeles is perfect for you. With its luxurious architecture, foyer for mingling, outstanding catering, dance floor, and stage, the Crystal Ballroom provides everything you need a wedding reception hall to have for a truly fabulous reception. You and your guests will have an experience to remember forever when you celebrate at the Crystal Ballroom!
Special Occasion
Life's biggest and best milestones should be celebrated in style, surrounded by your closest family and friends in an extraordinary environment. At the Crystal Ballroom, we are proud to host the following special occasions:
Birthday Parties
Quinceañeras
Baby Showers
Anniversaries
Bar/Bat Mitzvahs
Bridal Showers
Engagement Parties
Christenings & Baptisms
Corporate Event
Ideal for smaller company events, the Crystal Ballroom strikes an impressive and professional note. Whether you want to party with the partners or raise funds for a serious cause, the Crystal Ballroom is the ultimate corporate event venue in Los Angeles.
Fundraising Galas
Awards Ceremonies
Charity Events
Company Luncheons
Product Launches
Holiday Parties
Team Building Events
Filming
Dining Options
For most people, one of the best parts of any event is the food. At the Crystal Ballroom, we understand the importance of this, and that is why our world-class catering department works very hard to create a memorable menu for you and your guests.
See Dining Options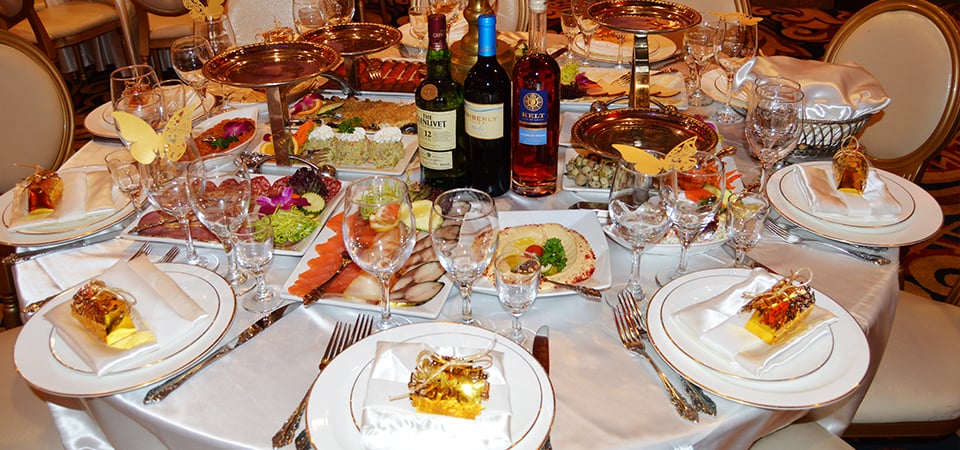 Our Selection Of Luxury Event Venues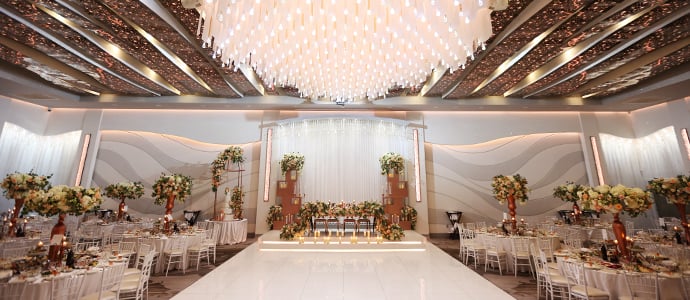 Modern Ballroom
Modern Ballroom is a stylish event venue in Los Angeles with a modern aesthetic. Featuring many customizable amenities, this extraordinary venue is perfect for large events and weddings.
701 S Central Ave., Glendale, CA 91204
Capacity: 400 Guests
Explore Venue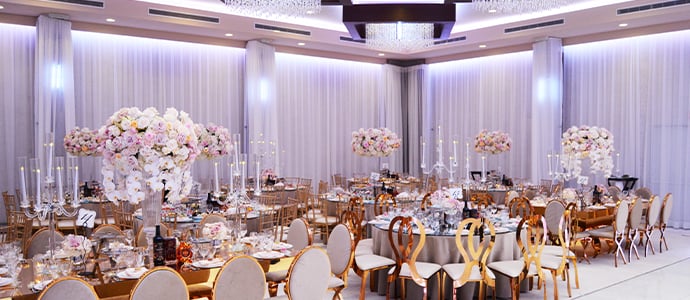 Millennium Ballroom
Upscale and sophisticated, the Millennium Ballroom has an energetic atmosphere for events of all kinds. Celebrate life's best moments with your closest friends and family in this beautiful space!
701 S Central Ave., Glendale, CA 91204
Capacity: 300 Guests
Explore The Venue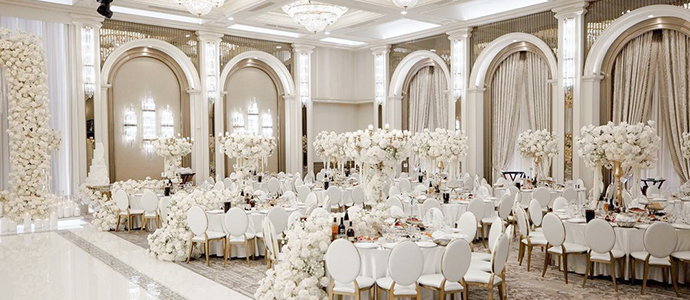 Grand Ballroom
With high ceilings dotted with twinkling chandeliers, European-inspired architecture, and a spacious dance floor, you and your guests will feel like royalty within the walls of the Grand Ballroom.
1236 Central Ave., Glendale, CA 91204
Capacity: 450 Guests
Explore The Venue
Do's And Don'ts of Finding Your Perfect Wedding Venue
One of the most complicated parts about planning your wedding is finding the perfect venue.
Perhaps you're envisioning a wedding that is very elegant, with a fairy-tale feel and sparkling chandeliers, such as the Crystal Ballroom in Los Angeles. Or perhaps you're considering something more rustic, like a barn or an open field. Then again, you may prefer something industrial: a warehouse or factory loft.
Whatever your preference may be, the venue you choose can make or break your wedding. While you may have the big picture in your mind of what you want, it's not always easy to focus on the details that can put one venue over top of another.
To help you find the perfect banquet hall in Glendale for your ideal wedding, here is a helpful list of the top Do's and Don'ts when it comes to venue hunting. This can help narrow down your options so that you can find the exact wedding venue that is right for you.
Do: Think Big By Yourself
When you begin narrowing down your venues, getting outside opinions and expertise is extremely valuable. However, the best thing you can do as you gather your ideas is to research venues on your own, as a couple. This type of brainstorming will allow you to give and get honest feedback about what your must-haves are regarding your venue. Additionally, it can quickly become easy for a wedding or event planner to overpower one person in a couple if they do not speak up as much. By starting out on your own, you can both gather ideas and solidify what you're looking for.
Do: Be Candid With the Venue Coordinators
When you speak with the wedding venue coordinators, you should have a list of:
What you will require at the venue
Whether the venue includes those things in the fee
Whether or not you will need to bring in certain needed things (catering, sound system, open bar, etc.)
If the venue is at the top of your budget and includes your must-haves, that's great. If it's expensive and you're still going to have to foot the bill for catering and an open bar from another vendor, stick to your original plan and see it through. There will always be another option.
At the Crystal Ballroom in Los Angeles, our venue planners are well known throughout the area for working with couples and helping them work within their budget while planning the wedding of their dreams.
Don't: Rush the Process
For most people, selecting their wedding venue is one of the first items to check off the to-do list. Once the right wedding venue is found, many other elements of the wedding planning will fall into place.
However, finding the right wedding venue is also one of the most important elements of planning. When this decision is rushed, it can be easy to forget things that you require the venue to have. You can also end up lowering your standards on what is truly important to you. Instead, take your time with the venue. If the staff is rushing your decision-making process, it probably isn't the right place for you.
Don't: Bring Your Entire Bridal Party to the Tour
This goes for families, too! When you and your significant other are deciding on the wedding venue, you should either tour it by yourselves, or bring just a couple trusted friends. If you bring all of your bridesmaids or your seven siblings, that is not going to go well. There are going to be way too many opinions going on at the same time, and it will slow down the entire process.
The venue shopping process should be between you and your partner—and perhaps an honest friend or family member. Too many cooks is never good
If you follow these Do's and Don'ts, you're on the path to finding your perfect wedding venue. To get more information on venues for your wedding in the Los Angeles area, contact us today!
818-241-5432
Booking Inquiry