A Diverse Collection Of Banquet Halls For Rent In Los Angeles
With four unique, award-winning ballrooms to choose from and rent, our clients have many options for any type of event. We offer a variety of banquet halls for rent in Los Angeles that vary in capacity from 140 to 450 guests, and each offer fantastic amenities so that you can celebrate in style. Whether you're looking for a more modern atmosphere or a classical style with romantic architecture, our ballrooms will go above and beyond your expectations. There's a reason that 60% of people who tour our event venues book their banquet hall rentals with us!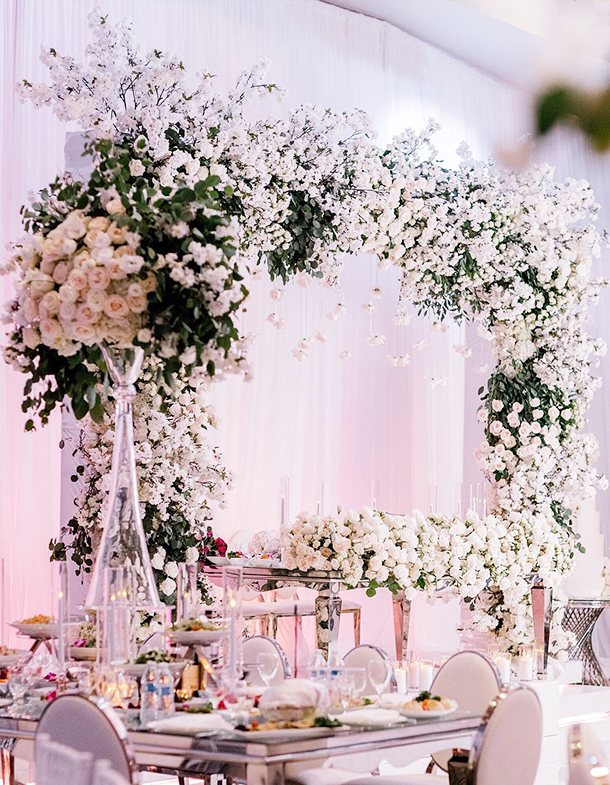 Metropol's Modern Ballroom is reflective of contemporary design, as seen on the exterior of the building—with an equally stunning interior. The Millennium Ballroom is a modern space with beautiful drop-framed crystal chandeliers and an LED-lit, white marble-floored foyer. The Grand Ballroom at Renaissance features stunning European-inspired architecture and décor, while the Crystal Ballroom is ideal for smaller, more intimate occasions. Request a tour to see our ballrooms, and determine for yourself which of our four outstanding Los Angeles banquet hall rentals is right for your event.
Explore Our Ballrooms
Celebrate Your Special Event
Welcome to the spectacular Metropol Event Venue in Los Angeles! Our ballrooms for rent provide the ultimate space to celebrate your event and create memories that you'll never forget. Our banquet halls in Glendale have everything you need in a ballroom rental, from seating to tableware to lighting and a stage. We have you covered with anything you could ask for!

Weddings
Special Occasions
Corporate Events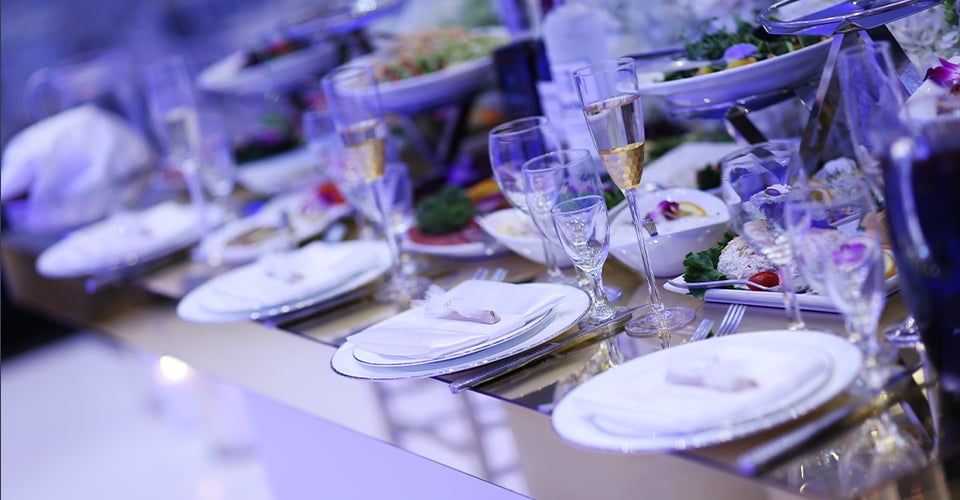 Catering Services
Our award-winning Los Angeles ballrooms aren't only about beautiful décor and excellent service. We also provide superior catering services. Whether you want family-style dining, table service, a buffet, or simple hors d'oeuvres, we will design a delicious menu that is perfect for your celebration and will be certain to impress your guests.
See Dining Options
Customer Testimonials
I attended a corporate function as a guest to a friend of mine, and I was very impressed by Metropol Banquet. I did not pay much attention to the meeting because I was too busy loving this place. The overall comfortable space, interior design, great food. Impressive venue, right here in Glendale.

-- Nora B.
This venue is a cut above the rest. You have your "wow" moment right there in front of the building, and a lot more to come. Inside, just dripping with luxury. Just great taste in interior design. I mean, this place was built to impress. Obviously, having a professional, pro-active staff serving the guests and staying on top of things is a big plus. My boyfriend and I kept staring at every corner of this amazing ballroom. Great music, great company with all our friends celebrating their wedding. It was a fantastic experience in every way.

-- Maria
This venue is truly memorable. I felt as if I was in Venice when I entered the hallway leading to the classic ballroom. The building is very stylish and comes to life at night when the lights installed around and inside the exterior structure start to change colors. Obviously, having a professional, pro-active staff serving the guests and staying on top of things is a big plus. I can't wait to see the new banquet room they are going to present. It looks very trendy. Open, open, open!

-- Juliet M.
This is by far the most beautiful and breathtaking banquet hall I've ever been to or known of. Good job on the great and well thought architecture its truly amazing. The beautiful vision is not just what Metropol has to offer they have great service and always make their customers happy and pleased to come back. I am looking forward to attending another event at the Metropol! xoxo

-- Julia
We attended a wedding for a co-worker of mine and let me tell you, Metropol is one heck of a beautiful venue, and it looks like the main banquet room is about to open too. My boyfriend and I were at what they call the Classic room and it was a stylish experience. we danced the night away, but I had enough time to appreciate the elegance of the place. There was lots of food, great service, and lots of laughter and smiles. So happy our friends shared their special day with us.

-- Jackie
We had our wedding at Metropol last November 3rd in the Classic Ballroom. Our event manager was Edgar, who was WONDERFUL! We went to see him several times (sometimes without an appointment). Even if he had other clients, he would always welcome us and find the time to meet. He was on top of everything, and made us feel comfortable leading up to the big day. On the actual event date, the staff was EXCELLENT! They were flexible and accommodated last minute changes. They did what we asked (lighting, sticking to schedule, etc.). Our vendors also had an easy time bringing in supplies (flowers, cake, etc.). I recommend Metropol to all my friends that are getting married/engaged. Great location, great food, great staff/managers, great venue.

-- Catherine G.
Don't look further! Metropol is amazing! My brother's wedding was held in the Modern Ballroom and Metropol not only met, but exceeded our expectations. Edgar was the team member we worked with. He was very professional and eager to help in accommodating all of our needs. Metropol's décor is modern, creating an enjoyable and unique ambiance for clients and their guests. We held the ceremony inside the hall, which was very convenient for everyone. Afterwards, our guests enjoyed cocktail hour in the foyer while the staff prepared the ballroom for the reception (took them only 30 minutes! Talk about an efficient team). Cocktail hour was a total success. The violinist, as well as the catering/cocktail service, were both amazing. During the reception, the food and appetizers left our guests speechless. So savory and delicious! The service was fantastic. All the waiters/waitresses were extremely professional and ready to serve all of our guests. My brother's wedding was phenomenal thanks to such an amazing staff and management team. Thank you Metropol!

-- Ani A.
Amazing! Amazing! Amazing! Metropol was the second banquet hall we visited and we decided the go with them for our wedding. At the time it was the old hall but Hrach who is the manager assured us that it would be ready in time for our wedding, which it was. Each step of the way, Hrach made the process easy and was very friendly. The hall was beautiful, the food was amazing and most important of all, the service provided by Hrach and his staff was exceptional. When it was time to pay for everything, there were no surprises. I was charged exactly what I had anticipated. I will have more events I'm sure in the coming years and I will look no further than Metropol. Service is the most important thing to me and these guys are exceptional. Thank you so much for making our day special.

-- Romina H.
Talk about a feast for the eyes and the rest of your senses. Metropol Banquet is brand new. The flashy exterior with the changing lights is an eye-popper. And wait until you go inside. Two huge ballrooms (depending which one your event is in), each with its own theme and such attention to detail. Great service, great food. A memorable time.

-- Albert G.
Read More Testimonials
Check Price & Availability
For pricing and availability, please fill out the form below and a manager will get back to you within 24 hours.