Spectacular Party Venues & Halls In Los Angeles
Metropol features two of the most recently constructed banquet halls in Los Angeles: The Modern and Millennium Ballrooms. Constructed in 2012, our ballrooms were constructed to offer a juxtaposition to the classic, more conservative decor of our sister facility Renaissance, also located in Glendale, CA, a city in Northeast Los Angeles.
The Perfect Party Hall Rental In Los Angeles For Your Special Occasion
At Metropol, we do parties right. From birthdays to anniversaries to christenings, your event will be tailored to your exact vision and we will customize our amenities to meet your needs. We also provide world-class catering to satisfy every taste. We are excited to host the following special occasions:
Celebrate Life's Big Moments At Our Los Angeles Party Venues
Opened in the fall of 2012, Metropol features the Modern and Millennium Ballrooms for weddings, receptions, and other large family events. With a convenient catering service, dance floors in each room, separate entrances, and distinct décor, both of these modern venues provide terrific social event space in Los Angeles.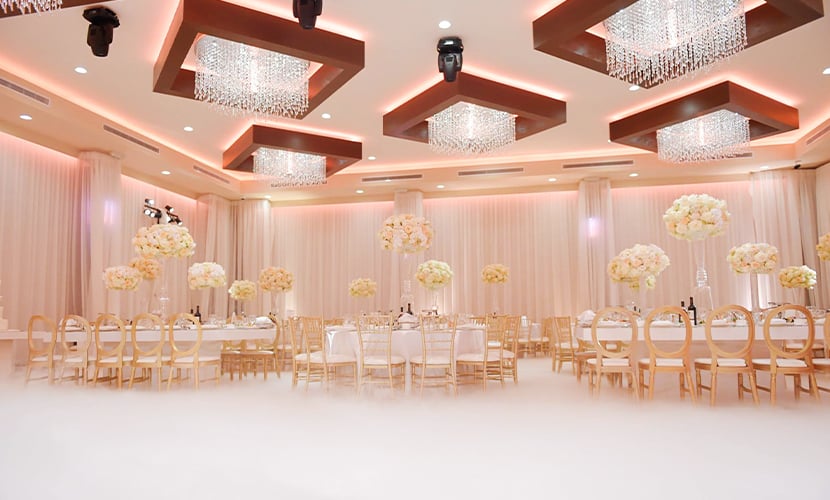 Personalize Your Party With Our Amenities
With our options for linens, dishes, seating arrangements, and lighting, we will utilize our amenities to bring your party to life. No matter what your event theme or color palette may be, our coordinators can help with this area of the décor. If there are other elements that you want, such as floor decals, flowers, or specialty décor, we can recommend vetted vendors to work with you. Our goal is to provide everything you need to give you the party you want!
818-241-5432
Booking Inquiry
What To Ask A Manager Before Booking
Before you confirm and book a party hall in Los Angeles, make sure you know the right questions to ask the venue manager. Whether you're hosting an anniversary, birthday or engagement party, shower, or anything else, asking certain questions will help you know for sure that this is the right party venue for you.
Below are the main questions you should ask the party venue manager before you book with them.
Is the space available for my selected dates?
This may sound like an obvious question, but many people actually do forget to ask, and are then heartbroken to discover that the venue is already booked for their party date. Don't wait until you decide on a venue to call and ask if your dates are available. If your event date is cemented, you need to ask about this during the initial phone call.
Is your venue large enough for my guest count?
Once you know what your guest count will be, including catering and other vendors, you will know exactly which venue fits your criteria.
Is there enough seating for my guest count?
Not only is this an important question to ask; it's also wise to ask if the venue manager is able to provide different seating charts to accommodate your vision.
What amenities does your venue offer?
There are many different types of party venues in Los Angeles. Some are simply giant industrial spaces that don't include any tables or décor. Others are made for special occasions, and come with everything you need, including large foyers for cocktail hour and tables and chairs. Make sure to ask the venue manager about this, and what exactly is included in the booking fee.
Can I bring my own vendors? Does your venue provide in-house vendors?
If it's important to you to find and book your own vendors, this is a very important question to ask. Some venues only allow clients to use their own vendors, which can cause an issue for the person hosting the event. On the other hand, some people appreciate a venue having its own in-house vendors.
Does your venue provide enough outlets/wifi/etc.?
Are there going to be enough power outlets for your DJ? Is the wifi free and strong in case you're planning to stream a playlist or song? Make sure the venue can provide your technical requirements.
How much does your venue cost, and what days are the cheapest?
It's very important to match your budget with the venue you select. Typically, weekdays are cheaper than weekends—so if possible, book a weekday.
Metropol is the hub of four of the finest party venues in Los Angeles. For special occasions of any kind, please schedule a tour of our incredible ballrooms, or take our virtual tour online!
818-241-5432
Booking Inquiry