Stunning Quinceañera Venues & Halls In Los Angeles
At Metropol, quinceañeras are one of our favorite kinds of events. The excitement, joy, décor, and of course, the food make these very special events unforgettable. We are proud to offer four different venues to host your quinceañera. No matter what atmosphere you're looking for or what your party theme may be, one of our quinceañera halls will be absolutely perfect for your celebration!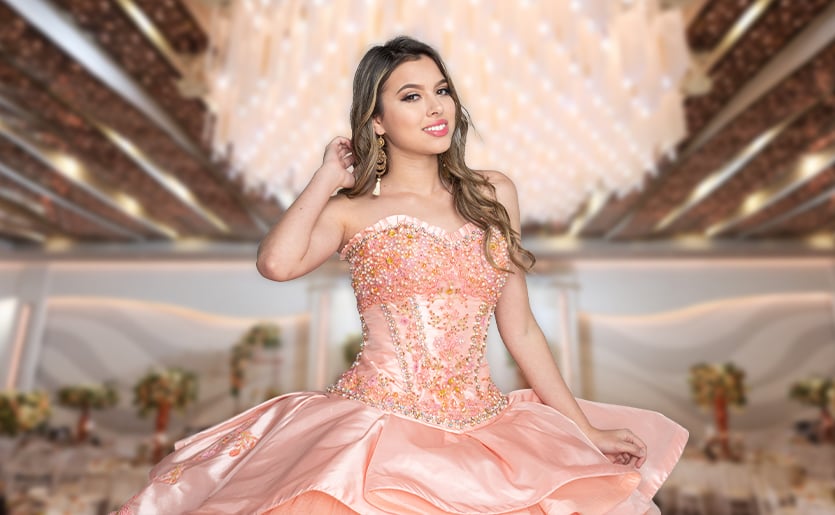 Quinceañera Details And Amenities
Each of our quinceañera halls at Metropol have their own unique features and amenities. If you want your quince to look like an enchanting fairy tale, our Grand Ballroom is perfect. If you'd rather have a glamorous Hollywood theme, our Modern Ballroom has a "starry night" ceiling that will make you feel like you're at a red carpet movie premiere under the night sky of LA. If you want a vintage theme, our Crystal Ballroom is stunning—and if you want something upscale and contemporary, our Millennium Ballroom is ideal.
No matter what your unique quinceañera theme or colors may be, or your guest count, one of our four extraordinary quinceañera venues will fit your event perfectly. Our expert staff works hard to make every detail just right for every event that we host, and we will ensure that everything goes as smoothly as possible.
818-241-5432
Booking Inquiry
Four Quinceañera Halls To Bring Your Event To Life
For your quince, do you want an elegant masquerade? A classic fairy tale? A modern dance party? A throwback to the golden age of cinema? No matter what you're looking for to celebrate this milestone, Metropol has a quinceañera salon to meet your needs and keep you smiling (and dancing!) all night long.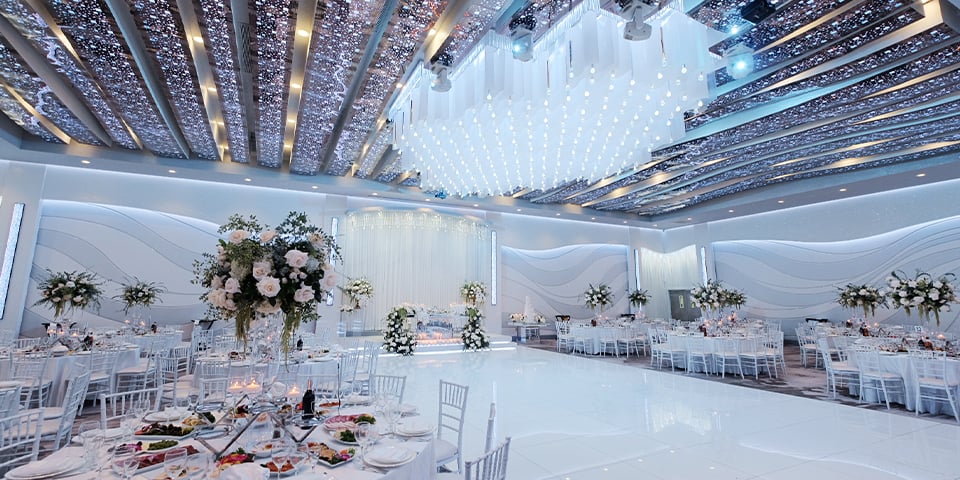 Modern Ballroom
The Modern Ballroom features one of the most unique and beautiful ceilings in Los Angeles. Many of our guests say that it looks like a night sky filled with stars, which provides a sweet, dreamy atmosphere that is perfect for many different quinceañera themes.
Capacity: 423 Guests
701 S Central Ave., Glendale, CA 91204
Explore The Venue
Millennium Ballroom
Our trendy Millennium Ballroom features gorgeous framed chandeliers and exquisite amenities, providing an atmosphere that is both sophisticated and upscale. With its white tile dance floor and stage for entertainment, the Millennium Ballroom is absolutely perfect for dancing, dining, and delight.
Capacity: 318 Guests
701 S Central Ave., Glendale, CA 91204
Explore The Venue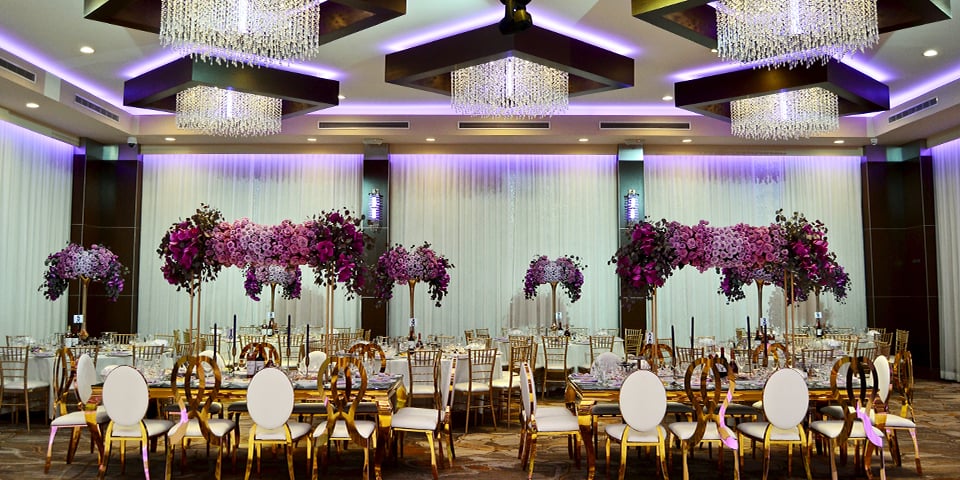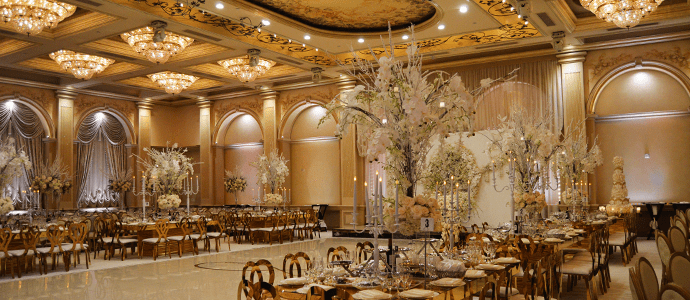 Grand Ballroom
Fairy tales do come true! The Grand Ballroom was made to be the perfect setting where quinceañera princesses can celebrate their big event. Your stunning quinceañera dress will look simply dazzling in our elegant, timeless ballroom, and you are certain to have a fantastic, memorable time!
Capacity: 480 Guests
701 S Central Ave., Glendale, CA 91204
Explore The Venue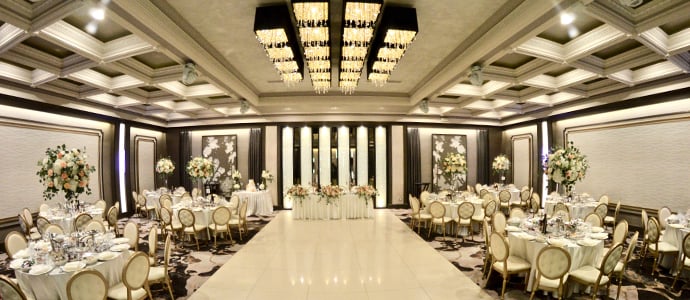 Crystal Ballroom
If your guest list is smaller, the Crystal Ballroom is ideal for your quinceañera. Featuring an atmosphere that is perfect for glamour, candyland, or masquerade themes, the Crystal Ballroom is elegant and chic, with colorful accents and customizable amenities.
Capacity: 160 Guests
701 S Central Ave., Glendale, CA 91204
Explore The Venue
Customize Our Quinceañera Salon
At Metropol, we understand how important the décor and theme is for a quinceañera celebration. This is why we're so excited to offer a fully-customizable space that is versatile enough to be transformed into anything you desire for your party. Our quinceañera hall in Los Angeles can accommodate any theme you want, from "Hollywood" to "fairy tale" to "masquerade" to "Paris". We have exactly what you need to match your décor and bring your personal vision to life.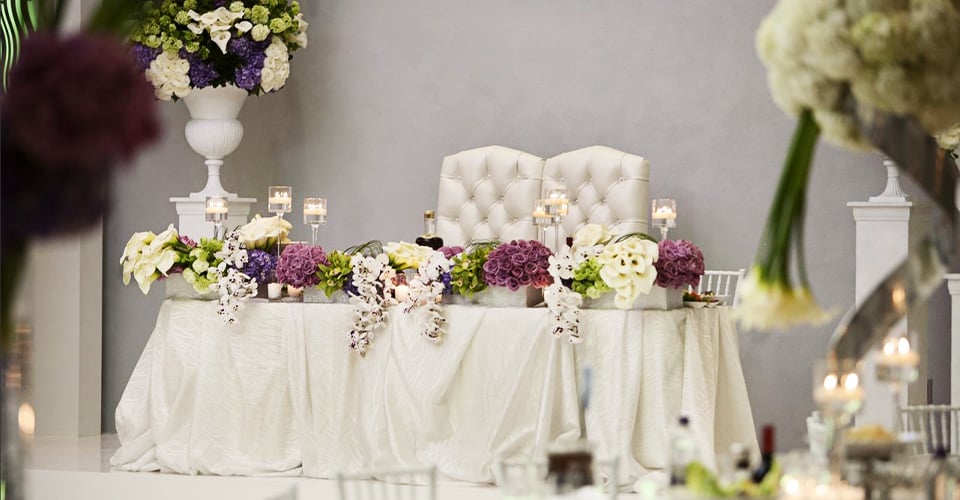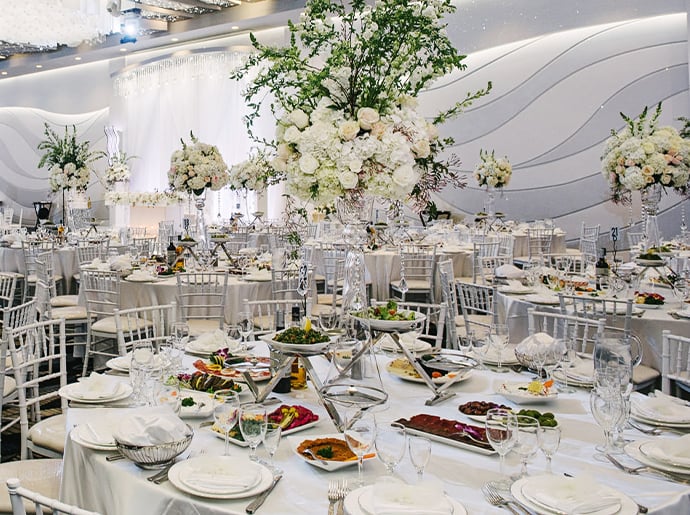 Outstanding Catering For Quinceañeras
Of course, one of the most important elements of any quinceañera is the food. Your guests will be looking forward to indulging in some truly delicious dishes. At Metropol, our world-class chefs are happy to work with you to design a menu that will be perfect for your quinceañera. We can create customized cuisine to match the theme of your party, and we will make sure to prepare something to satisfy everyone's taste. Your guests will definitely be impressed with our quinceañera catering.
See Our Dining Options
Helpful Quinceañera Tips
Here are some tips for choosing a quinceañera venue in Los Angeles and planning a celebration that will not only make the birthday girl happy, but your guests as well.
Tip #1
Put together a checklist of everything that you need to accomplish in the period of time leading up to your quinceañera. A checklist will serve as your blueprint throughout the process, and will ensure that you don't leave out a single detail. Your list should include lists of items you will need for the event, and deadlines.
Tip #2
Consider what type of event you want. Will you be incorporating a theme? What type of venue do you want? Finding the right quinceañera salon is usually just the beginning of setting the tone for your celebration. Once you have chosen your favorite quinceañera venue in Los Angeles, you can begin to work with Metropol to bring your event to life.
Tip #3
As the date approaches, sending out invitations in a timely manner will ensure that your guests are able to join in the celebration. Invitations play a key role in sharing the proper information with your guests, such as the time and place of the event, the dress code and theme. Invitations will also help you know how many guests to expect at your quinceañera banquet hall.
Tip #4
Take advantage of our event planners and staff at Metropol Banquet Hall. Our staff is highly experienced in listening to the needs of our clients and helping them pull of a smooth, memorable, successful party. We can also customize our ballroom to fit the theme of your quinceañera, as well as recommend the best local vendors.
Tip #5
Sometimes it's the little things that matter! Small details can leave a big impression on your guests. Put together a specialty virgin cocktail for your quinceañera that guests can order at the event. This signature drink coupled with incredible appetizers and desserts will go a long way with your guests, and can also make great photo ops. If your quinceañera banquet hall has a bar section this is a perfect idea!
Tip #6
Put together a budget before you do anything else. Having a clear idea of your budget is key when putting together an event. Your budget will dictate the type of event you can have, how many guests you can invite, and what entertainment and catering you can have. Having a budget will also keep you on track. It will also help determine what your perfect venue is. Our banquet halls in Glendale can cater to a variety of budgets for her special quinceañera.