Grand Ballroom: A Fairy Tale Venue For The Most Extraordinary Weddings
If you're looking for a classically romantic wedding reception venue for your special day, look no further than Grand Ballroom in Los Angeles. With high ceilings dotted with twinkling chandeliers, European-inspired architecture, and exquisite décor, this space was designed especially for milestone special occasions that demand to be celebrated in style.
The Grand Ballroom also features a stunning foyer which replicates an Italian villa, complete with fountains and a high ceiling, as well as a lounge area where your guests can take a quick break. At Grand Ballroom, the atmosphere, catering, and service is fit for royalty!
Experience Our Unique Amenities At Grand Ballroom
Although Grand Ballroom in Los Angeles has a timeless atmosphere with classic décor and European-inspired architecture, the amenities that we provide are modern and cutting-edge. With everything from a fog machine to our state-of-the-art LED lighting system, our customizable amenities make every event personalized and specific to each and every one of our clients. No matter what type of event you're planning, you will love the way we bring your vision to life. Our hardworking team has excellent attention to detail and outstanding customer service, and we will help you with the planning aspect when it comes to seating charts, linens, and tableware. This truly is a grand venue in every sense of the word.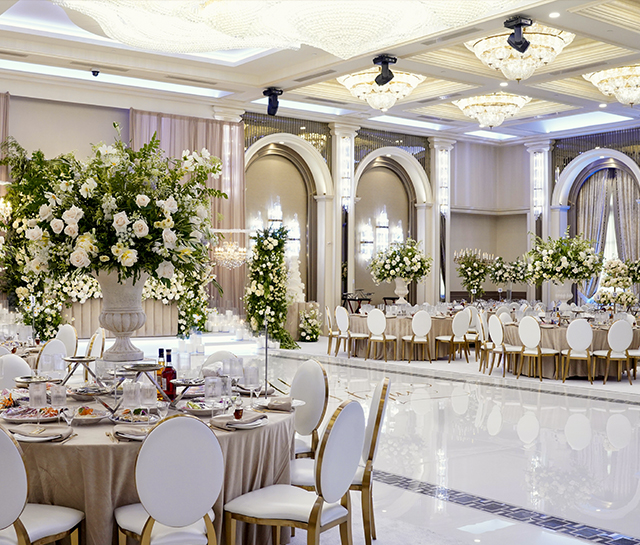 Amenities
If your taste is a little more traditional, the Grand Ballroom features a timelessly classic atmosphere, with rich draperies, tall windows, and European-inspired décor. The Grand Ballroom also includes a gorgeous foyer, complete with fountains and a gorgeous high ceiling.
Capacity: 450 Guests
701 S Central Ave., Glendale, CA 91204
1,000 square foot dance floor
State-of-the-art LED lighting system
Spotlights
Stage for entertainment
Fog machine for smoke effects
Bridal lounge
Large foyer for guests
HDTV for guest seating charts
Projector screen
Seating Charts
The seating arrangement that you select at your wedding reception hall can help the entire flow of your event, so it's a very important area of consideration. We have plenty of seating chart options for you to choose from.
818-241-5432
Booking Inquiry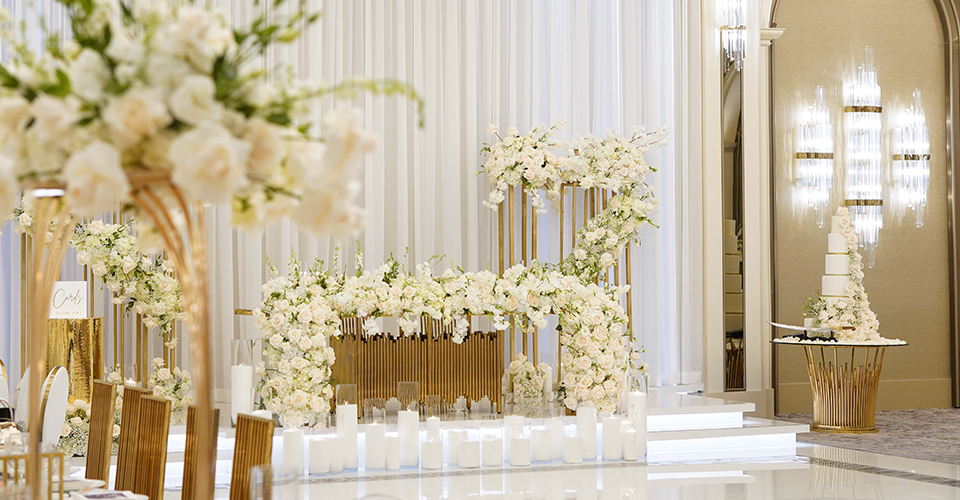 Customize Your Event At This Grand Venue
At the Grand Ballroom in Los Angeles, we understand how much time and energy goes into planning an event. Because of this, we believe that everything should be as perfect as possible, and the event should be as unique as you want it to be. This is why we offer amenities that can be tailored to your exact vision. From the dishes to the decor to the dance floor decal, we are happy to work with you to shape our versatile ballroom to meet your specifications.
Event We Hosts
Weddings
As one of the most romantic wedding venues in Los Angeles, Grand Ballroom makes the perfect backdrop for the most elegant weddings. The ballroom has a rich, deep look that echoes European palaces and royalty. We also provide a gorgeous foyer for mingling, delectable in-house catering, and a bridal suite for a memorable "getting-ready" time before the wedding. Grand Ballroom has everything you need for an absolutely incredible wedding day.
Special Occasions
Celebrate like royalty at Grand Ballroom in Los Angeles! No matter if you're looking for a birthday party venue or a space to host your anniversary, shower, christening, or any other special occasion, we have you covered.
Birthday Parties
Quinceañeras
Baby Showers
Anniversaries
Bar/Bat Mitzvahs
Bridal Showers
Engagement Parties
Christenings & Baptisms
Corporate Events
When you're looking to impress, Grand Ballroom offers a beautiful space that is perfect for awards ceremonies, company galas, and fundraisers. Our atmosphere, cuisine, and service are unsurpassed.
Fundraising Galas
Awards Ceremonies
Charity Events
Company Luncheons
Product Launches
Holiday Parties
Team Building Events
Filming
Dining Options
Our gourmet chefs will set your event apart with a menu that will be especially designed for you and your guests. With a wide variety of flavor profile options from around the world, you're sure to find something deliciously ideal for your event. All of our banquet halls in Glendale serve the finest mouth-watering dishes for our guests.
See Dining Options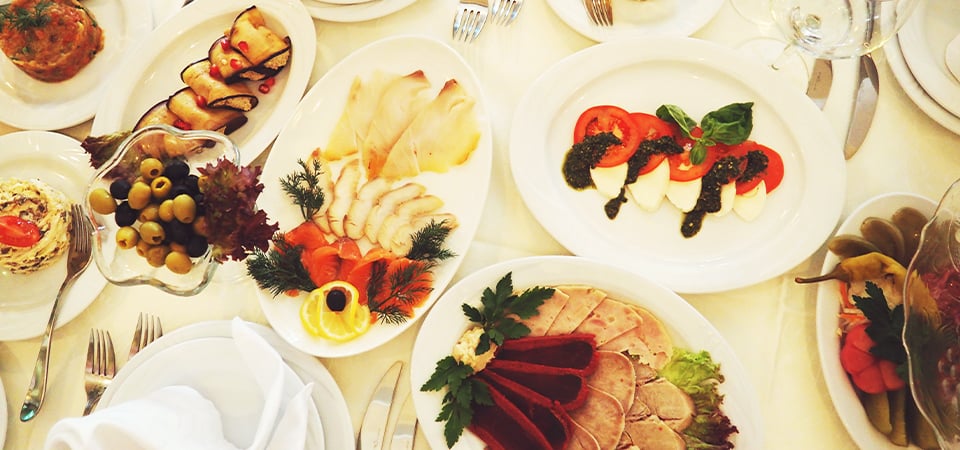 Our Premier Selection Of Event Venues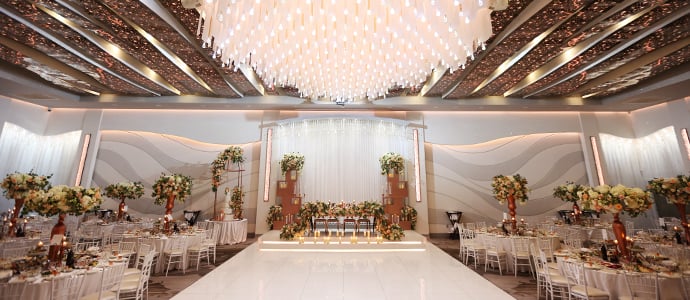 Modern Ballroom
Ideal for events with a larger guest count, the mesmerizing Modern Ballroom in Los Angeles features a "starry night" ceiling and countless other customizable amenities.
701 S Central Ave., Glendale, CA 91204
Capacity: 400 Guests
Explore Venue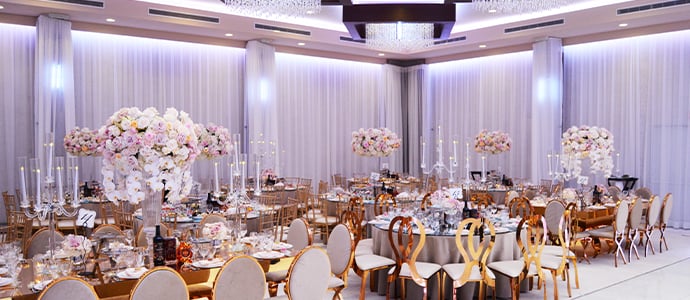 Millennium Ballroom
With upscale décor and chic style, the Millennium Ballroom in Los Angeles is absolutely perfect for both mid-size and larger events of any kind. The stunning chandeliers truly are one of a kind!
701 S Central Ave., Glendale, CA 91204
Capacity: 300 Guests
Explore The Venue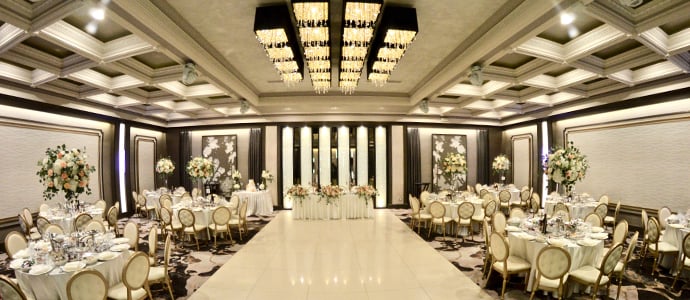 Crystal Ballroom
If you're looking for a smaller event venue that is just as glamorous as larger-scale ballrooms, the Crystal Ballroom in Los Angeles is just what you're looking for. Perfect for birthdays, anniversaries, and more!
701 S Central Ave., Glendale, CA 91204
Capacity: 140 Guests
Explore The Venue
What Do Guests Actually Care About At A Wedding?
When it comes to planning your wedding, you're most likely going to be bombarded with choices to make it "your special day". You'll want to make sure your wedding is everything you dreamed it would be—and part of that means making sure that your guests are happy with the day as well.
Many guests have to travel a long distance, find babysitters, take time off of work, and spend quite a bit of money to help celebrate your wedding, so although it is your special day, it's also important to make sure that the things guests actually care about are accounted for.
Although most guests don't notice all the planning and small details that are involved in a wedding, there are some things that are always noticed. By booking with Grand Ballroom in Los Angeles, we can help ensure that the details your guests care about are well covered. We will work hard to plan your day so not only do your dreams come true, but your guests' needs and wants are also taken into consideration.
The Bar
Having an open bar throughout the wedding is obviously the preference for most guests. Even if you decide to have a cash bar, it's important to let your guests know beforehand so that they can come prepared. If an open bar is not within your budget and you don't want to have a cash bar, consider having only the classics: wine, beer, and champagne. This will help you save quite a lot on alcohol.
The Food
Guests aren't actually usually that particular about the specific menu at a wedding. Instead, their main concern tends to be wanting to know exactly when they'll be eating—especially if they have been drinking alcohol throughout the afternoon. It's important to lets guests know when they can expect to eat dinner, as well as if hors d'oeuvres or snacks will be provided during a pre-dinner cocktail hour.
Having Enough Space
Something that always makes guests feel extremely uncomfortable is when they are invited to one part of the wedding, but not the other part. This sometimes happens when the ceremony venue or the reception venue is too small to accommodate everyone. In general, a guest wants to both see you get married and celebrate with you at your reception. This is why it's important to select a wedding venue that has adequate space for all your guests. This grand venue offers space for close to 500 guests making it able to accommodate huge celebrations. We also offer small wedding venues for those that prefer a more intimate experience.
Mingling
It's not uncommon for the wedding party to take a long time with the photographer directly after the ceremony. This causes the wedding guests to spend quite a lot of time waiting—but this is an opportune time to provide your guests with the opportunity to get to know one other. If you have a seating chart, you should be mindful of arranging for guests sit together who would get along well. It's also important to be mindful of where any speakers are placed so that the music is lower during dinner and cocktail hour and conversation can take place more easily.
The Terrain
It's very important to let your guests know in advance about any "rough" terrain that they may need to walk through during the ceremony or reception. By letting them know if they will be required to walk in dirt, sand, gravel, or rocky ground, they will be able to prepare by wearing appropriate footwear.