Dazzling Wedding Venues In Los Angeles
Metropol is proud to offer four different wedding reception halls in Los Angeles, each with its own unique style. No matter what your taste is, you will fall in love with one of our wedding reception venues. From a classical, romantic atmosphere to a more modern and upscale environment, Metropol caters to every preference. With each wedding hall, we also provide the very best in catering, amenities, and service for our couples. Our hard work and attention to detail will ensure that your wedding reception is beautiful and memorable.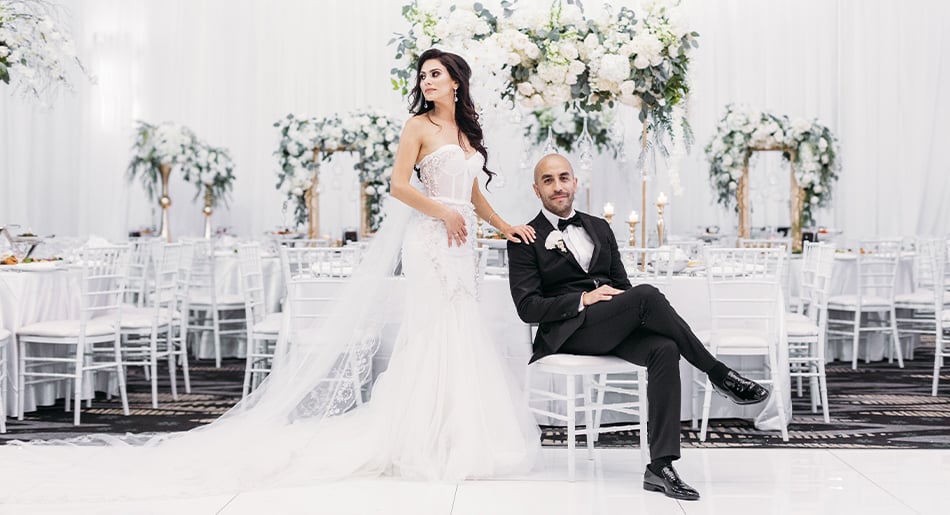 Having the perfect Los Angeles wedding venue will give you peace of mind knowing that everything has been taken care of by an experienced staff. This means that you'll be able to relax and enjoy your wedding reception without having to worry about a thing. From the moment you arrive at our wedding reception hall to the time you say farewell to your guests, we will take good care of everyone, giving you a once-in-a-lifetime experience that you'll never forget.
Award-Winning Wedding Reception Halls In Los Angeles
Why are Metropol's Los Angeles wedding halls so popular? It's a combination of romantic atmospheres, state-of-the-art amenities that can be fully customized, delectable in-house wedding catering, an experienced staff, and five-star service. When you book one of our extraordinary wedding reception venues, you get so much more than just a space.
Four Stunning Los Angeles Wedding Reception Venues
Dreams come true within the walls of our ballrooms. Schedule a tour of any of our four wedding venues, or take a virtual tour. You will be impressed with the gorgeous interior designs, as well as our cutting-edge technology. Read below to discover even more details about each of our wedding reception venues.
Modern Ballroom
The Modern Ballroom is a versatile space that is just waiting for your personalization. With a striking ceiling, sparkling chandeliers, and a large dance floor, this wedding reception venue has everything you need to make memories of a lifetime.
Capacity: 423 Guests
701 S Central Ave., Glendale, CA 91204
Explore The Venue
Millennium Ballroom
With ceiling-to-floor draperies, stylish wood-framed chandeliers, an LED lighting system, a stage, and a beautiful large foyer for guests, the Millennium Ballroom exudes luxury and sophistication. This exciting wedding reception venue makes the ultimate setting for your celebration.
Capacity: 318 Guests
701 S Central Ave., Glendale, CA 91204
Explore The Venue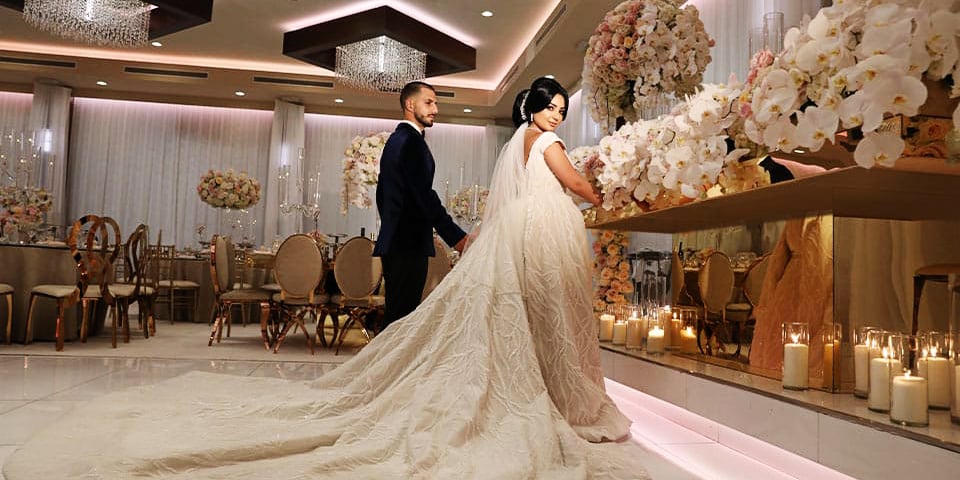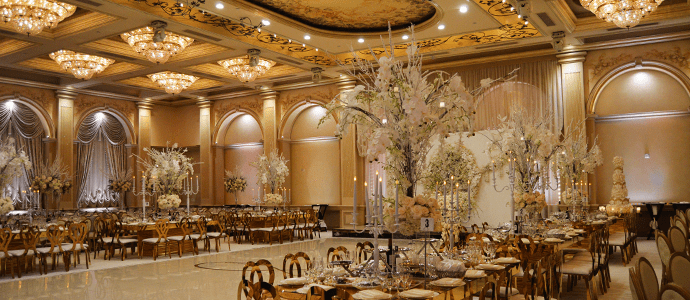 Grand Ballroom
As one of the most beautiful wedding venues in Los Angeles, the Grand Ballroom has a reputation in the area for making a truly magical backdrop for weddings to remember forever. Not only is the Grand Ballroom exquisitely beautiful; it also features a large dance floor, stage, and a roomy foyer for mingling.
Capacity: 480 Guests
701 S Central Ave., Glendale, CA 91204
Explore The Venue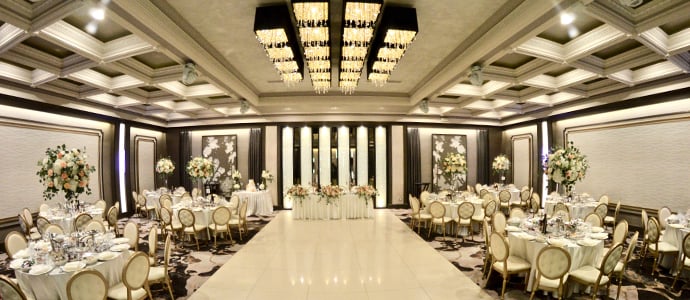 Crystal Ballroom
With its European-inspired décor and elegant atmosphere, the Crystal Ballroom makes a very romantic option for a wedding reception. Ideal for smaller guest counts, the Crystal Ballroom is intimate and cozy, perfect for surrounding yourself with your closest family and friends.
Capacity: 160 Guests
701 S Central Ave., Glendale, CA 91204
Explore The Venue
Wedding Highlights
Take a look at some of our favorite moments captured at Metropol. From wedding highlight videos to film shoots, our wedding venues create strikingly cinematic settings for both real-life weddings and media projects such as films, television, and music videos. All of our banquet halls in Glendale truly offer a versatile backdrop for weddings or any event.
Wedding Catering
Not only is your wedding catering the first meal you will have as a married couple, it's also expected to be delicious for your guests! Because of this, it's very important that your wedding catering tastes amazing, reflects you as a couple, and is presented beautifully. Our chefs will work with you to arrange a perfect catering menu for your special day. We are happy to prepare any type of cuisine you desire!
See Our Dining Options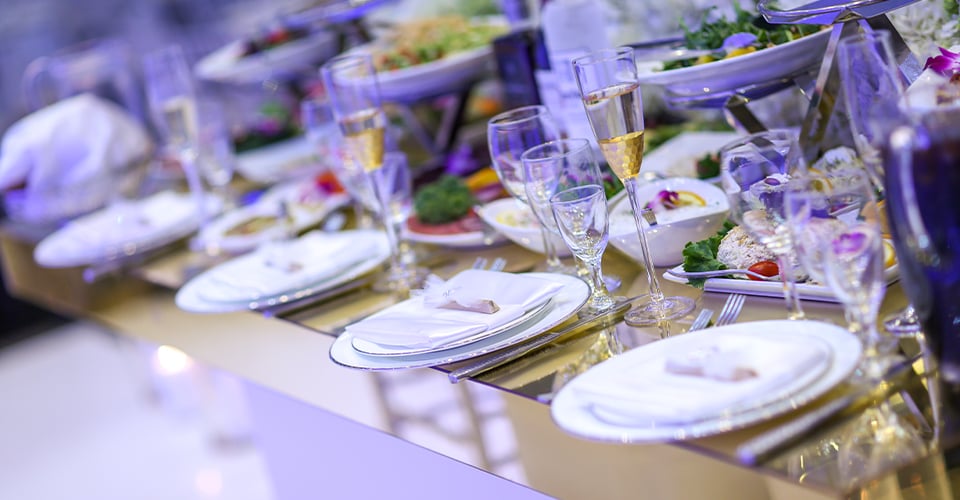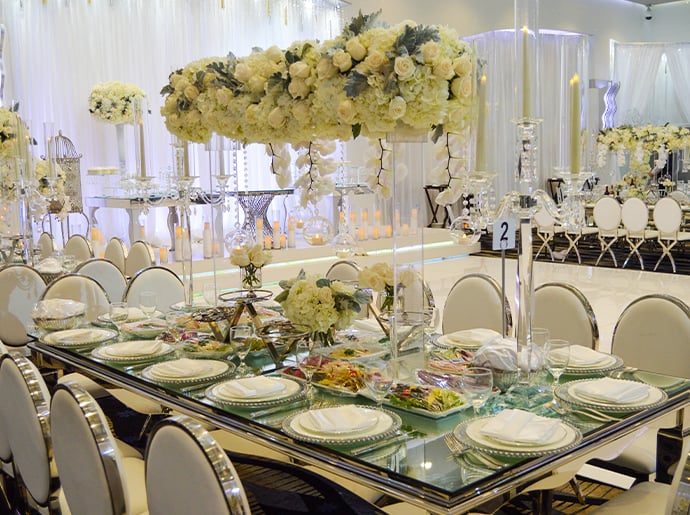 Customizing Our Wedding
Reception Venues
Every wedding is unique, with its own specific style, color palette, and décor. At Metropol, we make it our goal to make every detail reflect your vision so that your special day is exactly how you want it to be. We can provide the perfect table linens, dishes, and lighting to match your wedding preferences, and we can also recommend vetted wedding vendors to provide the best flowers, centerpieces, and decorations for you. At Metropol, you will be thrilled with how your wedding reception looks!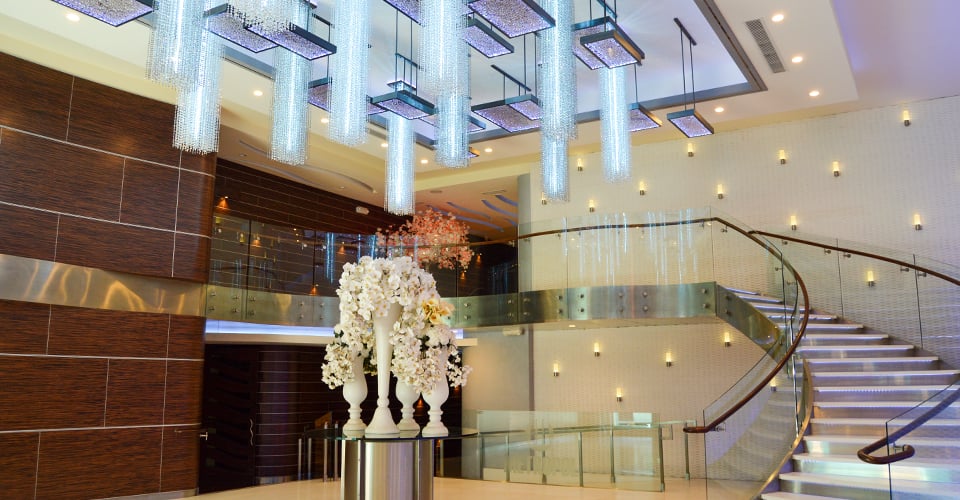 Why Choose Our Affordable Wedding Venues?
For close to two decades Metropol has offered our guests a variety of affordable wedding venue options for most budgets. Once you see our outstanding wedding venues and meet our professional staff at Metropol, you will immediately begin envisioning your wedding reception within our walls. The elegance of our wedding reception halls, combined with the very best amenities and highly-satisfied testimonies of past clients and guests, proves that Metropol is one of the absolute best wedding venues Los Angeles has to offer and is the perfect place for weddings of all budgets to celebrate.
Booking Inquiry
Industry Tips For Planning The Perfect Wedding
Often, brides begin planning their wedding day far before they even become engaged. This means that by the time they find their perfect Los Angeles wedding venue, they will need plenty of help from the managers.
The anticipation and build-up during the wedding planning process can be incredibly stressful in the months leading up to that moment you walk down the aisle, so be sure to keep these wedding tips in mind when putting together the perfect day for you and your fiancé(e).
Take Your Time
The engagement period is a very special time—one that you should take a moment to enjoy. Try your best to relax and savor this period before diving into the craziness of wedding planning.
Before you begin the process of booking your Los Angeles wedding venue, trying on wedding dresses, and researching wedding photographers, you should carefully outline your wedding wishes with your partner.
Taking some of these steps before you have spoken thoroughly with your fiancé(e) and have really thought through the type of wedding you want may be problematic in the long run. This can be counter-productive as it may result in changing your original plans.
Determine Your Budget
Having a wedding is a significant expense, and if you're like most couples, you don't have unlimited funds to put into your wedding. At Metropol we pride ourselves in offering guests affordable wedding venues to ensure that they can still celebrate the most important day of their lives with their closest guests.
By sitting down with your partner, and in some cases, your parents to discuss the wedding budget, you'll be able to better set the tone for the type of wedding you can afford to have.
There are a number of problems that will happen if you don't set a budget right from the start. Without a budget in place, you'll most likely discover that you're planning a wedding that you simply can't afford. But when you have different amounts allotted for each area of your wedding, you'll have a jumping-off point that will greatly help you as you plan.
Decide What Type Of Wedding You Want
With the amount of wedding information available, it can be totally overwhelming to sort through all of it, and figuring out the type of wedding you want to have can be one of the most difficult things for a couple.
Will your wedding be a formal, black tie affair? Are you looking to have something more low-key? Would you prefer a destination wedding?
Are you looking to throw an extravagant affair or something a little more intimate at a small wedding venue?
Knowing the answer to these questions will set the tone for the type of wedding venue you will need to look for, the dress you will wear, the décor of your wedding venue, and much more.
Remember: It's Your Wedding!
Whether it's your wedding or any other special occasion events you're planning, everyone has an opinion, and it's very common for the couple to quickly become overwhelmed trying to please everyone.
To avoid this, the best thing to do is to stay true to yourself by keeping in mind what you and your partner want out of your wedding day.
It can be hard to have the wedding you want with a parent or family member who is trying to take over the planning. Advocate for yourself and stand firm in your needs. Managing family can be hard, especially when they have special requests or opinions about the decisions you're making.
Keep in mind that it's your wedding day. Don't give in to other people or agree to things that you aren't happy with. In the end, this will take away from your ability to look back fondly on the memory of your wedding.
Taking the time to carefully plan your wedding will pay off in the long run. When you look back on your wedding, you should have fond, beautiful memories. This is why it's so important that you choose the right wedding venue in Los Angeles and wedding professionals during the planning process.
818-241-5432
Booking Inquiry