Stylish Corporate Event Venues In Los Angeles For Special Events
If you're planning an upcoming awards ceremony, company gala, product launch, fundraising event, or corporate party, Metropol can provide the ultimate event space for you. Whether your event is for investors, partners, or employees, they will be very impressed by the stylish atmosphere and five-star service at Metropol.
Besides corporate parties, you can actually reserve one of our ballrooms for company events as well, such as seminars, presentations, workshops, or conferences. You will find that any of our four fantastic ballrooms make excellent corporate event venues in Los Angeles. The luxury and elegance of our spaces will most definitely impress you and your guests.
Los Angeles Corporate Party Venues For Business Events Of All Kinds
From charity dinners to celebrations for new products or achievements, one of our venues at Metropol will make the perfect fit for what you need. We are happy to provide seating charts and customizable amenities to help your event have a great flow and be very memorable.
Corporate Events
Since 2012, Metropol has been hosting corporate events of all kinds. With four different ballrooms each featuring their own distinct décor and style, there is something for every taste. Our corporate event venues provide an excellent space for networking, mingling, celebrating, and making memories.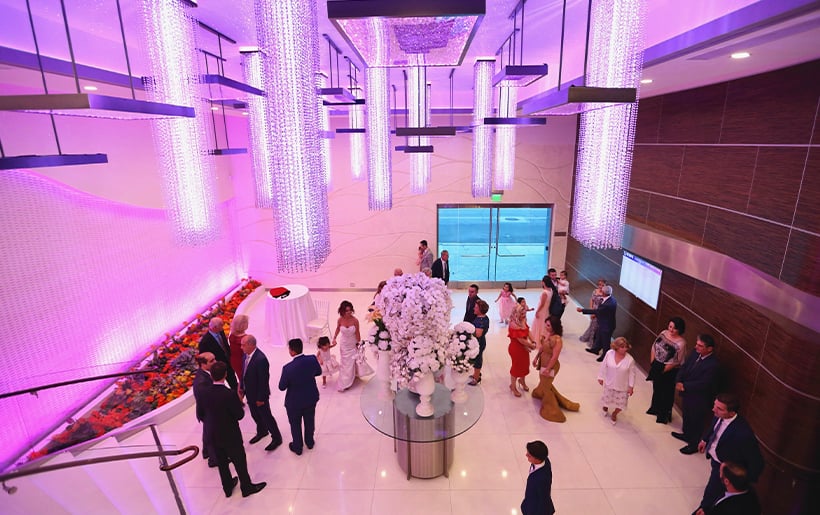 Why Metropol Is The Perfect
Corporate Party Venue
Finding the right corporate party venue in Los Angeles can be overwhelming. You have to find a venue that is beautiful and professional; you have to consider what catering will be the most appropriate; you must ensure your guests can access the venue easily, and you have to make sure the place you select comes with everything you need—all within a specific budget.
Fortunately, our team at Metropol covers all of these aspects. We have hosted many corporate events, and we know what it takes to make them go smoothly. Our staff and managers are experienced, friendly, and ready for anything.
Booking Inquiry
Tips And Tricks For Finding The Perfect Corporate Party Venue In Los Angeles
Find The Perfect Location
The location for your corporate event will be one of the most important aspects for your guests. You'll want to find a corporate event venue that is located in an easy-to-find, convenient area. It's also a good idea to make sure that there are good nearby hotels for those guests who may be coming from out of town. When booking a corporate event venue in Los Angeles, keep in mind its distance to nearby hotels and airports. Metropol is centrally located, with plenty of options for your guests and colleagues.
Know Your Venue's Capacity
Remember, it's better to over-estimate your guest count than to underestimate it. You want to be absolutely certain that your corporate event venue has enough "breathing room", and even room for overflow. There's nothing worse than the feeling of an overstuffed room. Our banquet halls in Los Angeles offer a variety of sizes for your next event.
Ask About Your Venue's Amenities
Corporate event venues often include many items in the final fee, but if they don't have something that you require, you may be stuck footing a larger bill than what you were expecting. You'll want to ensure that your preferred venue comes with tables, chairs, linens, dishes, catering, and A/V equipment. If the venue does not come with these items, make sure you have room left in your budget to pay for them.
Get To Know The Venue Manager
A corporate event venue manager can make or break your conference and event. If he or she is inflexible and won't help you with last-minute issues that may crop up regarding your event, this can cause irreparable damage. At Metropol, we promise you that our venue managers and staff are reliable, friendly, experienced, and that you can count on us should any issues arise.
As the hub of four of the finest Los Angeles corporate party venues, Metropol is designed to make your company galas, fundraisers, award dinners, and other special events leave a fantastic impression on your guests. Schedule a tour of our ballrooms or take a virtual tour online today!
818-241-5432
Booking Inquiry