Los Angeles is a diverse city with so many cultures. Here at Metropol Banquet Hall, we know how to be a stellar Persian wedding venue. The cuisine, festivities, and celebration of Persian wedding traditions are important to us. We know what it takes to plan out diverse weddings and make sure that every rich cultural tradition is honored.
Typically, a Persian wedding in Iran can last for days. It's one of the biggest celebrations an Iranian family could have.
Accompanied by our expert coordinators, Metropol is experienced in throwing elaborate Persian weddings. Our elegant and sophisticated wedding venues are the perfect space to have an unforgettable wedding. Check them out below:
The Modern Ballroom
A touch of elegance and sleek design is what makes The Modern Ballroom one of the most sought-after wedding spaces in Los Angeles. With a capacity of 423 guests, this wedding venue will accommodate large gatherings and parties. Guests will surely be at awe with a full LED chandelier and tailored ceiling light panels.
---
The Millennium Ballroom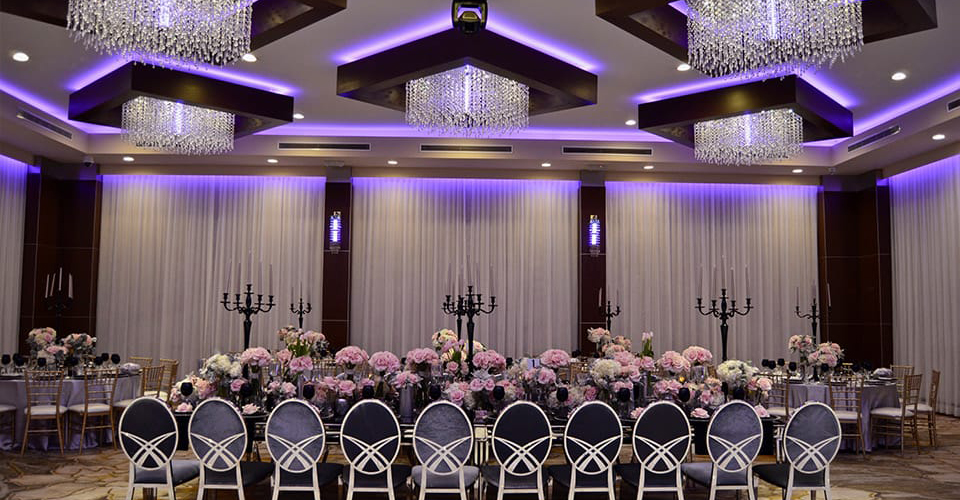 Graceful and polished in nature, The Millennium Ballroom is a beauty of design. Holding 318 guests, this banquet hall shows off its crystal chandeliers, marble flooring, and beautiful drapes to everyone in attendance. Have a Persian wedding venue that will amaze your guests.
---
The Grand Ballroom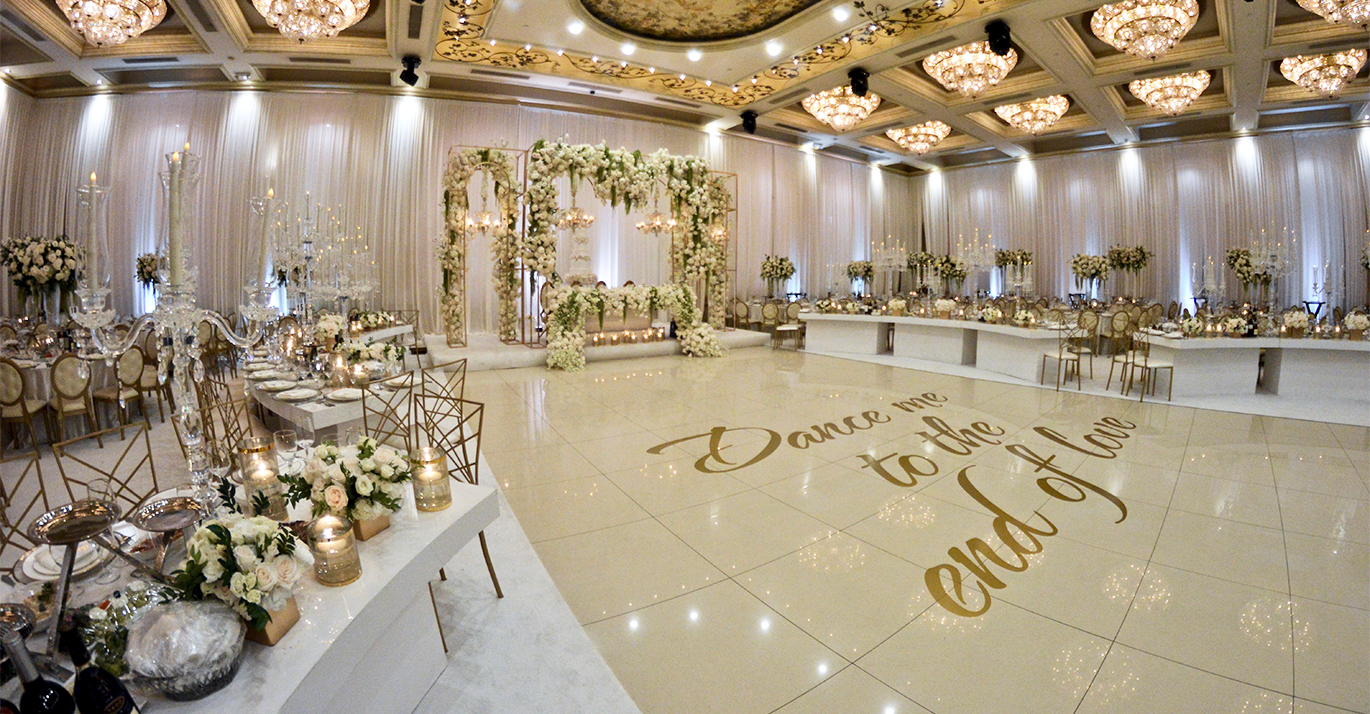 A grand celebration needs a luxurious Grand Ballroom. Seating about 480 guests, this European-inspired space is our largest banquet hall. The 1,000 square foot dance floor will be plenty enough room to have a great time. A mixture of classic dećor and modern amenities will make any Persian wedding venue exceptional.
---
The Crystal Ballroom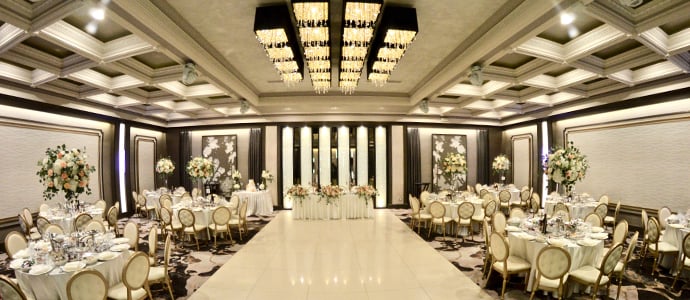 Small gatherings that provides intimate spaces is achieved by The Crystal Ballroom. With a capacity of 160 guests, this intimate space is perfect for small Persian weddings. Celebrating with close family and friends can make your night unforgettable. Have a comfortable and relaxed environment filled with fun and laughter.
---
A Persian wedding is more than just a couple coming together, but more of a celebration of two families coming together.
In Iran, family is important and plays a role within their daily culture. During Persian wedding traditions, it's not uncommon that the bride and grooms parents play a large role in planning out the wedding as a whole. This is because they help the future newlyweds with inviting guests and handling the finances of the wedding.
Khastegari
It's always a little scary when asking for a marriage blessing from your partner's family. However, in the Persion wedding tradition called Khastegari, the groom's family would be the one to reach out to the girl's mother.
The khastegari is a tradition where both a girl and boy meet in the girls house to see if they are good for marriage. Families look for modesty, intelligence, ability, faith, and beauty. If one of the parties decides not to meet for a second time, then the sessions will end.

Bale Boroon
After a lot of successful khastegari sessions, a bale boroon ceremony will most likely take place soon. This is when close relatives are invited to the home of the bride where the idea of marriage is announced. The groom's family will most likely have gifts to bring to the home and the engagement ring will be presented.
Persian Wedding Traditions: Asal and Mast
Bride and grooms that have a sweet tooth we surely love the asal and mast, or honey and yogurt Persian wedding tradition! This is when both the bride and groom dip one finger into a cup of honey or yogurt and put it in each others mouth. This is a playful tradition that is said to bring good health and sweet wishes for the newlyweds.

Starting the Ceremony
The start of the ceremony starts with an officiate reading a few verses of the Quran. A white canopy often held by friends or female relatives of the bride will go over the newlyweds. It is then common for the officiant to then ask for the consent of both the bride and groom to say their I do's.
Persian Wedding Traditions: Sofreh Aghd
A traditional wedding table found in Persian weddings is called the sofreh aghd. This is a table decorated with flowers, gifts, and elegant arrangements. On top of the table is a mirror called the Aayeneh-ye Bakh which symbolizes fate bringing the newlyweds together.
In the front of the table is a significant book of both the bride and groom. In generally traditional and religious ceremonies, it would be the book of Quran. However, newlyweds who are not religious can put in a piece of literature or a poem that is significant to them.
This acts as a usual centerpiece of the wedding and plays along with the overall theme of the wedding. Expect to see different types of sofreh aghd as Persian weddings can be diverse depending on what area they come from.
Persian Wedding Traditions: Sugar Cones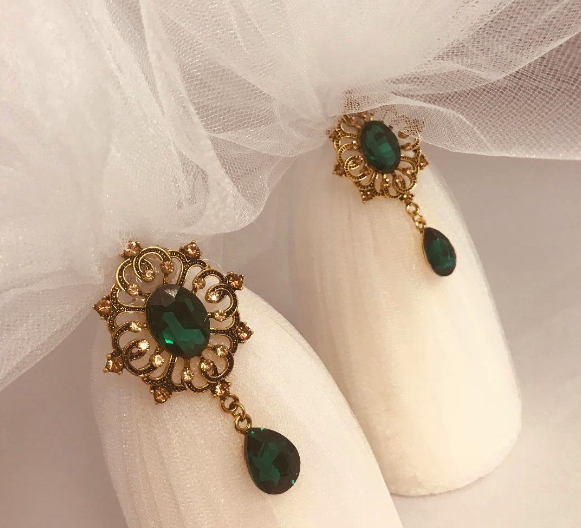 The Persian wedding tradition of Kaleh Ghand, relates to the rubbing together of two sugar cones over the newlyweds by the wedding guests. This is a type of blessing that is meant to signify the marriage being sweeter and invoking good luck for the bride and groom. This colorful tradition will put a smile on your face and make it a little more sweeter!
Persian Wedding Traditions: Aroosi
If you thought wedding receptions were long, then you haven't been to a Persian wedding. Their wedding receptions require a few days and can last from three to seven days! This means the Aroosi can take place within a beautiful reception hall, family home, or another country!
Most modern Persian weddings will hire DJs during reception to play traditional Persian songs and even popular American dances. A well choreographed dance by the groom can also liven up the party!
Persian Wedding Cuisine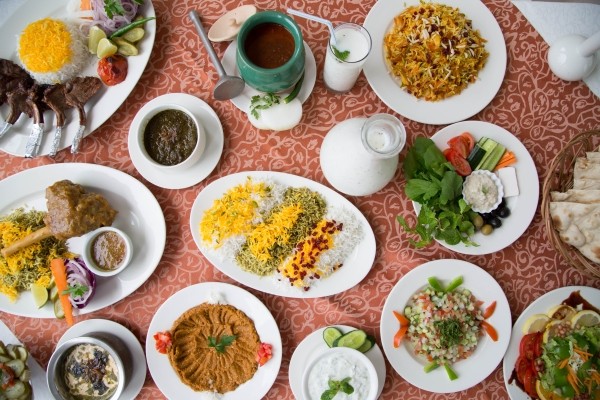 When eating Iranian food, you might be familiar with delicious kebabs and mouth watering falafels. But Persian food is way more diverse and offers a variety of different cuisines. Rice dishes like Baghali Polo can be eaten by itself and are filled with rich herbs and fava beans.
Our expert culinary services are perfect for to satisfy Persian wedding traditions. We offer catering services buffet style, family style, table service, or hors d'oeuvres. We'll make sure to work with you to showcase the different types of dishes you want to showcase within our Persian wedding venue. 
Coming to An End
Since the reception can last days after the ceremony, it's not like ending the night! Persian wedding traditions technically wind down as the days go on and as family and friends start to go back home. It's a very intimate type of goodbye since family members have spent a long time together to celebrate.
By this time, both the bride and the grooms family are very familiar with one another. Both families would have worked together in planning, executing, and celebrating the wedding. It is a true test of family dynamics and developing relationships with one another!
After all the celebration, what remains is the love for family and coming together.