If you're engaged and currently planning your wedding or if you've been asked to give a toast at a wedding, you may be wondering all about the wedding toasts. It seems like every wedding is different when it comes to them, and we get plenty of questions here at Metropol Banquet about this special part of the reception.
Here are the most frequently asked questions when it comes to wedding toasts, and how to write an excellent one.
Who gives wedding toasts?
Traditionally, those who give the wedding toasts are the maid of honor, the best man, the parents of the couple, and the happy newlyweds themselves.
However, if any of these people would prefer to not speak, they can be skipped or replaced with someone else (another bridesmaid or groomsman, or perhaps the person who introduced the couple).
And if you're the couple and you don't really want to give a toast, that's perfectly fine. Many couples choose not to give a toast.
You should try to have about 3-6 toasts total, at around 2-5 minutes long each.
What's the best way to write a toast?
If you're the newlyweds, your toast will be very simple. Simply thank your guests for coming and sharing this day with you, say thank you to your parents, and that's about it.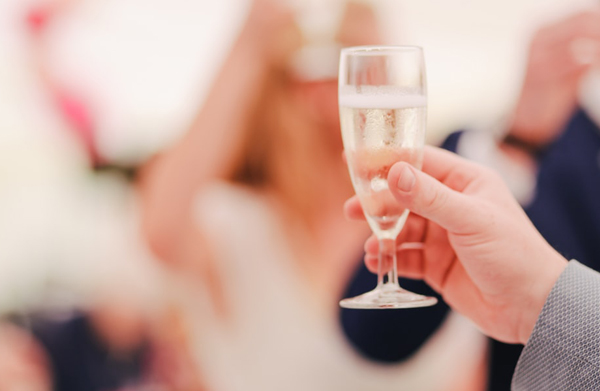 If you're anyone else, there are just a few guidelines to keep in mind:
Instead if beginning with "For those who don't know me…", say "Hi, I'm _________."
Next, offer a thank you to the couple for inviting everyone to celebrate with them.
Tell a story that is funny or sweet (or both) about yourself and the member of the couple who you are closest with.
Next, tell a story that is funny or sweet (or both) about the COUPLE.
After the story about the couple, explain how they uniquely represent love to you.
Talk about your hopes and wishes for them as a couple. What are your dreams for who they're going to be? What does their future look like to you?
Finally, close your toast with a cheers to the happy couple.
And that's basically all there is to it!
What are the best tips for wedding toasts?
These tips are mostly for people other than the couple, but couples should take a look over these as well:
One of the most common mistakes that we see people make is referencing an inside joke during their toast. While inside jokes are great, the wedding toast is definitely not the time or place for it. You're speaking to a room full of people, not the couple alone.
Don't be drunk during your toast! A lot of people make this mistake because they get nervous and drink too much. However, it is far more embarrassing to make a drunken speech than it is to be nervous. Drinking can also lead to our next tip…
Rambling. Don't ramble. Know the structure of your toast, and stick to it. Use notes if you need to. Your toast should be no longer than five minutes. After five minutes, guests will stop listening to you.
Know how to hold the microphone. First of all, don't talk with your hands, or your audio is going to dip in and out. Secondly, hold the microphone out from your chin, not under it.
If you're NOT the couple and you're giving a toast, be sure to ask the couple beforehand if there's anything that they don't want to be said or referenced. There may be guests present whom they don't want to offend. And generally, cursing or making dirty jokes during the wedding reception is in poor taste. Save those for the bachelor(ette) parties.
Don't forget your drink! It's a toast, after all, and at the end of your speech, you will need to have it to toast with. If you're holding things (such as notes), you can set your drink down somewhere close by. Just be sure to have it on hand.
Practice a lot! Even if you're comfortable with public speaking, it's a good idea to practice both by yourself and in front of someone. Perhaps they can give you feedback.
Be confident. No matter what, deliver your toast with confidence. Even if you have to use notes, speak loudly, clearly, and like you own the room.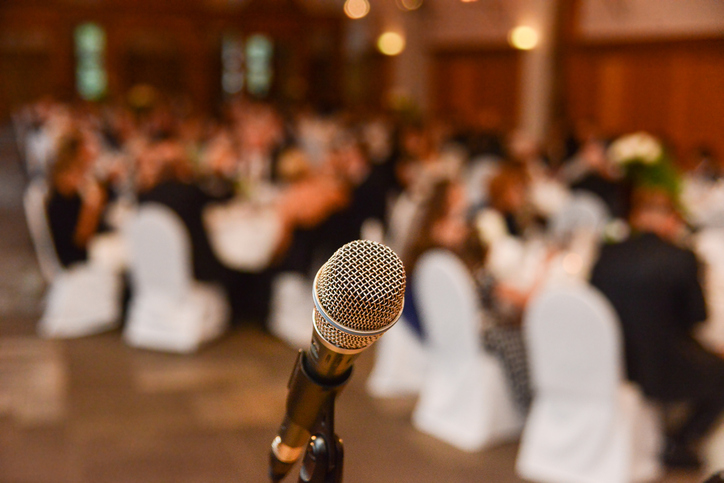 We sincerely hope that these wedding toasts tips help you! Remember, practice makes perfect. If you're still looking for your Los Angeles wedding venue, take a look at what we have to offer at Metropol! We would love to host your wedding. Feel free to contact us for availability and more information.