Catering Los Angeles
Metropol is known for more than our friendly staff, incredible décor, and reasonable pricing. We are also well known and appreciated for our delectable cuisine and catering services. We have partnered with some of the best chefs in Los Angeles who have created menu options that are filled with truly incredible options. Our clients can select meals from all kinds of backgrounds, including Armenian, Persian, European, Middle Eastern, Russian, American and Asian.
We offer dining for all sorts of events. Whether you need birthday catering, wedding catering, or other event catering, our expert staff can offer your guests a one-of-a-king culinary experience. Our chefs and professional waiters are ready to go the extra mile in addressing your catering needs, working hard on just the right selection of appetizers, main dishes, salads, desserts, and drinks.
From sit-down dinners to buffet-style dining, you can trust the culinary experts at Metropol with your catering needs. We proudly design outstanding catering menus for occasions of all kinds, including weddings, engagements, birthdays, quinceañeras, anniversaries, reunions, corporate events, and much more!
Booking Inquiry
Luxury Dining Options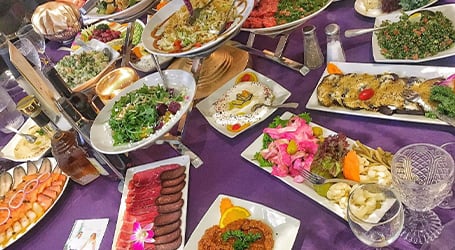 Family Style
Allows guests to serve themselves from dishes placed on the table. You can have the intimacy of a family dinner with the ability to try different foods and determine portion size, without having to get up and go to the buffet table. This is our most popular wedding catering style since it brings guests closer together just like when they're at home!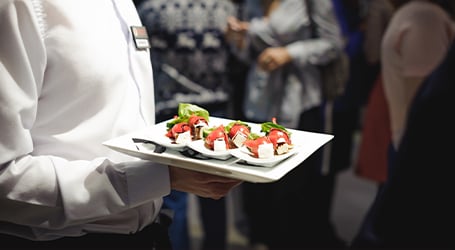 Table Service
Table or plate service is a serving style where guests pre-select what meal they want when they RSVP to your event. Once they are seated at their assigned table, the waiters bring out a plate with their chosen meal. The advantage to table service is that you can be certain your guests will like what they are being served, as they chose it themselves.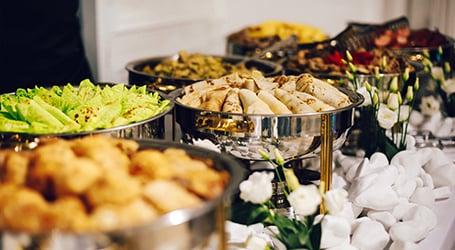 Buffet Style
Buffet style catering Los Angeles allows guests to eat as much as they please, try varying amounts of each dish, and go back for seconds. It also inspires guest interaction between tables, rather than staying at the same table the entire time. Guests can also decide when it's the right time for them to eat so they don't have to rush off the dance floor!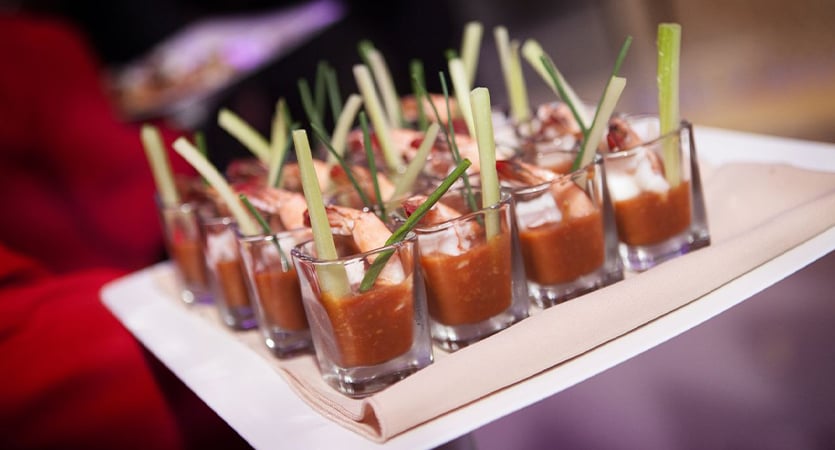 Cocktail Hour And Hors d'oeuvre
Cocktail hour creates a fantastic opportunity for your guests to interact and mingle either before an event or within an intermission, such as in between a wedding ceremony and the reception. Typically during cocktail hour, delicious hors d'oeuvres are served for your guests to nibble on. This is a particularly elegant part of any event, and is very popular as it allows for guests to get to know one another while enjoying delicious snacks and drinks.
Food Tasting
At Metropol, we provide food tasting for those who want to see what our chefs can do before deciding to book with us. From Mediterranean catering to Mexican to American to European, we are able to carefully prepare any type of food you desire for your event. Brides and grooms often want to try our wedding catering to ensure they're getting what they want! We use the freshest and healthiest ingredients, and our professional chefs put their heart and soul into the meals they create. If you're interested in scheduling a food tasting, please contact us.
818-241-5432
Booking Inquiry
Wedding Catering
There are so many details that make up your fairytale wedding day. One of the most important elements is your wedding catering. The food that you serve to your guests is always something that is talked about and many guests remember the type of spread you chose. At Metropol our world-class chefs can create internationally-inspired cuisine at every one of our event venue options. Whether you prefer Mediterranean, Middle Eastern, Asian, Mexican, or something else, we'll create a wedding catering menu that will satisfy every guest's appetite and palette! We pride ourselves on offering an option for every guest at all of our banquet halls in Los Angeles.