It's all been a dream: the person you love asked you for your hand in marriage. You're excited for the big day but know there are so many things to consider.
While bridesmaid proposal box ideas might not be the first thing on your mind during wedding planning, finding the perfect gift box to get your bridal party to say "I do" is one of the most exciting parts of an engagement. Personalized gift boxes can make your best gal pals feel like an even more memorable part of your wedding day.
Whether you need a favor for your bridal shower, the ideal maid of honor proposal, or just a special gift box to say thank you, these bridesmaid gift box ideas are excellent options for any dream wedding.
What Is a Bridesmaid Proposal Box?
A bridal party gift box is another way to honor the people that will help make your special day. The bridal party is crucial to your wedding, providing stability, peace, and love while you approach a stressful day.
You can get a gift box as a token of gratitude or a proposal box for their involvement in your wedding. Every bridesmaid-to-be loves feeling extra special. Give your besties bridesmaid gift boxes that make them feel part of your love story.
Seven Bridesmaid Gift Box Ideas
Do you need help with deciding what to include in your bridesmaid box? Explore some of these bridesmaid proposal box ideas and alleviate some pressure from this part of your wedding. These gift ideas will make anyone excited to participate in your wedding.
1. Spa Gift Basket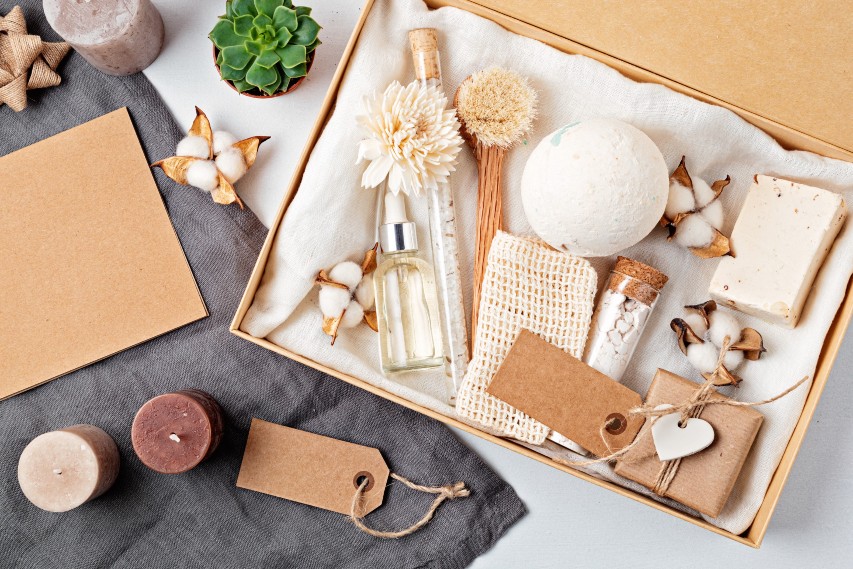 Everyone deserves a spa day. This saying is never more true than for your closest girlfriends getting you through your big day.
Putting together a spa gift basket offers an assortment of luxury spa goodies. With customizable options, you can ensure your gal pals have the best at-home spa day possible. Include your favorite candle scent, an artificial rose flower, or a bridesmaid card for a personal touch.
2. Pajama Set Bridesmaid Proposal Box
What better way to invite your bridesmaids into the big day than by sending a bridesmaid box filled will a cozy pajama set and other bedtime essentials?
Personalize each gift box with a custom PJ set with the bridesmaid's name and include other items such as slippers and a sleeping mask.
3. Baked By Melissa Classic Gift Box
Baked By Melissa is one of the most famous mini-cupcake shops in New York City. While these little treats are great for a simple bite, you can take advantage of their fabulous gift offerings without being in the Big Apple.
Order the 25-mini cupcake gift boxes for a sweet way of inviting or thanking your bridesmaids for joining in your nuptial celebrations. With enough flavors for everyone to love, your wedding mates can enjoy 25 sweet reminders of your big day.
4. Self-Care Bridesmaid Gift Box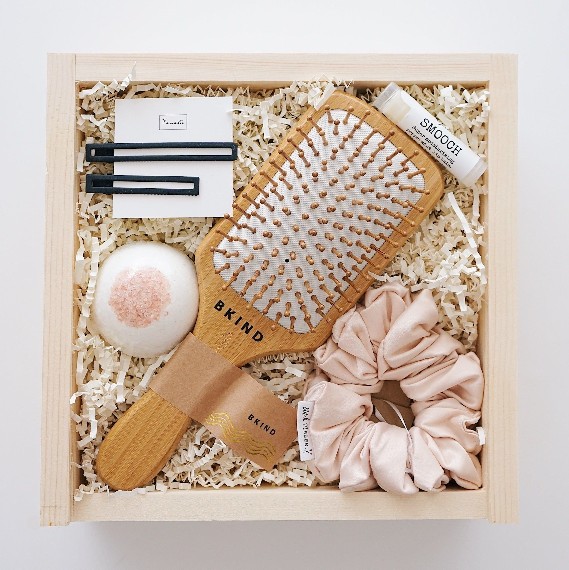 It's called a big day for a reason. While it may be one of the happiest days of your life, it is also one of the most stressful. It's also likely that your bridesmaids will experience some of this stress.
Take the edge off with a customized bridesmaid proposal box that includes all the essentials for relaxation and relieving stress. Include a face mask, gummy bears, and best of all an emergency kit for the big day, including bobby pins, fabric tape, and other last-minute necessities.
5. Cocktail Making Kit
Help your girlfriends unwind with a luxury cocktail kit. Everyone deserves a good drink after a long day of planning. This bridesmaid gift box idea has everything you need to create luxury, craft cocktails in your home such as cocktail mixers and glasses to go with your creation.
6. Wine Essentials Gift Box
Start the fun early with customized wine bridesmaid proposal gift box sets. Include a bottle of wine and other little essentials to go with it such as a wine opener, personalized wine glass, and even a wine tumbler.
7. Personalized Jewelry Gift Boxes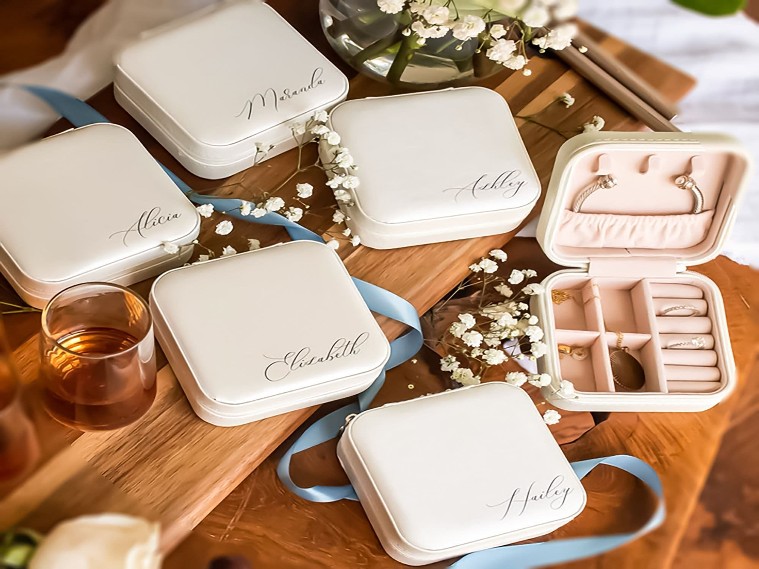 A customized jewelry box makes a perfect bridal party gift box idea. Personalize the box by putting the names of each bridesmaid on it, making it unique to them. Make it even more personal and heartfelt by including a customized dainty necklace that holds either the names or initials of your bridesmaids.
FAQs About Bridesmaid Proposal Boxes
Below are some frequently asked questions about the bridesmaid proposal box.
How Expensive Is a Bridesmaid Gift Box?
While some brides worry about the bridesmaid box cost, there are ways to make this favor more affordable. Try creating homemade bridesmaid boxes to honor your party with a more affordable, personal gift.
Should I Buy Bridesmaid Proposal Boxes?
Although a bridesmaid proposal gift is unnecessary, these gift ideas can make your closest friends and loved ones feel even more special. Consider a mini gift set if you're concerned about budgetary restrictions.
Does My Maid of Honor Proposal Need to be Bigger?
Your maid of honor is one of the most critical people on your wedding day. Not only will she plan your bachelorette party, but her support and stability on a sometimes stressful day could be crucial.
Finding honor gifts suitable for your maid of honor is an excellent idea. Go above and beyond the bridesmaid boxes you give to the rest of your party.
Search for gift sets that give your maid of honor the thanks she deserves.
Complete Your Wedding Planning by Booking From Our Collection Of Wedding Venues
Now that you have a thoughtful gift set for your wedding party, it's time to think about other wedding details. Choosing the best venue is a crucial decision that impacts the flow and ambiance of your reception.

Finding a space that provides excellent amenities for guests and the wedding party can take time and effort. Luckily, Metropol Banquet Hall offers a spacious, luxury location for your cocktail hour and banquet celebration. With space for up to 450 guests, choose one of our four stunning wedding reception halls with an array of customizable amenities to celebrate your special day.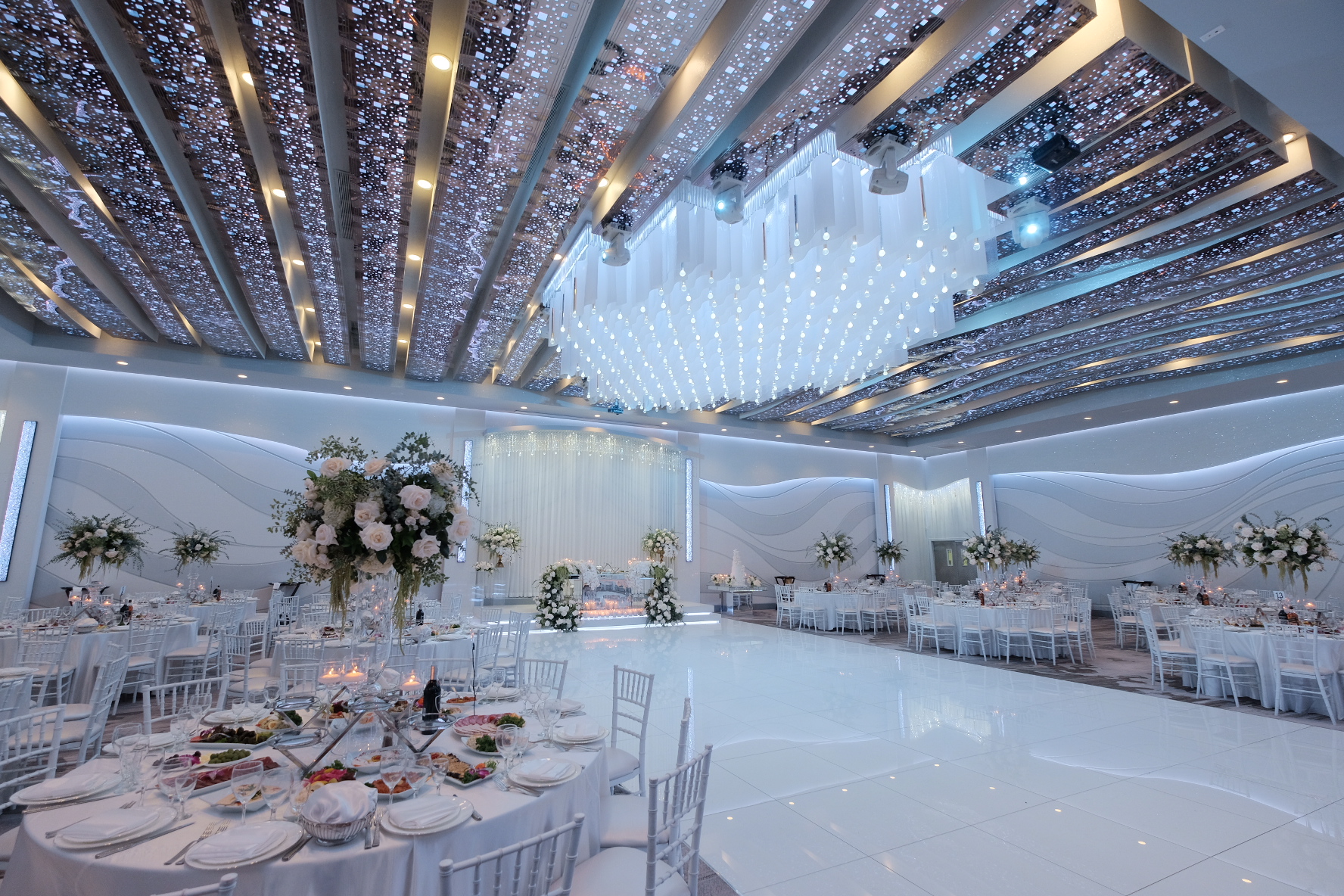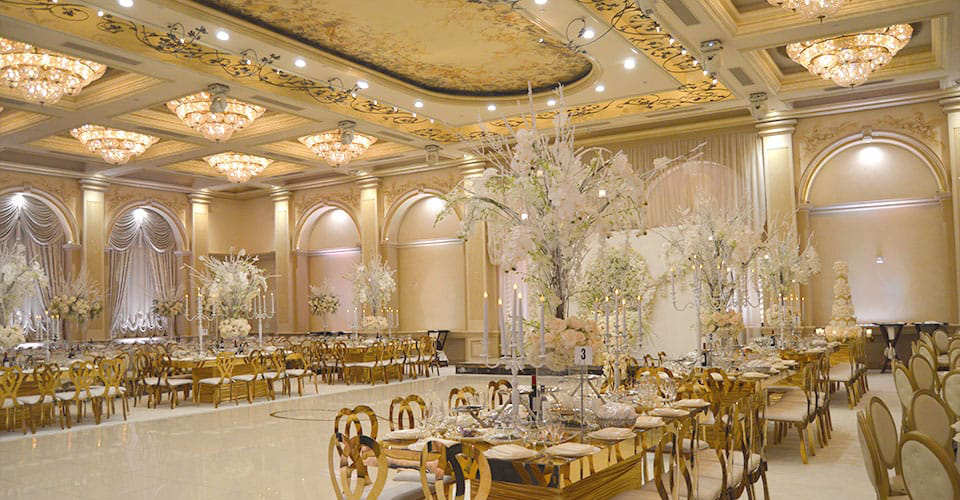 Contact us at (818) 241-5432 or check price and availability for more information about booking the space.