Banquet Halls In Glendale
When it comes to banquet halls in Glendale, Metropol is considered the standard of excellence for helping guests celebrate the most important events and special occasions in their life. Whether you're looking for a stunning wedding venue in Glendale, or a banquet hall to celebrate an anniversary or birthday, the Metropol brand offers a luxurious backdrop for your special day.
Featuring four award-winning ballrooms of varying size, our banquet halls in Glendale can cater to a variety of needs for our guests. The Metropol ballrooms are styled with a modern design, lavish interiors, state-of-the-art LED lighting systems, and distinctly stunning ceilings to provide you with memorable moments.
Award-Winning Wedding Reception Halls In Los Angeles
Why are Metropol's Los Angeles wedding halls so popular? It's a combination of romantic atmospheres, state-of-the-art amenities that can be fully customized, delectable in-house catering, an experienced staff, and five-star service. When you book one of our extraordinary wedding reception venues, you get so much more than just a space.
Our Majestic Wedding Venues In Glendale
Metropol offers four luxurious wedding venues in Glendale to choose from for the most important day of your life. Each ballroom has a unique and modern style, which can be completely customized and tailored to your desired taste. For the convenience of you and your guests we also offer a ceremony room to which the lovely couples can speak their vows into existence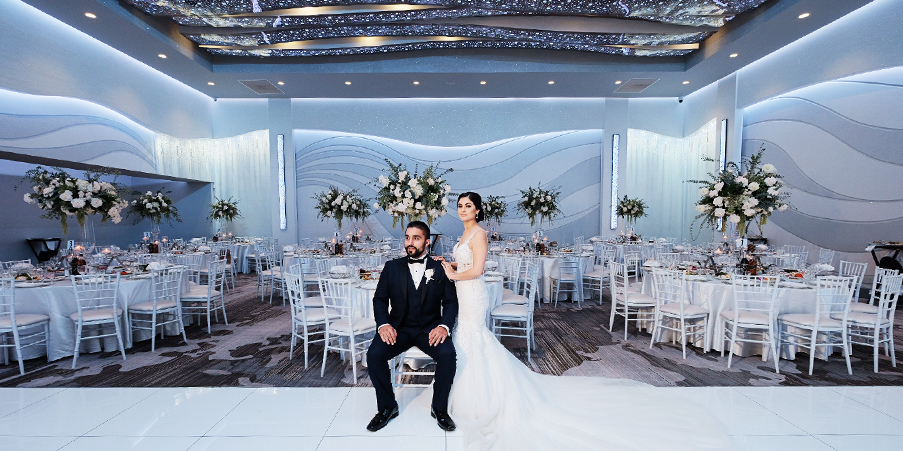 Modern Ballroom
The ideal Glendale wedding venue should provide you and your guests everything necessary to celebrate your fairytale dream. With room for 423 guests, and an absolutely stunning star-studded ceiling that brings the wonders of the night into your very wedding day, the Modern ballroom is the iconic choice for the most important day of your life.
Capacity: 400 Guests
701 S Central Ave., Glendale, CA 91204
Explore Venue
Millennium Ballroom
Our Millennium Ballroom hosts up to 300 guests. The three-sided entertainment stage and dance floor is of an elegant and formal decor balanced with modern amenities. Wedding reception venues Glendale CA couples prefer will have a large, brightly lit, and beautiful room combined with the services they need to make their event a success. This is also an excellent venue for business events, seminars, award ceremonies, and family events.
Capacity: 300 Guests
701 S Central Ave., Glendale, CA 91204
Explore The Venue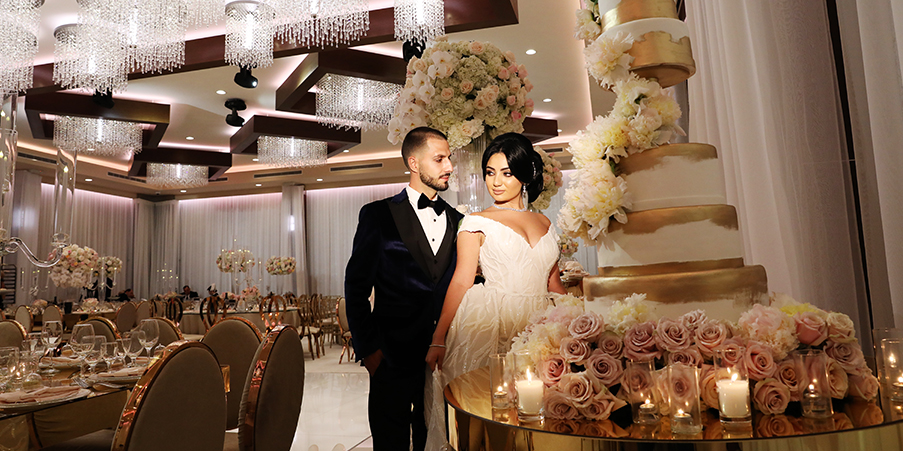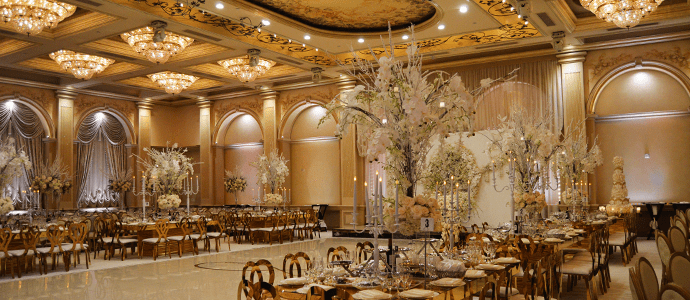 Grand Ballroom
For the grandest of occasions, only a truly transcendent Glendale wedding venue should be chosen for the biggest day of your life. The Grand Ballroom at Renaissance provides classical styling and rich architecture for those with a more refined taste.
Capacity: 450 Guests
701 S Central Ave., Glendale, CA 91204
Explore The Venue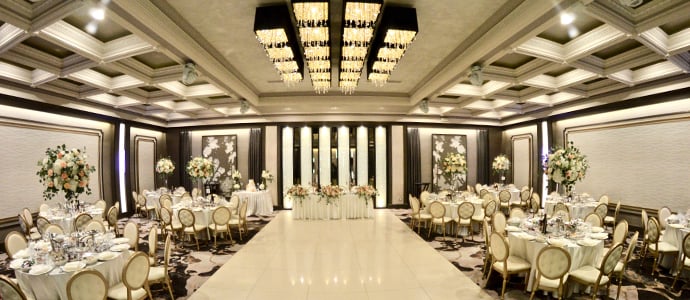 Crystal Ballroom
If you're looking for a more intimate Glendale wedding venue, the Crystal Ballroom is a serene backdrop for you and your guests. With a classical design and spacious dance floor, this the perfect venue for smaller weddings.
Capacity: 140 Guests
701 S Central Ave., Glendale, CA 91204
Explore The Venue
Wedding Highlights
Every wedding we help host is unique and special in its own way. If you're looking for a banquet hall in Glendale for your wedding, wouldn't it be great to see the ballrooms in action? Here are some wonderful wedding highlights to browse.
Wedding Catering
What's your wedding day without delicious, mouth-watering catering? The Glendale wedding venue that you choose should provide you and your guests with a variety of dining options that fit your needs. At Metropol, our in-house catering has options for every dietary need and palate.
See Our Dining Options