Small Wedding Venues In Los Angeles
If you're looking for the perfect small wedding venue in Los Angeles for a more intimate reception, Metropol is pleased to offer two fantastic spaces: the Crystal Ballroom and the Millennium Ballroom. Both of these small wedding venues are beautiful, and each has its very own signature style, customizable amenities, and unique features and are perfect for all special occasions.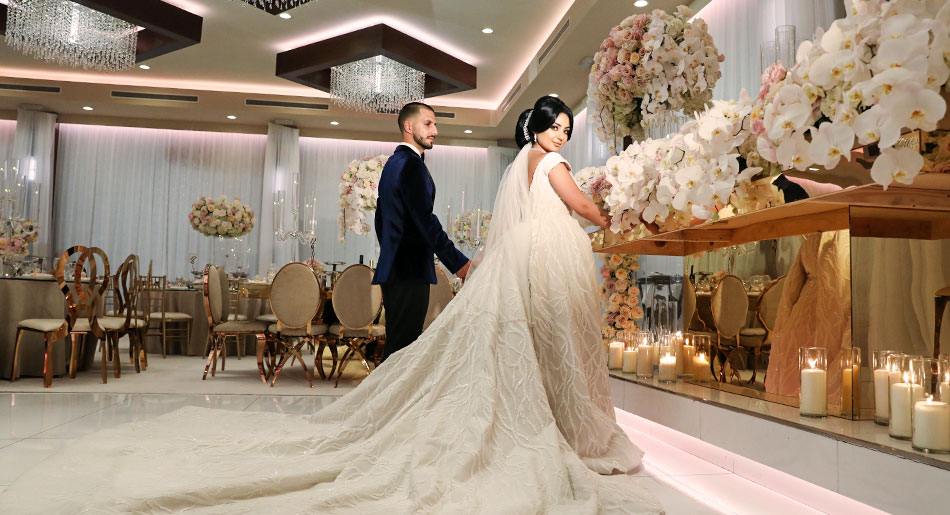 For couples who are planning a wedding with a smaller guest count, the Crystal Ballroom or the Millennium Ballroom offers the same extravagances that larger banquet halls provide, with a more comfortable amount of space for your guests.
see our small event venues
Award-Winning Banquet Halls
Discover why the Metropol banquet halls in Los Angeles are award-winning venues that have earned rave reviews from our clients and guests. The moment you step inside our doors, you will feel welcome, and you will be very impressed by the beauty of your surroundings. Our service is top-notch, and we know that you will find the experience very pleasant and satisfying.
Our Small Party Venues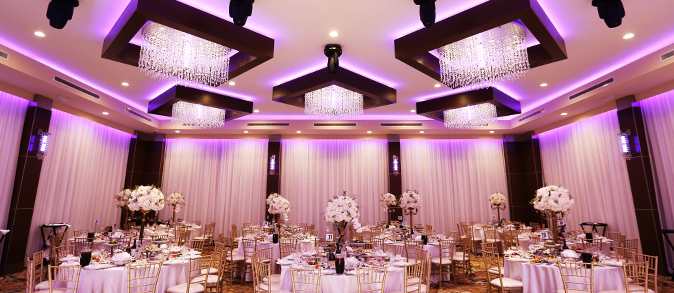 Millennium Ballroom
The Millennium Ballroom is ideal for wedding receptions, birthday parties, showers, christenings, anniversaries, and corporate events with smaller guest counts. With chic wood-framed chandeliers, ceiling-to-floor draperies, and a stylish atmosphere, you are certain to have a memorable event in this stunning space.
Capacity: 318 Guests
701 S Central Ave., Glendale, CA 91204
Explore The Venue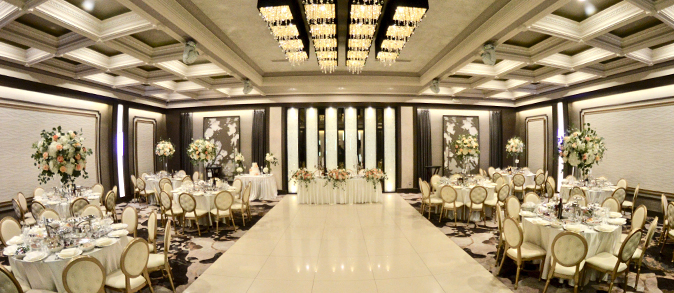 Crystal Ballroom
The Crystal Ballroom features glamorous, European-inspired décor, an 800 square foot dance floor, state-of-the-art LED lighting, and a stage for music. With room for 160 guests, this small wedding venue may be a fraction of the size of our other party halls, yet it is just as dazzling!
Capacity: 160 Guests
1236 Central Ave., Glendale, CA 91204
Explore The Venue
If you would like to schedule a tour and/or a food tasting for our small wedding venues in Los Angeles, please contact us. We are happy to show you around and explain everything that you get when you book the Crystal Ballroom or the Millennium Ballroom. When you tour our beautiful venues, you will be better able to envision your event within the walls.
At Metropol, we do everything in our power to make your wedding exactly as you want it. Not only do we provide our own customizable amenities to help you personalize your reception; we also are able to recommend vetted wedding vendors to help your special day take shape.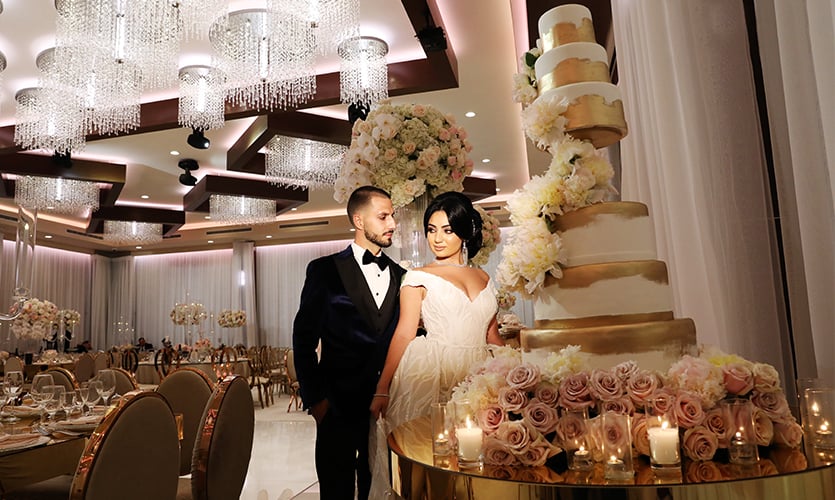 Intimate Wedding Venues
Many couples choose to host smaller weddings for a variety of reasons. Not only are small wedding venues more budget-friendly; it also ensures that the couple is surrounded only by those closest to them on their wedding day. Intimate weddings mean that the couple gets more time to visit with their guests, while saving money on delicious catering, favors, and drinks. And the best part is, couples can have just as much glamor with a small wedding venue. The setting doesn't have to suffer simply because the guest count is smaller. At Metropol, our two small party venues in Los Angeles are just as beautiful as our larger-scale spaces.
At Metropol, our small wedding venues in Los Angeles are characterized by the same incredible atmosphere, delectable catering, and excellent service as our larger venues. Our team works very hard to ensure that every detail of your intimate wedding goes as smoothly as possible. We are event experts who put our hearts into what we do, because we understand the importance of this once-in-a-lifetime day. From the décor to the cuisine to everything else, we have you covered!
With our small party venues, we offer in-house catering from some of the best chefs in the Los Angeles area. We will work with you to design the perfect menu for your intimate wedding. You and your guests will love the delicious flavors that you're presented with. We also proudly provide customizable amenities to help bring your wedding day vision to life. From the dishes to the linens to the lighting, we can match the theme or colors of your wedding reception to reflect your personality and taste.
Our Premier Selection Of Event Venues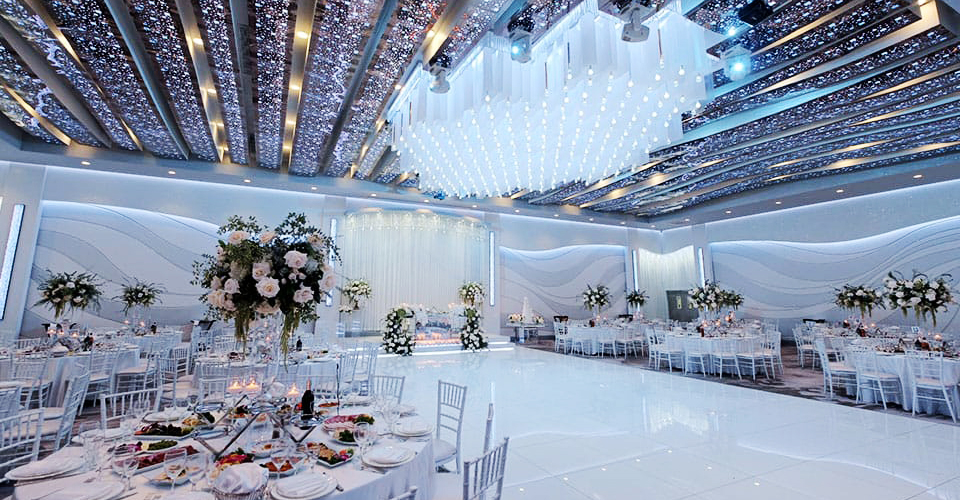 Modern Ballroom
Modern Ballroom is one of the larger banquet halls at Metropol, with room for 423 guests. This breathtaking event venue is known for its unique "starry night" ceiling, which provides a romantic and exciting aesthetic. The Modern Ballroom also includes customizable amenities, a stage, and a spacious dance floor.
Capacity: 423 Guests
701 S Central Ave., Glendale, CA 91204
Explore Venue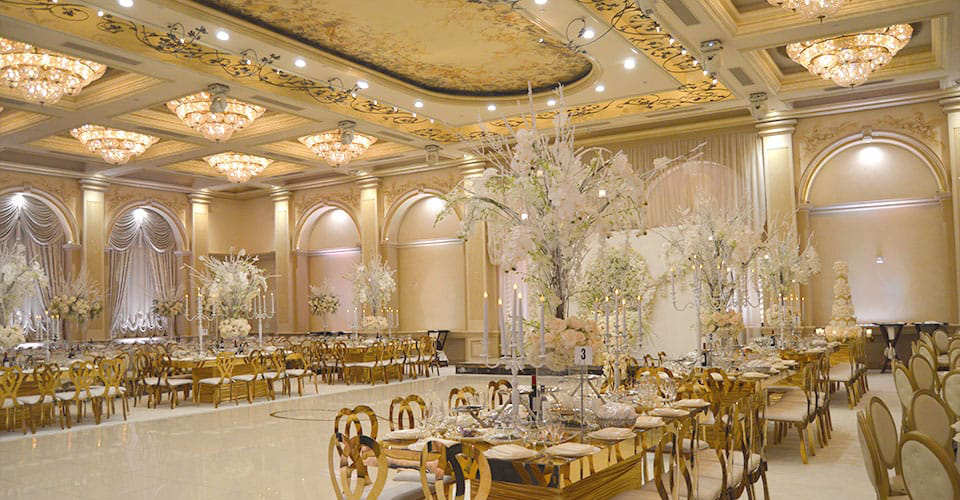 Grand Ballroom
The timelessly beautiful Grand Ballroom truly is grand—with high ceilings, twinkling chandeliers, a large dance floor, a stage for music, windows draped in rich curtains, European-inspired décor, and a stunning foyer. This gorgeous ballroom never fails to impress, and includes customizable amenities and in-house catering.
Capacity: 480 Guests
1236 Central Ave., Glendale, CA 91204
Explore The Venue