Armenians know how to throw weddings filled with fun, laughter, and tradition. It's a long celebration with family and friends that can last until the next morning! Make sure you find the perfect Armenian banquet hall for your special day that ties into your rich Armenian wedding traditions.
What Makes Armenian Banquet Halls Worth It?
Armenian banquet halls changed the whole wedding industry after setting up shop in Los Angeles. Not only did they provide beautiful spaces, but included was an unmatched passion of Armenian hospitality.
Going to a normal banquet hall provides guests with a physical space rather than an experience. Armenian banquet halls are architecturally better thought out, providing guests with beautiful tapestry and spaces that value interaction with people.
The chandeliers, chairs, marble flooring, and lavish entrances goes to show the length that Armenian banquet halls provide for your special occasion. It's more than a space, it's an experience.
We definitely can't forget that Armenian banquet halls also pride themselves on giving the best culinary services for their guests. Large wedding feasts that bring together family and friends was made popular because of Armenian hospitality.
It's clear that if you want a space that's the most bang for your buck, the best choice you can make are Armenian banquet halls!
Our gorgeous and diverse Armenian banquet halls are perfect to throw your extravagant wedding. With four banquet halls to choose from, we can accommodate your wedding of any size and style. Check out our stunning selection of event venues below, and see what fits your taste!
The Modern Ballroom
---
The Millennium Ballroom
---
The Grand Ballroom
---
The Crystal Ballroom
---
Armenian wedding traditions prides itself on hospitality and has been around for centuries.
During their weddings, their hospitality really shows. Here's a deeper look at rich Armenian wedding traditions and what to expect.

Armenian Wedding Traditions: The Proposal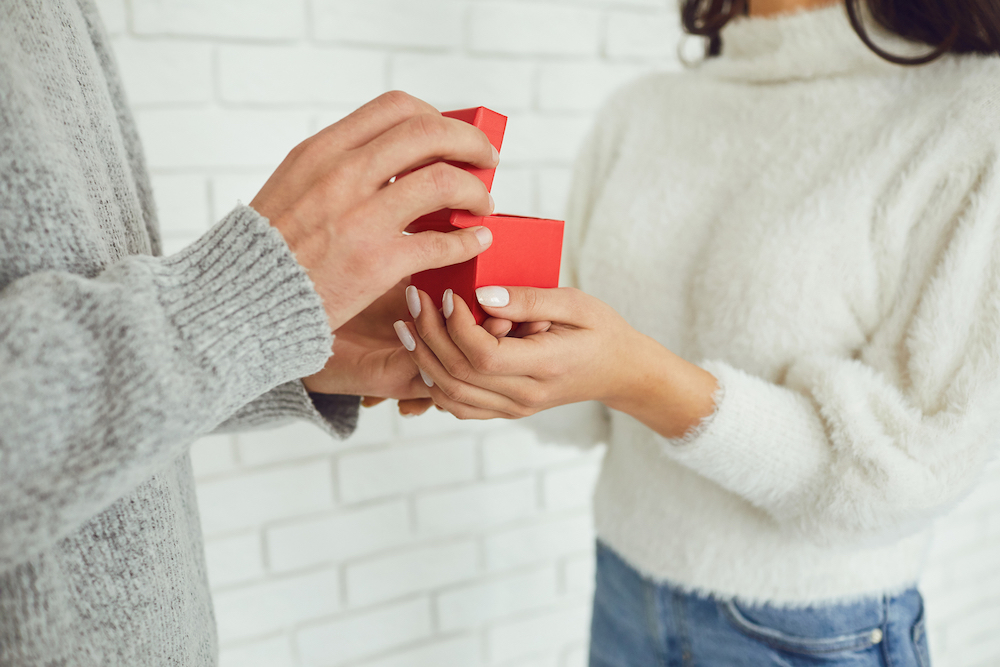 Traditionally, the groom would ask the bride's family for the bride's hand in marriage. This type of proposal has since lost its popularity as more Armenians are proposing to their lover directly.
Khosk-Arnel
When an Armenian groom wants to ask for the bride's hand in marriage, it is considered to be a khosk-arnel. This usually happens when both the bride and the groom's family meet to discuss the "proposal."
The groom's family will usually bring some flowers, chocolates, or drinks as a form of hospitality. In the meantime, the groom will discuss his reasons for wanting to marry his proposed bride, while taking questions from her family.
Khosk-Kap
If khosk-arnel is the proposal itself, khosk-kap is the celebration of the proposal. This happens when both families approve of the relationship and are open to having a wedding. Communication with both families is key since Armenian wedding traditions value it.
Armenian Wedding Tradition: The Bride's Shoes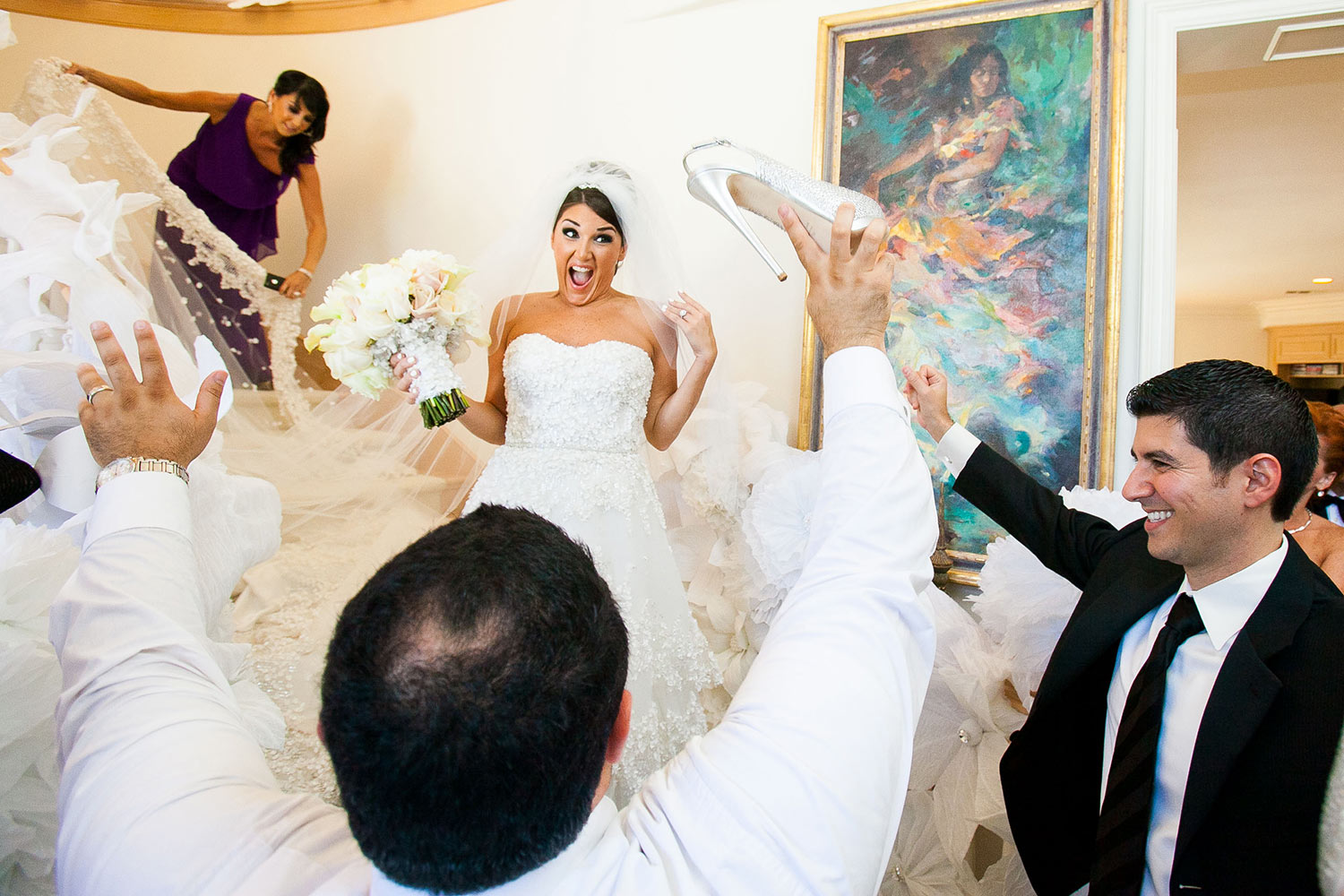 As an Armenian bride puts on her wedding gown, she doesn't put on her shoes just yet. This is because there is an Armenian tradition to hold a bride's shoes for ransom by one of her wedding guests. This is a fun way to ease tension and make the bride less nervous as she starts off her big day!
On top of that, every female helping the bride to prepare will write their names on the bottom of her shoes for good luck. When one of the females gets married, the bride will cross her name out from her shoe.
The Morning of the Wedding
Within Armenian wedding traditions, family members will be with either the bride and groom to take family pictures. This is a moment for both families to put the final touches on the wedding and get everything ready for the big ceremony.
This is also very much a bonding moment for the couple's family as they get to know each other. Whether it's parents helping their kids get ready, bridesmaids getting their makeup done, or brother-in-laws cracking jokes, it's a family affair in general. The groom will most likely be surrounded by his groomsmen, while the bride will be supported by her bridesmaids.
Armenian Wedding Traditions: Zurna Dhol
The traditional Armenian wedding might feature a folklore Armenian band called the "zurna dhol." They will typically play music at the bride's home as they set up the mood for the day. Both the bride and the grooms family will be dancing together to celebrate the wedding!
After the morning celebrations are finished, they will accompany the family as they make their way to the Armenian wedding banquet hall where they will play during the reception.
Armenian Wedding Traditions: Blocking the Door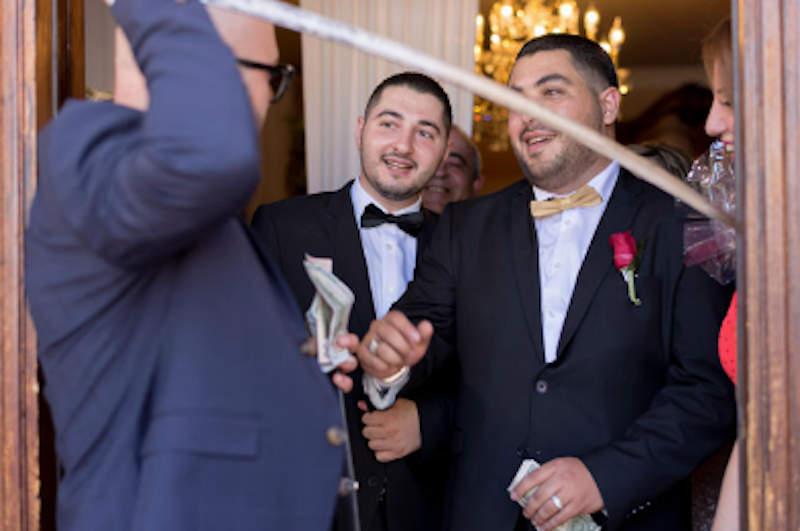 When the groom and bride are about to leave, a person will be blocking the door with a sword. The person is usually the best man at the wedding or a brother of the groom. Acting as a security guard, the bride and groom must pay the person blocking the door to let them pass.
The "security guard" can keep asking for money until they are satisfied! This tradition causes a lot of laughter and creativity before the wedding. It also makes the "security guard" a little richer.
Armenian Wedding Traditions: The Ceremony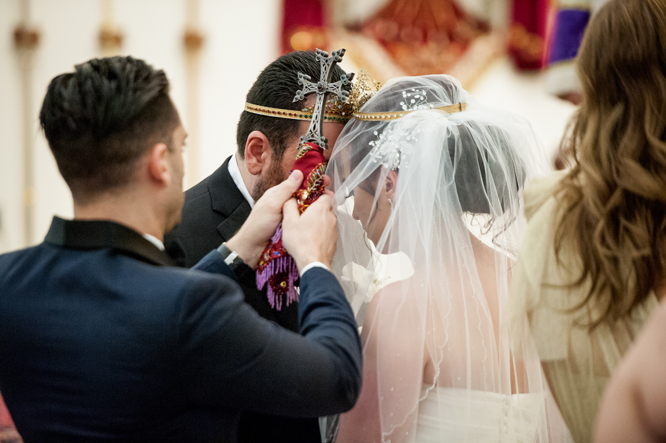 An Armenian wedding ceremony is typically held at one of the churches a family has picked. In general, Armenian weddings are closely tied into traditional Armenian faith. Family members are most likely in charge of picking a priest they know to lead the ceremony. The priest will lead the family and the couple to prayer and give them his blessings as they tie the knot.
Armenian Wedding Traditions: Breaking the Plate
Before entering an Armenian banquet hall, the bride and groom might break a plate as part of a tradition to bring good luck to the newlyweds. This is a very practiced tradition in Armenian cultures and can also happen when the newlyweds buy a new home.
Dancing Into Reception
When everyone has taken their seats, the bridesmaids and groomsmen will most likely come out dancing to upbeat and popular songs. Be ready to snap some photos as some members of the newlyweds might have a choreographed dance! By the end, the last to come out would be the newlyweds. Dancing their way into the reception, it's a fun way to make their families smile and laugh.
Armenian Wedding Traditions: First Dance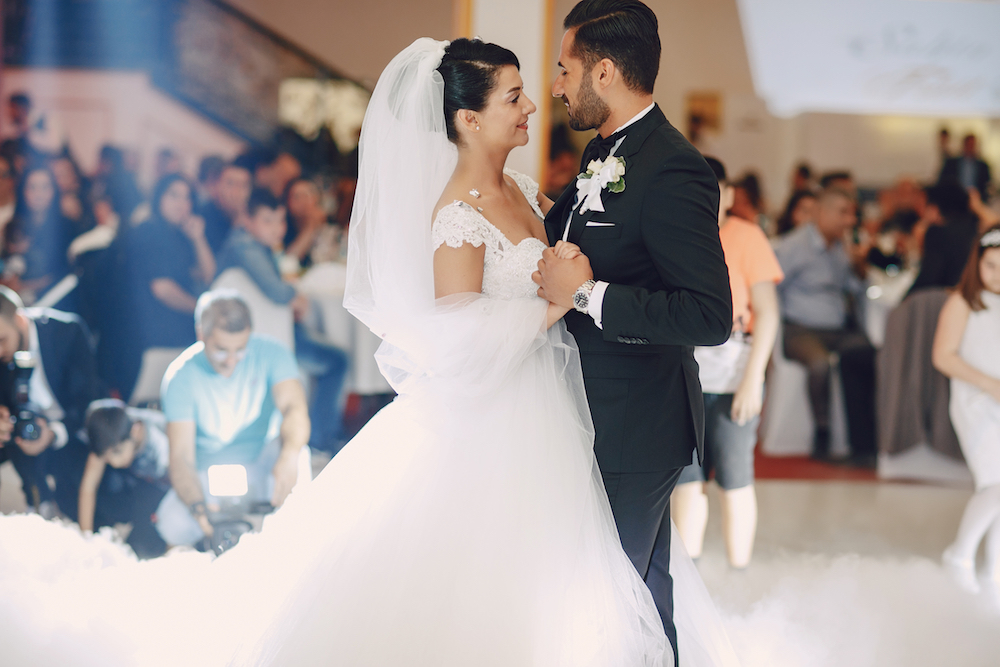 An Armenian wedding is not complete before having some fun! Celebrating with the newlyweds is essential when going to an Armenian wedding. When the newlyweds have their first dance together, they are usually showered by money by their family and friends. This is to wish them financial luck in their marriage. Expect to hear slow music as the newlyweds first take the floor.
After the newlywed's dance has ended, every guest is invited to dance along with them! A mix of upbeat and party songs both by traditional Armenian artists and American artists are played during the reception.
Traditional Armenian weddings might feature Armenian instruments such as the duduk to lighten up the party. More modern Armenian weddings are most likely to have a DJ.
This is also the time to catch up and take pictures of the family together, especially relatives that flew from a different country!
Armenian Wedding Traditions: A Feast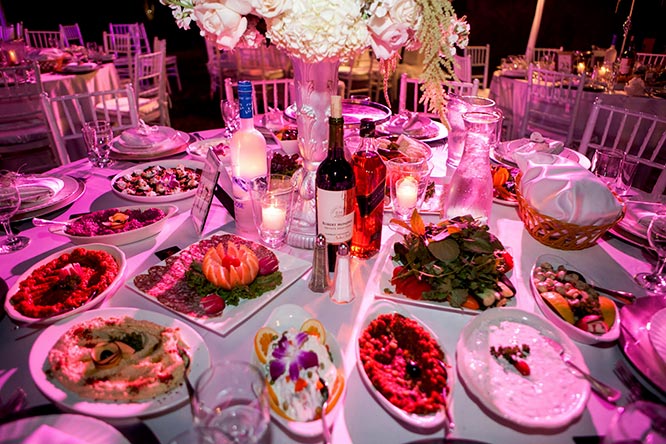 Make sure to come with a hungry stomach, because when there's an Armenian wedding, there's a feast. Be prepared to eat an appetizer, entree, and dessert. Unlike traditional weddings where there is a certain time for meals, Armenian weddings tend to deliver food even when there is food already on the table!
Armenian wedding traditions pride themselves on feeding their guests as much as possible. Nothing's better than eating together with friends and family.
Here at Metropol Banquet Halls, we have the professional culinary services to deliver a one of a kind Armenian wedding feast for your special day. We will fulfill all your culinary needs to your standards.
Ending the Night
Armenian weddings typically end early in the morning around 2 a.m. Don't be surprised when there are still people dancing and celebrating! By this time you would probably see kids sleeping on the table, guests full from the food, and people heading home.
When saying good-byes be prepared to stay an extra 20 minutes as Armenian farewells can last a long time.
Conclusion
In the end, Armenian weddings are a family affair. It's a new chapter and a celebration for both the newlywed's families.
An Armenian wedding is an opportunity for family members that haven't seen each other in a while to reconnect. For most, it's a family reunion.
Here at Metropol Banquet Hall, we strive to make your Armenian wedding perfect. We know how stressful planning a wedding can take, especially choosing an Armenian banquet hall. Our expert coordinators will guide you every step of the way.