If you're like most couples who are planning a wedding for sometime in 2020, you'll want to stay ahead of the curve when it comes to the freshest wedding décor, colors, styles, and plans. Because wedding trends become wildly popular but are always changing, incorporating the "wrong" ones into your big day can make your wedding looked very dated in just a short time.
What exactly are "wrong" wedding trends? They're the ones that have overstayed their welcome — the ones that we've seen over and over and over, and now it's time to let them go.
Take a look at the following wedding trends that are quickly disappearing, according to the wedding industry experts. With selections from Brides.com.
Fireworks
Perhaps one of the biggest wedding trends that's waving goodbye fast is fireworks. Not only are they overdone and predictable by now; they are also terrible for the environment.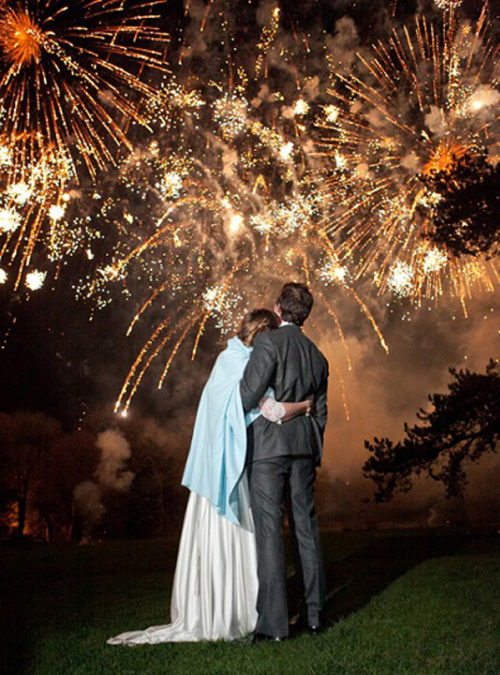 "[Fireworks] are not environmentally friendly, and can be hazardous to both large and small animals in the area," says Lynn Easton of Easton Events.
Marcy Blum of Marcy Blum Associates agrees with her, saying, "They are bad for the environment…and not very surprising anymore. There are many other more exciting options."
Faux Calligraphy
Make it end! You know the font. It's that bouncy, loopy calligraphy that. Is. EVERYWHERE. And it's time for a new font (or fonts) to move in, because this one has had its time in the spotlight.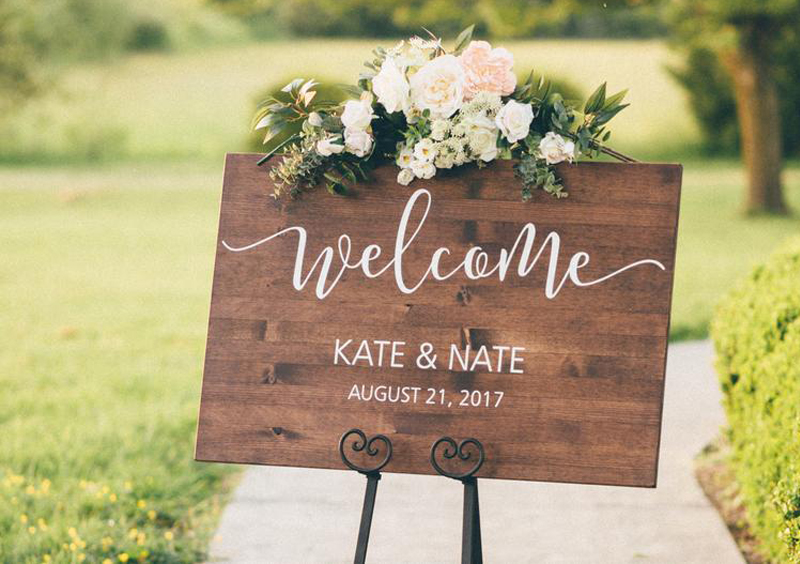 Rustic Anything
Okay, this is a big one. Rustic weddings are officially over. All of it: barns, burlap, reclaimed wood, barrels, mason jars, naked cakes, dried flowers, crates, wood-slice platters…all of it.
Vogue has said, "Rustic has become an almost taboo word." If it tells you anything, they said this in an article called "14 Wedding Trends to Avoid" from 2017.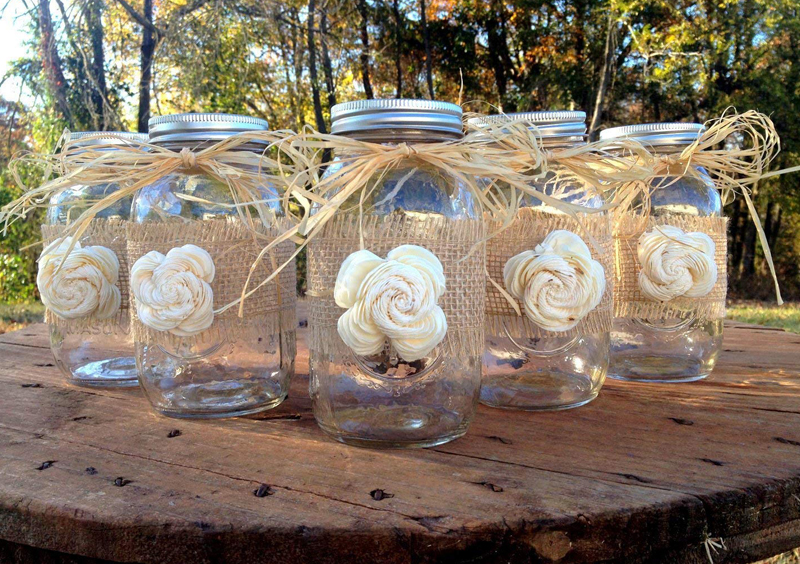 Jessica Sloane of Jessica Sloane Event Styling & Design agrees. "[Barn weddings] had their time. I hope to see more and more venues that offer a different aesthetic."
Flower Walls
While beautiful and practical for photos, flower walls have definitely had their fifteen minutes of fame, and it has now become old hat. There are so many different, new, more interesting options that this wedding trend is quickly dissipating.
"I'd like to see us move on from flower walls," says Mindy Weiss of Mindy Weiss Party Consultants, explaining that she's done a "lot of them" in recent years.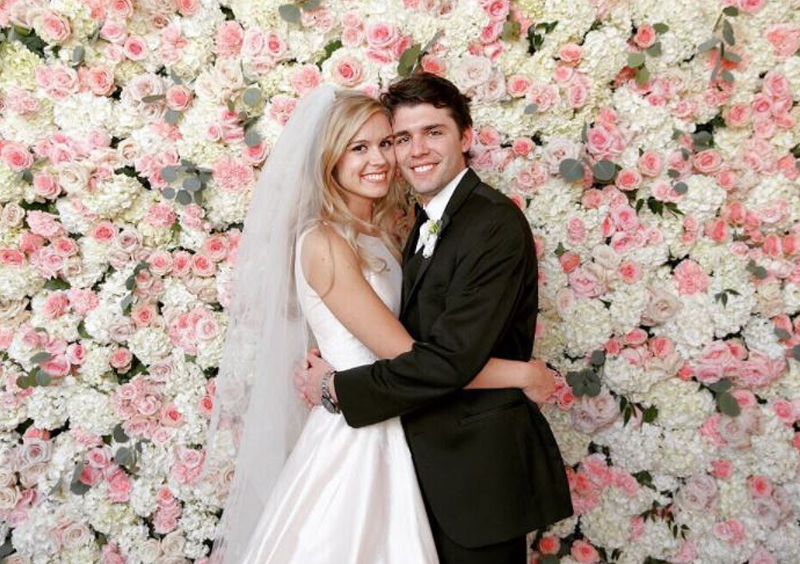 If you're looking for alternatives for flower walls, there are all sorts of beautiful replacements, such as patterned wallpaper, color blocking, layered backdrops, Christmas light walls, hanging installations, grid screens, dramatic statement lighting, and even disco balls.
Velvet Furniture
This wedding trend took off big time in 2018, and then also trickled down into 2019. But by now, 2020, it's time for the reign of velvet furniture to end. For awhile, it seemed like you couldn't show up at a wedding without seeing these quirky pieces — even if they didn't quite match the wedding theme or style.
Stefanie Cove of Stefanie Cove and Company is definitely over this particular trend, saying, "We have seen a lot of velvet furniture in 2019."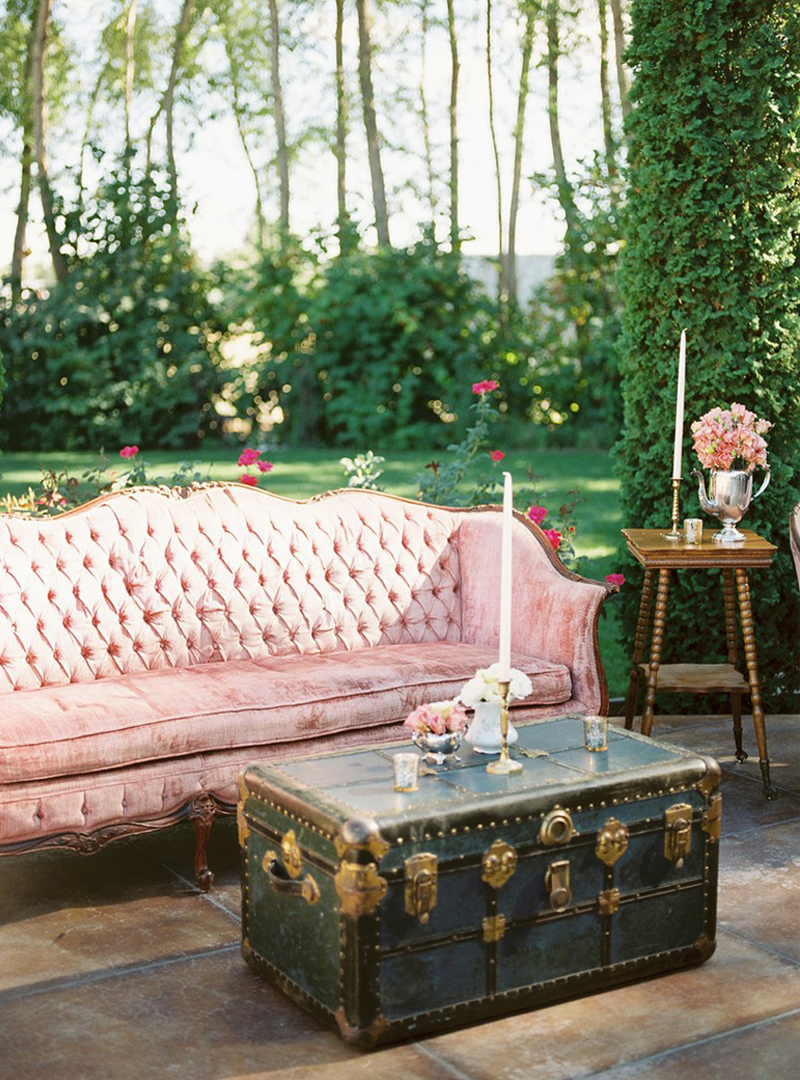 Instead, choose furniture that you love, that matches your unique wedding style. Don't just choose velvet furniture because it's a wedding trend. Especially because it's quickly dying out.
Too Many Wedding Signs
We get it: wedding signs can be cute, and you can get one for anything at all you want. However, it's easy for couples to get so into the idea of wedding signs that they go overboard. In fact, many couples do, and this is why it's now a wedding trend that needs to take a step back.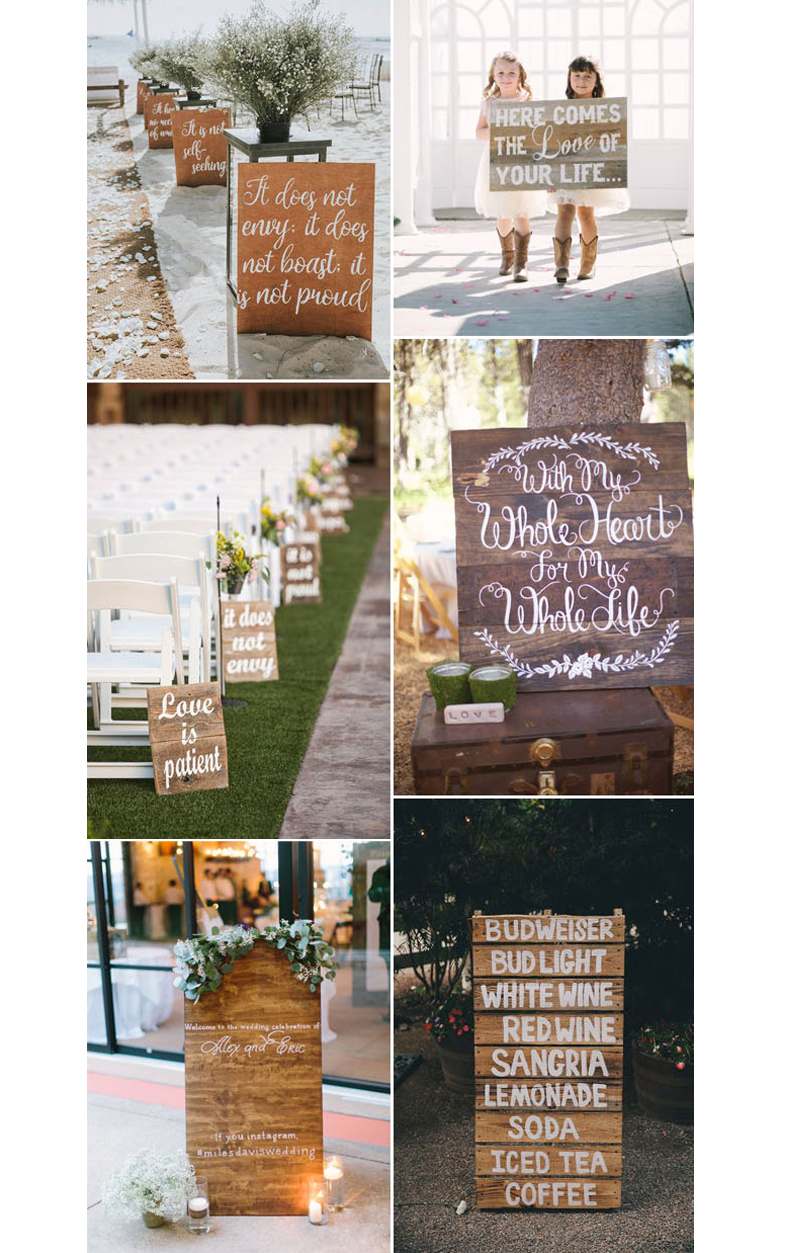 If you need wedding signs for practical things like parking or to ensure that the reserved seats stay empty, that's completely fine. But do you really need your ring bearer to carry a tacky "Hurry up, I want cake" sign? Or a send-off sign? Or a "Here comes the bride" sign?
We recommend choosing the ones you actually need, and seriously consider the others before your wedding turns into a field of unnecessary signs.
Matching Wedding Party Attire
It seems more and more couples and wedding planners are looking at matching bridesmaid dresses and groomsmen suits as something that is quickly becoming a relic of the past.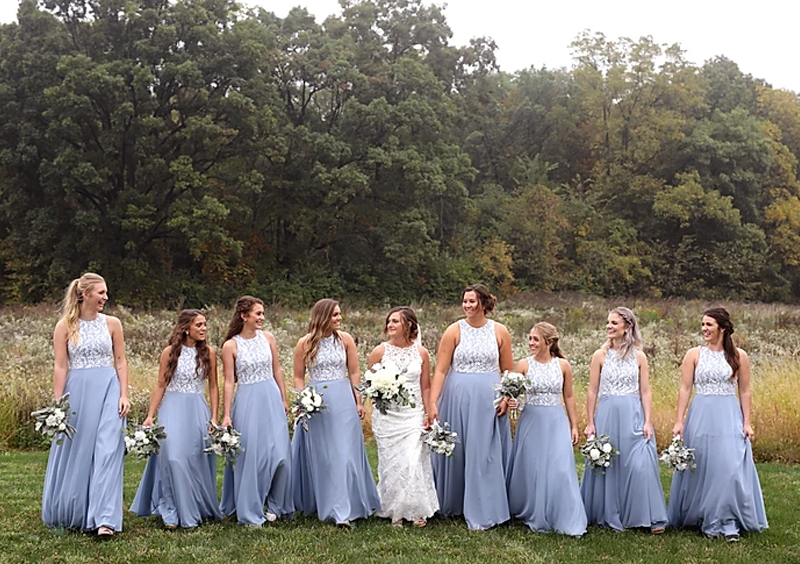 Jennifer Zabinski of JZ Events says, "We would love for matching bridesmaid dresses and hairstyles to finally be a thing of the bygone era. There's nothing more fun than letting your closest friends dress in what makes them feel comfortable. Different colors and textures make for great photos, too."
Wedding Favors
Want to know a secret? Wedding planners hate wedding favors. They see them as a waste of money, as these little trinkets are often left on tables at the end of the reception, despite all the consideration and time that went into selecting them.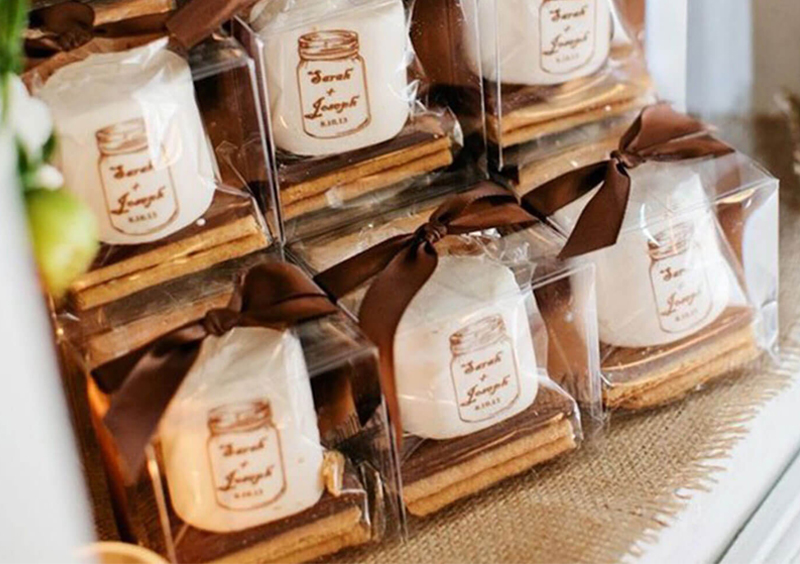 "Put that budget into welcome bags for all guests, or splurge on arrival tokens like cinched-up shawls in velvet ribbon or blankets for a cozy coastal ceremony," says Aleah and Nick Valley of Valley & Company Events.
Photo Booths
It's high time for this wedding trend to gracefully bow out.
"Do you really want a million photos of your drunk friends with mustaches?" says Ashley Smith of Ashley Smith Events. "You've already hired a great photographer…[photo booths have] been on a decline for a while now, but I think it's time they cease."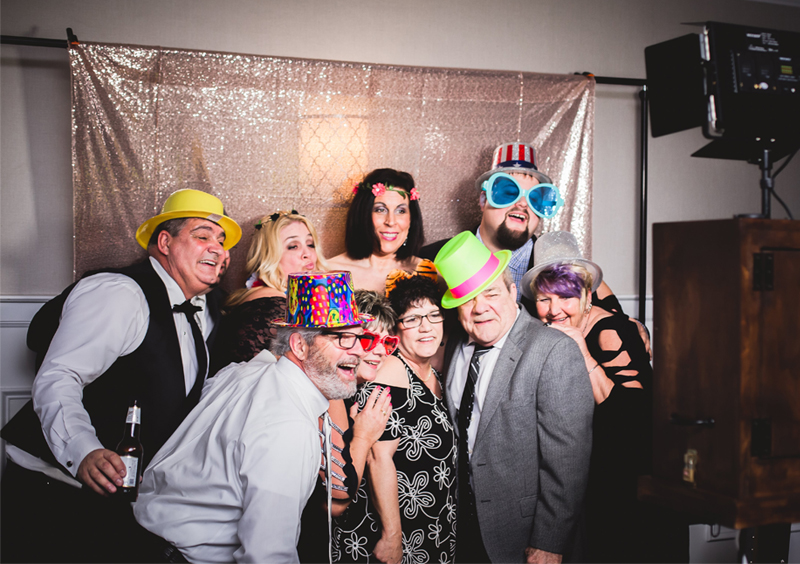 If you want an alternative for a photo booth, you can go simple by placing a Polaroid camera on each table, or you can go more extravagant with a new wedding trend: guest portrait photography. This is where a couple hires a portrait photographer (think Olan Mills) to set up a small area somewhere at the reception and take professional portraits of each couple, family, or individual. Double exposure optional!
Pampas Grass
To be fair, pampas grass really only blew up as a wedding trend in 2019, so it hasn't quite worn out its welcome yet. But boy, has it been used. And used. And used.
Heather Balliet of Amorology Weddings says, "While we love it and it is so pretty, we are ready to play with some new fun textures."
If you really love the idea of using pampas grass, you should go for it. However, keep in mind that there are plenty of other unique options that haven't been seen as much.
Giant Wedding Parties
Do you really want to make your guests sit through a processional that drags on and on because 10+ couples have to walk down the aisle before the bride or groom? Or deal with all those bridesmaids/groomsmen and their issues?
Jove Meyer of Jove Meyer Events says, "It is so much work for couples to manage so many friends, their wardrobe, their schedule, and their emotions!"
Sunna Yassin of Bash Please agrees. "We find it's best to keep your bridal party more intimate and find other creative ways to include friends and family into your celebration, either through readings or blessings."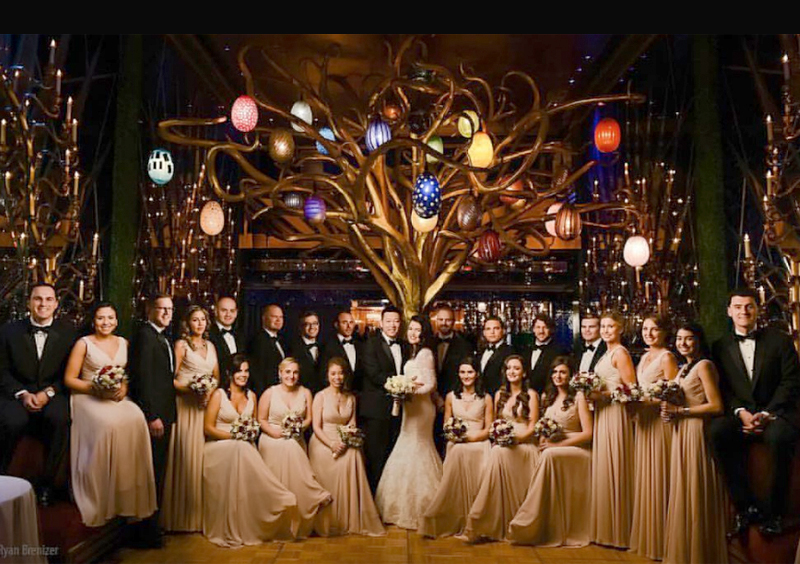 We hope that these disappearing wedding trends help you decide what works best for your specific ceremony and reception! And if you're looking for a perfect Los Angeles venue to host your wedding reception, consider Metropol Banquet. We have four stunning wedding venues, each a different style and size to meet the needs of engaged couples. Take a look at our ballrooms, or contact us with any questions!