Everyone knows that one of the most important, make-or-break elements of a wedding is the wedding reception menu. If the catering is fantastic, your guests will remember it fondly for years to come.
So once you've decided on your perfect wedding venue and caterer, the next step is to determine which serving style you want. And while this may sound simple, there are some complexities to your choice.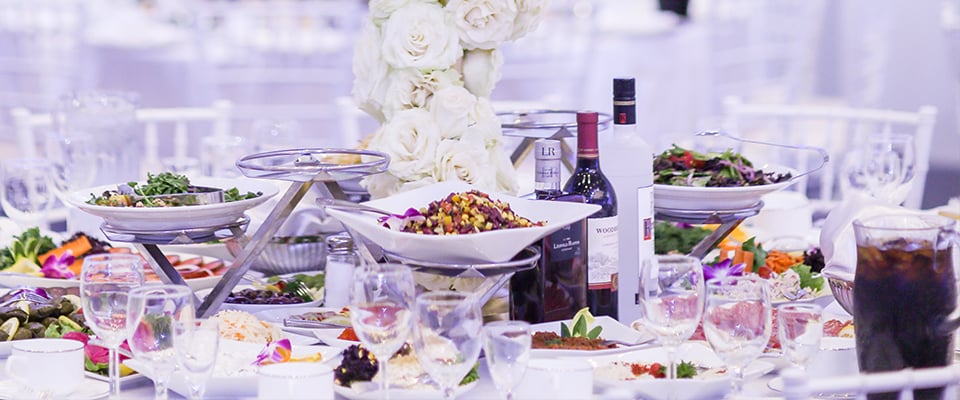 Your decision about the serving style of wedding reception food will affect the flow, timing, portions, and guest options for your big day—so it's an important decision.
The last thing you want is to choose a serving style for your wedding food that causes your guests to have to wait, or the food to get cold, or for your guests to still be hungry, or not mingle enough.
Here are the different serving styles for wedding food, and their pros and cons. Our team at Metropol Banquet Hall has listed these options from the most traditional to the least, keeping in mind that all of these styles are currently very popular in 2022.
Plated/Table Style
Possibly the most traditional and popular way to serve your wedding reception menu is "plated" or "table" service. These terms mean the same thing, and this style is when your guests have pre-selected their choice of entrée via their RSVP cards, the chef makes each individual plate, and then servers bring the plates directly to the table.
This option is well-associated with weddings because it feels very high-class. Guests don't "order" at the reception, but they get exactly what they want because they pre-selected it. They don't have to stand up and go get their meals; they get to remain seated and comfortable. Each plated meal will be served hot, fresh, and on time.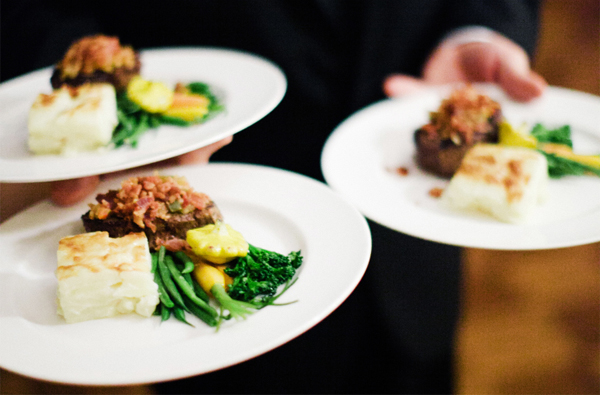 Plate/table service is also good for a wedding budget because the caterer will know the exact amount of food to make for each guest. This means no excess cost for food. 400 guests = 400 plates. No guesswork.
The cons to plate/table service? Once the guests RSVP and specify what meal they want, they can't change it. What they've chosen is what they'll receive, and there is no room for last-minute changes—or additional food. Another thing: sometimes plate/table service means extra cost for extra servers, as many servers will be needed to bring the food out. This is a good topic to discuss with your wedding caterer (or venue, if they provide in-house catering).
Buffet Style
A wedding reception food buffet is also quite popular. This is when guests get up from their table, make a line, and choose what food they would like from chafing dishes.
These buffets can have servers, but they don't have to. The difference is that servers will better control the portions that are being dished out, so if this is important to you, make sure to speak to your caterer or venue about buffet servers.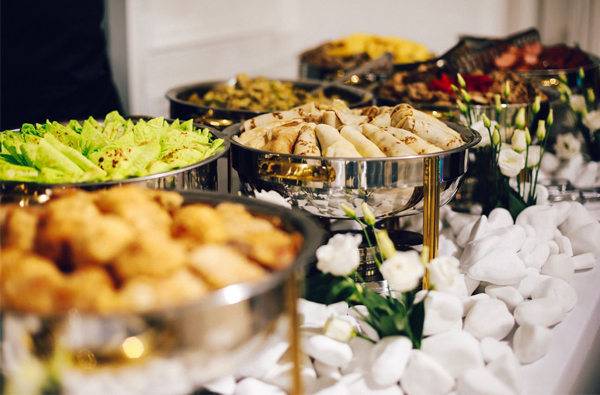 A buffet for wedding reception food is good for event flow and interaction. It also ensures that food will be kept hot and tasty. More options are also available with a buffet than with plate/table service, and guests can have bigger portions if they want.
The class cons of a wedding buffet include line hold-ups, but this can be helped if you have servers, venue employees, or a wedding coordinator to help. Another con is that no matter how experienced a caterer is, he or she won't ever be able to know for sure how much of certain food guests will eat—so you may end up paying for more food than you actually need.
Family Style
Family style catering is another great option for your wedding menu. This is when the caterer simply makes an abundance of different dishes, puts them on giant plates, and they are served "family style" to the guests.
This is a combination of buffet and plate/table service, as guests can choose different food options and portion sizes, but they don't have to get up from the table. It creates a very happy, warm, family-style (!) atmosphere.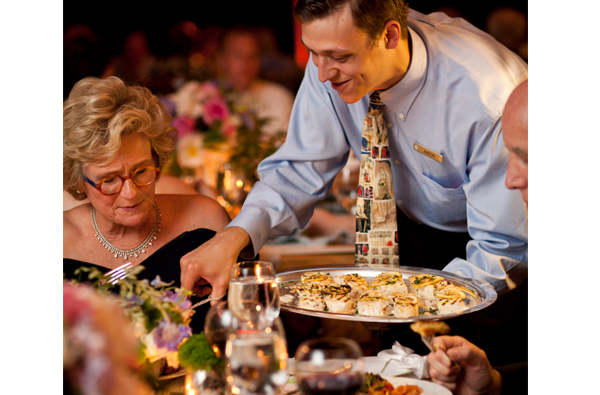 The con here is the same as the buffet: you may end up paying for more food than you need. Another con of family-style dining is that it can sometimes become a bit messy. However, with the right serving staff, this shouldn't be a problem.
Food Stations
Another style of serving that is becoming more and more popular is food stations, such as carving stations, sushi stations, and cook-to-order stations. These can have servers, but they don't necessarily need to.
Food station are loved because guests are able to have options for their specific taste, and different stations mean shorter lines. This is great for both event flow and food temperature and freshness.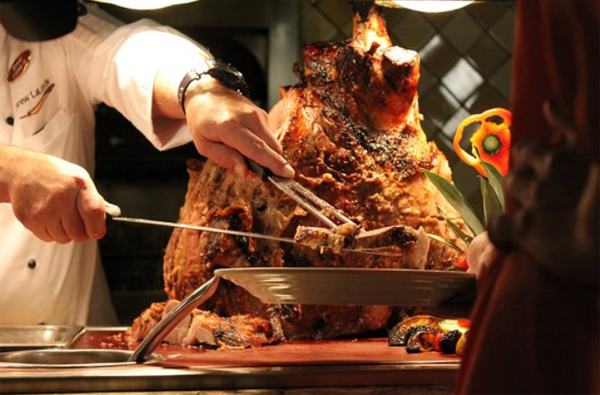 Once again, the con with food stations is paying for too much food. Anything that isn't plated for one guest at a time always means that you run the risk of having too much (or too little) food. The other con with food stations is that they take up quite a lot of room. The stations will need to be spread apart, which requires a lot of your reception real estate—so if you like this wedding reception food serving style, make sure you have a wedding venue that can comfortably house everything.
Food Trucks
One of the biggest wedding reception food trends in the last several years has been the rise of the food truck. Everything from donuts to burritos to sushi has been served to guests straight from the truck. It's a great way for the newlyweds to express their own specific taste through their wedding menu and share what they love with their guests.
Guests tend to love food trucks, as they are very interactive and pose plenty of options. The food is hot, fresh, and delicious.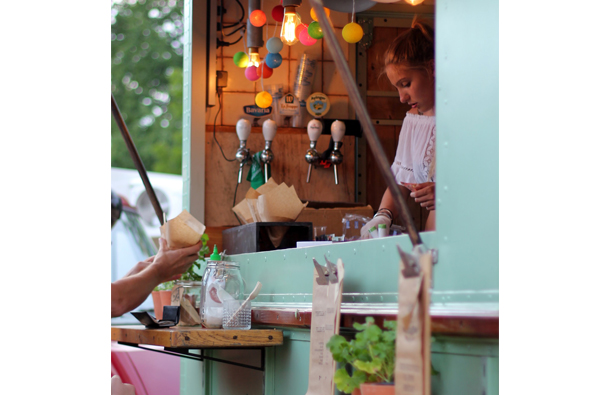 Food trucks are also great if you're trying to match your food to a certain wedding theme as well, and you don't need to worry about paying servers. The guesswork is taken out of portions and how much food to order, as food truck sellers simply dish out individual orders for each person.
So what are the cons to food trucks? They can cause guests to have to wait a bit. A general rule is to provide about three different food trucks in order to make sure people aren't waiting too long; however, food truck meals are cooked to order, so there will be more waiting than there would be with most serving styles.
Also, if you decide to use food trucks for your wedding reception food, we strongly recommend working with food trucks who have done weddings before.
Cake And Appetizers / Hors D'oeuvres
This is a serving style that is unconventional, but is becoming more and more popular in the last few years: couples deciding to simply serve their guests appetizers and cake.
This "grazing" or cocktail style receptionrequires the couple to let their wedding guests know that they will not be served a full dinner. They need to understand that they will be given appetizers and cake only.
The reason this is becoming so popular is because it's very budget-friendly. There are no servers, tables, or chairs needed, and the event flow isn't affected at all. It's also very interactive.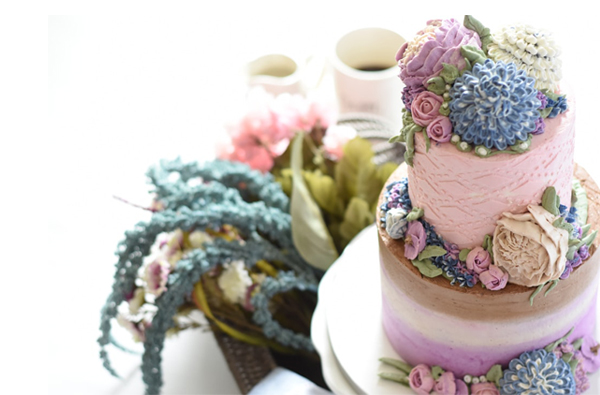 The cons to the cake-and-appetizers serving style is obvious: some guests will probably be grumpy that they aren't getting an entire meal. But if this style seems appealing to you, go for it. It's your wedding, and you get to call the shots. This serving style can actually be quite elegant, but the main thing to remember is: make sure your guests know.
We hope that this has helped you understand a little more about different serving styles for your wedding reception food! Remember, it's all about what you want and what you think will work best. If you're currently looking for a beautiful Los Angeles wedding venue, consider us at Metropol Banquet Hall. We host gorgeous wedding receptions! Be sure to look at our options for Los Angeles reception halls, and contact us for any questions you might have.